Cisco Digital Network Architecture (Cisco DNA)

Unlock your network's full potential. Drive IT and business innovation.
Intent-based networking, ushering in a new network era. Built on Cisco Digital Network Architecture (Cisco DNA).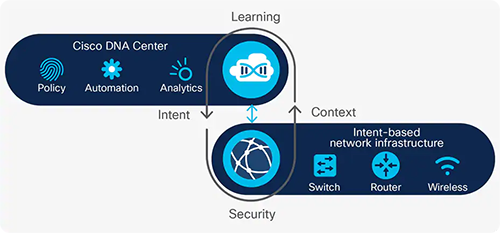 Increasingly, the agility of an organization's network determines the agility of the business. All too often, a rigid network holds back the organization's ability to flourish in an era of change. Cisco DNA provides a complete intent-based networking system that is constantly learning, adapting, and using contextual insights to make sure the network continuously responds to dynamic IT and business needs. Cisco DNA is the open, software-driven architecture that turns vision into reality.
Cisco DNA is a controller-based architecture. Having Cisco DNA Center at its core, Cisco DNA provides the policy, automation, and analytics required to adapt to change, simplify and scale operations, and protect against degradation and threats. It provides 360-degree open platform extensibility to vastly increase the network's value by opening the way for new and innovative applications, processes, and solutions that are required today, and those that will be needed in the future.
Features and benefits
Intent-based networking (IBN) built on Cisco DNA takes a software-delivered approach to automating and assuring services in your campus and branch networks and across your WAN. Cisco DNA can help you to streamline operations, analyze and resolve issues faster, and increase user productivity by optimizing application performance.

Automate, analyze, and optimize
Translate business intent into network policies, and use automation and AI/ML analytics to help achieve business outcomes.

Detect, contain, and mitigate threats
Get complete visibility into user activity, devices, things, and traffic to enforce zero-trust security.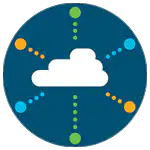 Deliver the multicloud world
Provide consistent and secure application delivery in today's highly distributed hybrid and multicloud environment to optimize the user experience.

Centralize design and management
Take control of your network and orchestrate functions with onsite and cloud-based network controllers.
Cisco delivers a secure, intelligent platform for multicloud access
The Cisco SD-WAN Cloud onRamp for Colocation solution aggregates your branch offices to key regional locations or colocations and allows you to securely deploy multicloud connected network services at the network edge for better quality of service, simplified management, and increased security.
With Cisco SD-WAN Cloud onRamp for Colocation, you can:
Aggregate your network services for SD-WAN or traditional routing, connecting branch offices to key regional locations and colocations
Deploy secure virtualized network services automatically on demand with centralized policy management—in just minutes with software, instead of weeks
Help to maintain SLAs and provide a better user experience with proximity to multiple clouds
Connect to multiple clouds and colocation centers and significantly reduce transport costs
Decrease the need for trained IT professionals at each branch site without sacrificing security
Guiding principles
Security everywhere, turning the network into a sensor and enforcement system that identifies and contains risk and threats, even in encrypted traffic
Centralized, cloud-enabled management to design, provision, enable policy, and assure network services
Open platform capabilities that allow the network to understand the needs of the business and integrate the network into IT and business processes
Automation to simplify operations and accelerate policy enforcement consistently and reliably across all devices in access, campus, and WAN networks
Assurance to proactively predict performance and remediate problems through machine learning and correlations for business insights and operational efficiencies
Intent-ready physical and virtual infrastructure to make sure all your switches, routers, and access points can support the latest software innovations, today and into the future