Cisco Umbrella

Protect Users Everywhere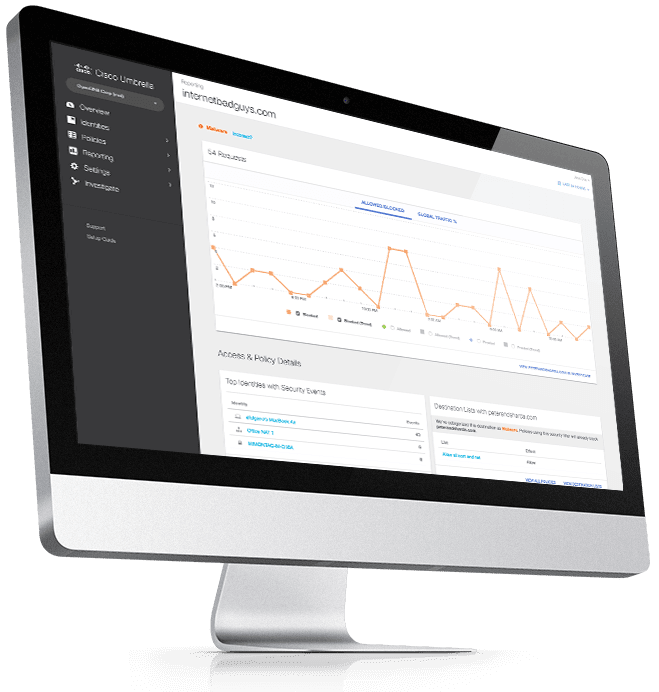 Cisco Umbrella: Flexible, fast, and effective cloud-delivered security
Cisco Umbrella offers flexible, cloud-delivered security when and how you need it. It combines multiple security functions into one solution, so you can extend protection to devices, remote users, and distributed locations anywhere. Umbrella is the easiest way to effectively protect your users everywhere in minutes.
---
Looking to compare products?
Cisco Umbrella delivers the most secure, reliable, and fastest internet experience to every single one of our more than 100 million users. As a leading provider of network security and recursive DNS services we enable the world to connect to the internet with confidence on any device. We've built a reputation on easy deployment and powerful protection anywhere users access the internet.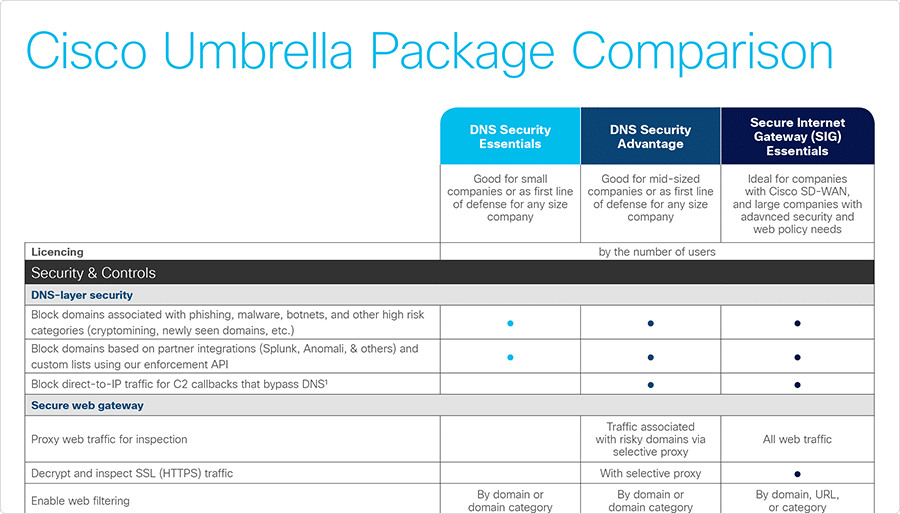 ---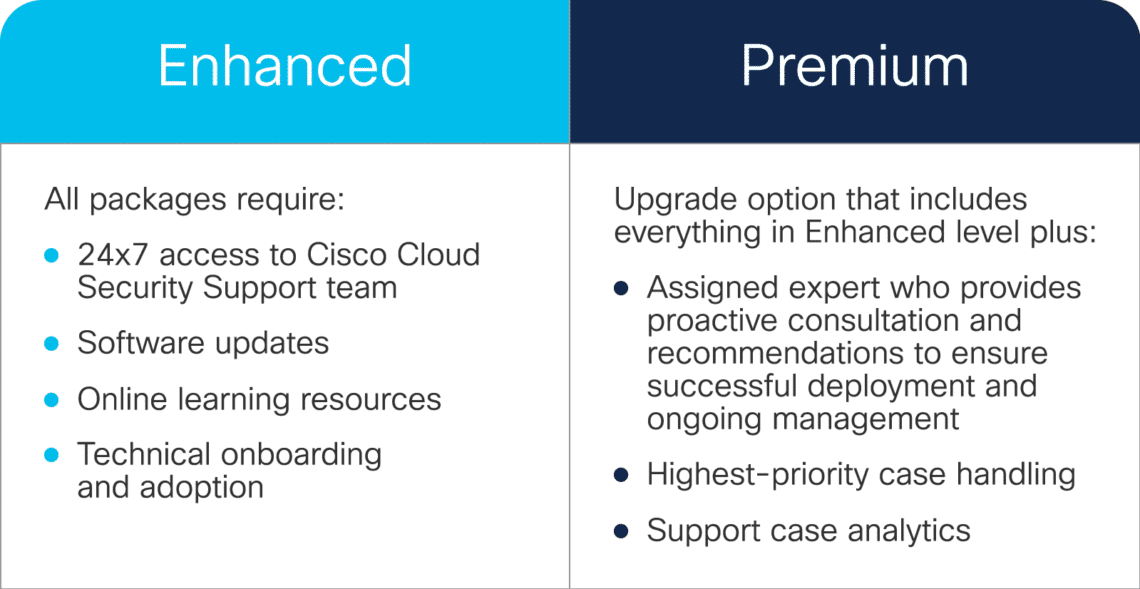 Cisco software support
The Cisco Cloud Security Support team is dedicated to customer success and resolving requests or issues quickly. There are two levels of software support offered to help you protect your investment.
All packages include:
Incredibly simple deployment
Requires no hardware to install or software to maintain, and takes minutes — not months — to deploy enterprise-wide. Umbrella offers integrations to forward traffic from network devices and other security systems.
Reliable infrastructure
Highly resilient cloud network with over 30 data centers that boasts 100% business uptime since inception in 2006. Umbrella also delivers superior speed by peering with over 900 of the world's top internet service provides.
Unmatched intelligence
Powered by insight from Cisco Talos, one of the world's largest commercial threat teams, to block malicious activity. Umbrella also uses statistical and machine learning models to uncover new attacks staged on the internet.
---
Cisco Umbrella Investigate
Umbrella Investigate gives the most complete view of the relationships and evolution of internet domains, IPs, and files — helping to pinpoint attackers' infrastructures and predict future threats. No other vendor offers the same level of interactive threat intelligence — exposing current and developing threats. Umbrella delivers the context you need for faster incident investigation and response.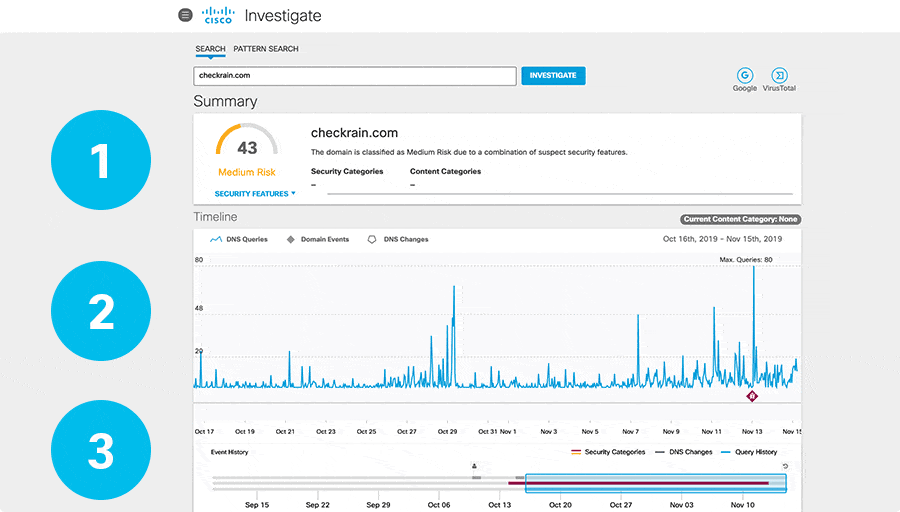 ---
CISCO UMBRELLA AND COVID-19
Our promise to you
The Cisco Umbrella global network was built from the ground up with scale in mind. We process billions of DNS requests from millions of users every day across all of our data centers worldwide. Coupling that worldwide scale with the use of Anycast routing, we ensure that your request is sent to the fastest available data center with automated failover.
Since the initial onset of the risks presented by the novel coronavirus (COVID-19), we have seen increased traffic demand for Cisco Umbrella. Since our system is built with resiliency in mind, it has been business as usual for our cloud service. We continue to monitor overall usage of our cloud infrastructure on a recurring basis, and we continuously make optimizations as needed.
---
Want to Learn More? Contact a Cisco Security Specialist today!