Cisco WAP581 Wireless-AC Dual Radio Wave 2 Access Point with 2.5GbE LAN

High-Performance, Easy-to-Deploy, and Highly Secure Business-Class Wireless-AC Connectivity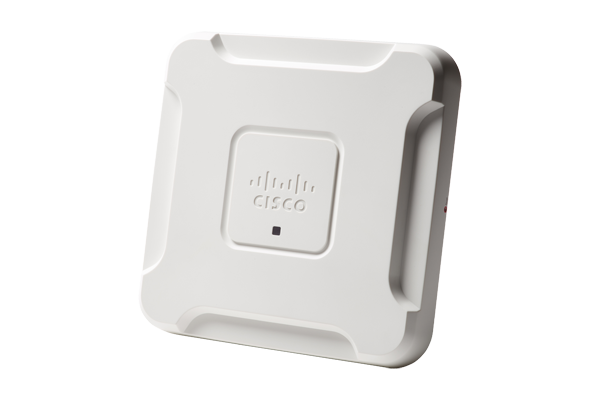 Sorry, this product is no longer available, please contact us for a replacement.
More pricing below, click here!
Overview:
Highlights
Provides cost-effective 802.11ac Wave 2 connectivity with speeds up to 2.8 Gbps
Supports 4 x 4 multi-user multiple-input, multiple-output (MU-MIMO) technology on 5.0-GHz radio and 3 x 3 MIMO technology on 2.4-GHz radio for maximum performance
Supports Dual Gigabit Ethernet (2.5G and 1G) LAN with Energy Efficient Ethernet and link aggregation
Supports both Power over Ethernet (PoE) and AC power with external power adapter
Provides Integrated Wireless Spectrum Analysis tool, which allows detection of the nearby Radio Frequencies interference for easy troubleshooting
Offers captive portal that enables highly secure guest access with customized roles and rights
Offers Single Point Setup, which requires no controller, for easy, cost-effective deployment of multiple access points
Works with Cisco® FindIT Management platform a software for managing and monitoring your Cisco 100-500 serios products
Works right out of the box with easy installation and simple web-based configuration and wizard
Product Overview
Today Wi-Fi is the primary way for mobile access; small to medium-sized businesses are now looking for simple, yet easy-to-deploy Wi-Fi networks where they can provide the best experience to their employees and customers. To stay productive, they need dependable, business-class access to network applications throughout the office. The Cisco WAP581 Wireless-AC Dual Radio Wave 2 Access Point with 2.5GbE LAN provides a simple, cost-effective way to extend highly secure, high-performance mobile networking to your employees and guests, so they can stay connected anywhere in the office, regardless of what mobile devices they use.
The Cisco WAP581 Wireless-AC Dual Radio Wave 2 Access Point with 2.5GbE LAN uses concurrent dual-band radio for improved coverage and user capacity. The 4 x 4 MU-MIMO technology on the 5.0-GHz radio and 3 x 3 MIMO on the 2.4-GHz radio allow the access point to run at maximum performance and deliver better user experience. Two Gigabit Ethernet LAN interfaces, one with 2.5 Gigabit Ethernet and the second with 1 Gigabit Ethernet with PoE facilitate flexible installation and reduce cabling and wiring costs. Intelligent quality-of-service (QoS) features let you prioritize bandwidth-sensitive traffic for voice-over-IP (VoIP) and video applications.
To provide highly secure guest access to visitors and other users, Cisco WAP581 Wireless-AC Dual Radio Wave 2 Access Point with 2.5GbE LAN supports a captive portal with multiple authentication options and the ability to configure rights, roles, and bandwidth. A customized guest login page lets you present a welcome message and access details, and reinforces your brand with company logos.
The access points are easy to set up and use, with an intuitive wizard-based configuration to get you operational in minutes. An attractive design with flexible mounting options allows the access points to smoothly blend into any small or medium-sized business environment.
To enhance reliability and safeguard sensitive business information, the WAP581 supports both Wi-Fi Protected Access (WPA) Personal and Enterprise, encoding all your wireless transmissions with powerful encryption. In addition, 802.1X RADIUS authentication helps keep unauthorized users out.
Designed to scale smoothly as your organization grows, the access points feature controller-less Single Point Setup, which simplifies the deployment of multiple access points without additional hardware. With the Cisco WAP581 you can extend business-class wireless networking to employees and guests anywhere in the office, with the flexibility to meet new business needs for years to come.
Figure 1 shows a typical wireless access point configuration. Figures 2 and 3 show the front and back panels of the access point, respectively.
Figure 1.     
Typical Configuration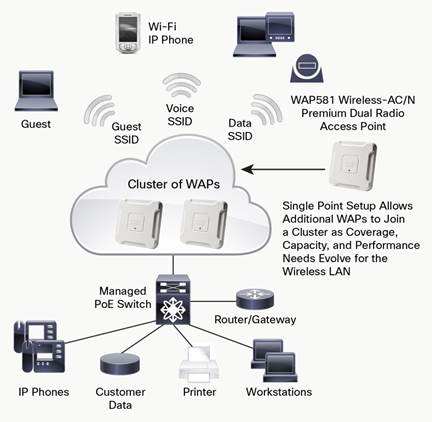 Figure 2.     
Front Panel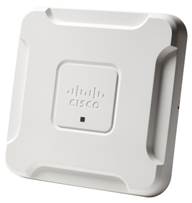 Figure 3.     
Back Panel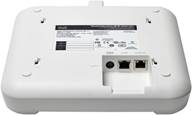 ---
Pricing Notes:
Pricing and product availability subject to change without notice.