Cisco TelePresence MX Series

Bring Telepresence to Every Team Room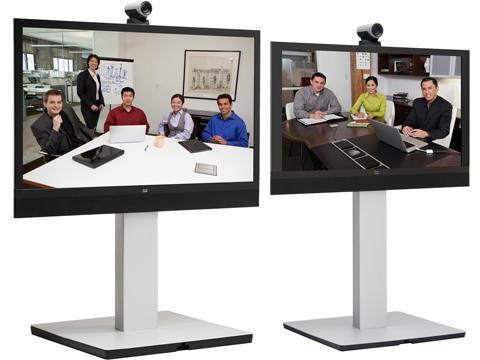 Sorry, this product is no longer available, please contact us for a replacement.
Click here for more options and pricing!
Overview:
The Cisco TelePresence MX Series makes telepresence more accessible to teams everywhere with the MX200 and MX300 value line, featuring ready-to-use simplicity and high quality at value pricing. The 42-inch Cisco TelePresence MX200 and 55-inch Cisco TelePresence MX300 endpoints represent the highly-integrated value line within Cisco's MX Series multipurpose telepresence family. The MX200 and MX300 systems are as easy to install as a television and priced for large-scale deployment, so you can quickly and easily transform any meeting space into a telepresence-enabled team room. Whether you are just getting started with video communications or are planning to video-enable your entire organization, the Cisco TelePresence MX200 and MX300 can meet your needs, delivering 1080p high-definition performance in a simple, intuitive design.
Installed in approximately 15 minutes, the Cisco TelePresence MX200 and MX300 endpoints reinvent the team meeting room experience. The systems offer the high-quality, easy-to-use telepresence experience that you have come to expect from Cisco, combined with simple installation, global service, and a price performance that makes broad deployment easier and more affordable than ever.
The Cisco TelePresence portfolio creates an immersive, in-person experience over the network - bridging time and space to facilitate team collaboration like never before. Through a powerful combination of technologies and design innovations, the Cisco TelePresence experience allows you and remote participants to feel like you are all in the same room. The Cisco TelePresence portfolio also offers significant opportunity for productivity gains and process improvements that can transform your business. Many organizations are already using it to manage costs, make decisions faster, improve customer intimacy, scale scarce resources, and speed products to market.
| | |
| --- | --- |
| Figure 2. Cisco TelePresence MX200 in Small Team Room Environment | Figure 3. Cisco TelePresence MX300 in Medium Team Room Environment |
Bring Telepresence to Every Team Room
Turn a conference room into a telepresence room, and call team members to a meeting on a brilliant 42-inch or 55-inch screen, all in 10 minutes. The Cisco TelePresence MX200/MX300 and second-generation MX300 G2 are value products within the MX Series of multipurpose endpoints. These cost-effective, easy-to-install, and simple-to-use products bring colleagues from around the world face-to-face.
Simple Setup
Auto-provisioning and the MX200 and MX300 systems' intelligent self-configuration make them easy for IT to install on the network. Place the MX device where you want it, plug it in, type in user credentials, and start making video calls.
Easy Operation
The intuitive Cisco TelePresence Touch 8 interface simplifies user experiences. Meeting participants can initiate calls with the push of a single button.
High-Quality Global Service
Cisco manages service globally to provide a reliable experience and consistent support in more than 120 countries. This makes large-scale global deployments of the MX Series easier to achieve.
The MX200 and MX300 offer:
Integrated design for a consistent, high-quality video experience, regardless of room environment
Optimal preset framing and video clarity from a PrecisionHD camera
HD sound system with two front speakers for superior audio performance
Cisco TelePresence MX200 and MX300 systems are is designed and priced to bring the benefits of telepresence to more teams and meeting rooms. It's an ideal way to broadly deploy the Cisco TelePresence experience throughout your organization, or make your first move into life-like video communications.
---
Pricing Notes:
Pricing and product availability subject to change without notice.