Cisco TelePresence MCU 5300 Series

State-Of-The-Art Multipoint Control Units

Sorry, this product is no longer available, please contact us for a replacement.
Click here for more options and pricing!
Overview:
The Cisco TelePresence MCU 5300 Series is a range of state-of-the-art multipoint control units (MCUs) that can grow with your business' video usage over the long term. As the industry's first stackable MCU, it provides an entry-level appliance and flexible port that enables your video deployment to grow as your telepresence usage accelerates. Compatible with all major vendors' standard- and high-definition (SD and HD, respectively) endpoints, it delivers the best experience for each participant, every time.
Cisco TelePresence MCU is WebEx enabled, allowing customers to enjoy fully integrated, scalable conference involving callers from WebEx clients and telepresence endpoints.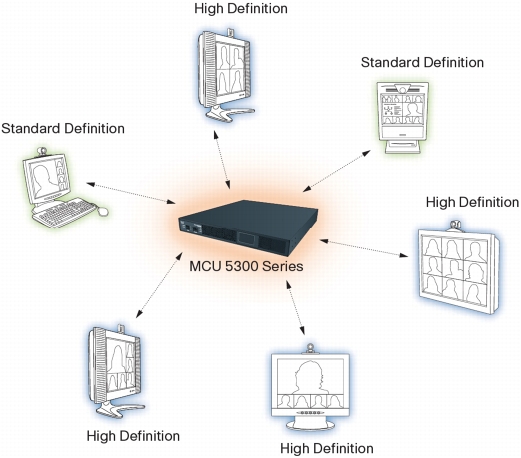 Cisco TelePresence MCU 5300 Series Is Standards-Based and Compatible with All Major Vendors' Endpoints
The MCU 5300 Series is the industry's first hardware-stackable MCU appliance, now enabling customers to expand entry-level configurations through a unique combination of software port licenses and the ability to connect a second unit through a stacking cable.
With this exceptional level of field upgradability, you can minimize disruption to your conferencing services while thoroughly protecting your initial investment.
The Cisco TelePresence MCU 5300 Series:
Is standards-based and compatible with all major vendors' endpoints
Is highly configurable and field upgradable
Offers a broad range of HD MCU entry points for customers
Is software-selectable between HD or SD video ports
Provides an upgradable unit with growth capacity using software port licenses
With the MCU 5300 Series, you get:
The ability to stack two MCUs together for increased capacity
Continuous presence for users on every port
Easy-to-use, versatile management interface
More than 50 custom layouts
Video resolutions up to 1080p, at 30 frames per second (fps)
A low-risk, cost-effective solution for HD multipoint video conferencing
---
Pricing Notes:
Pricing and product availability subject to change without notice.