Cisco TelePresence Content Server

Turn Meeting Rooms into Video Capture Studios

Sorry, this product is no longer available, please contact us for a replacement.
Click here for more options and pricing!
Overview:
With the Cisco TelePresence Content Server (UCS C220 M3 Hardware), your organization can share knowledge and enhance communication by recording video conferences. You can access live and on-demand presentations, distance education classes, and corporate training sessions-anywhere, anytime. In addition, you can distribute live or recorded content to any computer or download to your favorite portable media device.
Combine Cisco TelePresence Content Server with Cisco Media Experience Engine 3500, to provide comprehensive multimedia transcoding capabilities, automatically converting video files into a wide array of formats and bitrates for optimal viewing on any device. Cisco Media Experience Engine 3500 also creates a simple and automated way for customers to make their videos look more professional before posting through the addition of graphics, such as a "lower third" graphic containing the speaker's name and title or the company logo as a watermark. The MXE 3500 can also add a short introductory video known as a bumper, and add a closing "trailer" video to each recorded call before creating versions in different formats and speeds.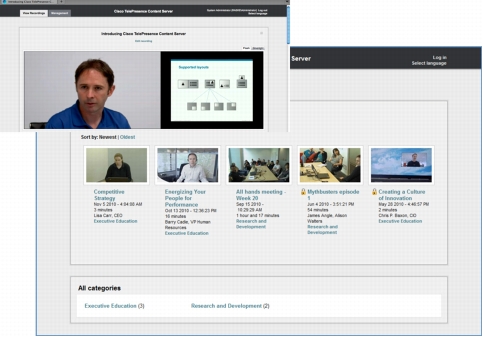 Turn Meeting Rooms into Video Capture Studios
Easily share knowledge using the Cisco TelePresence Content Server, which records Cisco TelePresence and third-party videoconferencing meetings and multimedia presentations for live broadcast and on-demand access.
The Cisco TelePresence Content Server simplifies the process of capturing and sharing many types of content throughout your organization, including:
Lectures
Training sessions
Meetings
Any critical events
You can create and manage business-quality multimedia content easily from any H.323 or Session Initiation Protocol (SIP) video endpoint. You can also distribute that content, live or recorded, to any PC or portable media device or to Cisco Show and Share.
Add in the Cisco MXE 3500 (Media Experience Engine), so you can easily add professional graphics, watermarks, bumpers, and trailers. The Cisco MXE 3500 also allows you to create versions in different formats and speeds for optimal viewing on any device.
---
Pricing Notes:
Pricing and product availability subject to change without notice.