Cisco SPA 525G 5-line IP Phone with Color Display

Cisco Small Business Pro Series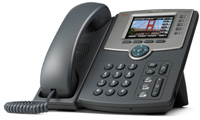 Sorry, this product is no longer available, please contact us for a replacement.
More pricing below, click here!
Overview:
Simplify and improve communications companywide with Cisco SPA 500 Series IP Phones, part of the Cisco Small Business Pro Series of network solutions. These phones offer enough features to serve everyone from manufacturing floor staff and cubicle workers to executives and remote employees. Your people stay productive, and enjoy access to voice and data communications wherever they are, but your costs stay low.
These affordably priced, reliable, and stylish IP phones are intuitive and easy-to-use. They also offer a rich user experience with wideband audio to connect employees and offices, application support to enhance productivity, and encryption for enhanced security. The SPA 500 Series delivers a versatile array of features with investment protection to help your small business succeed.
Full-Featured IP Phones
Wideband audio for unsurpassed voice clarity and enhanced speaker quality
Monochrome or color
backlit display for ease of use, aesthetics, and onscreen applications
Connects directly to a hosted IP telephony service or an IP private branch exchange (PBX)
Easy installation and highly secure remote provisioning, as well as menu-based and web-based configuration
Supports up to two SPA 500S expansion modules
Power over Ethernet (PoE)
Supports both Session Initiation Protocol (SIP) for Cisco SPA9000, open source, and hosted telephony solutions and Smart Phone Control Protocol (SPCP) for Cisco Unified Communications 500 Series for Small Business
Support for Bluetooth and WiFi*
Play back and view personal MP3 files and photos through on phone application*
Intuitive, easy-to-use, and feature-rich IP phones; watch the Cisco SPA 504 IP Phone Tutorial and Cisco SPA 525 IP Phone Tutorial
New Connectivity Options Enhance Phone Usage
The Cisco SPA525G IP phone is a five-line phone that operates in wired or wireless mode. It uses Voice over IP technology, and provides additional connectivity via Bluetooth headset, Power over Ethernet, or a wireless client. Staff simply plug their preconfigured phones into the network, which activates the phone. The phone can also be used with productivity-enhancing features, including VoiceView Express and Cisco XML Applications.
This phone is ideal for businesses operating with a hosted IP telephony service, an IP private branch exchange (PBX), or a large-scale IP Centrex deployment.It features:
Five-line IP phone supporting up to SPA 500S expansion modules
Connectivity with Power over Ethernet, 802.11g wireless client, and Bluetooth headset
High-resolution 3.2-inch QVGA 320 x 240 color screen
Simple, secure wireless setup
Multimedia support for MP3s, digital photos, and RSS feeds
Multi-feature support, including caller ID, call forwarding, call transfer, 3-way conferencing, call history, phonebook, MP3 ring tones, and speakerphone
Supports both SIP or SPCP Protocols with Cisco Unified Communication 500 Series for Small Business
MonitorView enables the SPA 525G phone to receive and display live streaming video from Cisco Small Business security cameras to help you safeguard business assets
Intuitive, easy-to-use, and feature-rich IP phones; watch the Cisco SPA 504 IP Phone Tutorial and Cisco SPA 525 IP Phone Tutorial
---
Pricing Notes:
Pricing and product availability subject to change without notice.