Cisco Unified SIP Phone 3905

Move from Analog to Cost-Effective IP Phones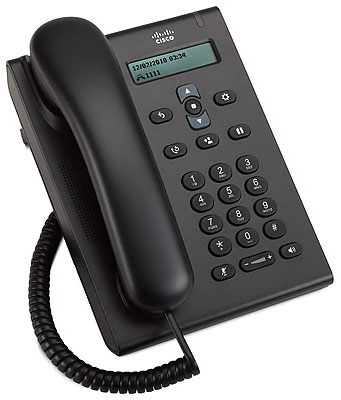 Sorry, this product is no longer available, please contact us for a replacement.
Click here for more options and pricing!
Overview:
The Cisco Unified SIP Phone 3905 is a cost-effective, entry-level IP phone that addresses the need for basic voice communications with common Cisco Unified Communications features in an attractive design that is also budget-friendly. The phone can fill the communication needs of cubicle, retail, classroom, manufacturing floor and hallway, as well as various wall-mounted deployments.
The single-line Cisco Unified SIP Phone 3905 supports two calls per line. Fixed keys for redial, transfer, and hold/resume, along with a full-duplex speakerphone and two-line display, which comes standard, deliver a more productive, easier-to-use, and flexible endpoint experience. With its dual-port 10/100 Ethernet switch for network and PC connections, the Cisco Unified SIP Phone 3905 offers IT organizations a cost-effective solution to reduce cabling infrastructure and administration costs at the desktop.
The phone is also eco-friendly, taking advantage of reground and recyclable plastics to deliver a more earth-responsible solution.
Move from Analog to Cost-Effective IP Phones
Replace your existing analog and digital phone deployments with affordable IP communication endpoints using the Cisco Unified SIP Phone 3905.
This phone also gives you access to the comprehensive suite of capabilities supported by Cisco Unified Communications Manager.
Increase Interaction and Flexibility
The Cisco Unified SIP Phone 3905 includes interactive features such as:
Single-line IP phone with support for up to two concurrent calls
Graphical 128x32-pixel monochrome display with a two-way navigation button
Full duplex speakerphone for flexibility with hands-free communications
Fixed keys for common telephony features: hold, redial, transfer, and mute
Foldable, single-position display stand to simplify wall-mount deployments
Help Protect the Environment
The design of this phone includes reground and recyclable plastics to deliver a more environmentally responsible solution.
Get Session Initiation Protocol Support
Protocols and networking features of the Cisco Unified SIP Phone 3905 include:
Support for Session Initiation Protocol (SIP)
IEEE 10/100 network and PC ports to save cabling infrastructure costs on collocation
---
Pricing Notes:
Pricing and product availability subject to change without notice.