Cisco RV340 Wireless-AC Dual WAN Gigabit VPN Router

Wireless-AC Connectivity with Four RJ-45 Gigabit Ethernet ports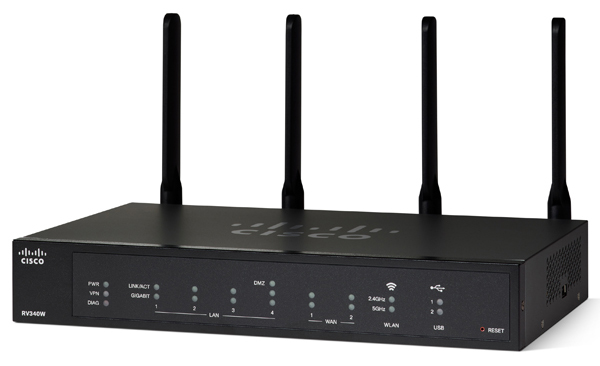 Sorry, this product is no longer available, please contact us for a replacement.
More pricing below, click here!
Overview:
Today, secure networking is imperative for every business, even the smallest one.
The RV340 Series security router provides business users with advanced connectivity and secure high-speed access for the growing demand and usage of digital services.
The Cisco RV340 Series routers connect small businesses securely to the Internet. The routers protect employees from threats such as viruses, network attacks, unwanted content, and malicious websites. All that without compromising the online experience.
Implementing advanced Unified Threat Management (UTM) features on a high-performing router platform creates one of the most desirable small business connectivity solutions.
Standard are dual WAN ports, business class firewall, and flexible VPN options. Integrated Wi-Fi-5, 16- port LAN switch, and PoE LAN orts are available in model variants.
For cloud-based security, an easy-to-configure Cisco Umbrella™ integration is available.
Security
IT security is a priority for business of all sorts and sizes. With the size of an office or a remote office typically being rather small, IT staff is less likely to be available and offer user support. Any office environment requires the same functionality as the corporate office in terms of security that may include firewall, VPN, IPS, blocking applications and web protection.
The Cisco 340 Series offers comprehensive security and best-in-class performance.
Firewall: Stateful, scalable, and flexible.
UTM features (your choice of on prem or in the cloud) — Unified security features provide reliable and highly secure Internet connectivity with cloud application detection and policies.
Secure connectivity: Flexible VPN functionality with support of Cisco Secure Client (including AnyConnect).
Hardware-accelerated performance: Dual core ARM-based architecture with embedded hardware-accelerated VPN.
Dual-WAN with load-balancing and 3G/4G failover brings resiliency and increased bandwidth.
Partner- or customer-centric single pane-of-glass network management with the integration into FindIT Manager or web UI.
Automated software updates to keep the firmware current.
The security features include an on-board UTM feature set and a cloud-based Cisco Umbrella integration. These features can be used independently from each other and require a software license. When the Cisco Umbrella integration is activated, the on-board web security is turned off. All other security features will work.
Cisco Umbrella is a cloud-based web security service that delivers automatic protection from malicious or compromised websites, phishing, C2 Callbacks, and malware. With Cisco Umbrella, you gain visibility and enforcement at the DNS layer, so you can block requests to malicious domains and IPs before a connection to your network or endpoints is ever made. And because it's built into the foundation of the Internet and delivered from the cloud, Umbrella is the simplest security product to deploy and delivers powerful, effective protection. The router integration allows for easy setup, enhanced visibility and reporting, and a small business–friendly branch license for Cisco Umbrella.
The on-board UTM security features include: Intrusion prevention, gateway antivirus, application identification, client identification, on-board web security. These features protect your network from attacks from the Internet and at the same allow for setting policies for corporate usage of the Internet by limiting Internet surfing to appropriate site categories and eliminating unwanted network traffic, hence boosting employee productivity and overall network performance.
Licensing
To operate the router no license is required. It will work with full performance and all VPN features are turned on.
The customer can add advanced security features to the router using a license. The license will enable IPS, Antivirus, Web Security, App ID, and Client ID. The licensed security features can be trialed at no cost for 90 days.
To integrate the router into Cisco Umbrella as a "network device type," and to have the advantage of detailed security reporting for all hosts behind the router, a Cisco Umbrella license is required. For customers using only the RV routers, an affordable Cisco Umbrella branch license is available.
RV Security License (LS-RV34X-SEC-1YR=)
Enables dynamic web filter, Internet security and Application Visibility, Client Identification, IPS, and Antivirus.
Umbrella RV Branch License (UMB-BRAN-RV)
1-Year Cisco RV-Branch license. Uses Cisco Umbrella Licensing.
---
Pricing Notes:
Pricing and product availability subject to change without notice.