Cisco Prime Collaboration Manager

Simplify Video Collaboration Management with End-to-End Visualization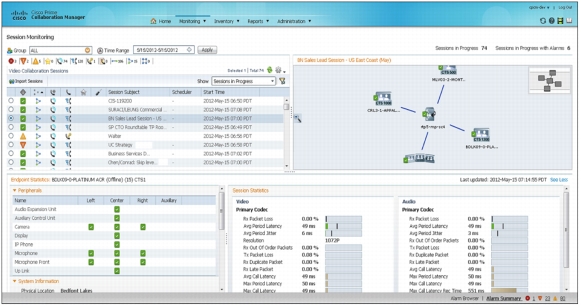 Sorry, this product is no longer available, please contact us for a replacement.
Click here for more options and pricing!
Overview:
Cisco Prime™ Collaboration Manager is a comprehensive video service assurance and management system with a set of powerful monitoring, troubleshooting, and reporting capabilities that help ensure end users receive a consistent, high-quality video collaboration experience. Providing superior levels of video quality and availability to users can be an extremely challenging task for service and network operators. Collaboration Manager aids operators in delivering a first-rate end-user experience by:
Visualizing and monitoring video collaboration sessions in real time, helping provide timely support to end users when issues arise
Significantly reducing operational costs by dramatically speeding the time required to pinpoint issues that affect service
Providing detailed video flow path analysis to rapidly isolate areas of service degradation in the session path, including an increased level of visibility if accessing Cisco medianet-enabled networks
Helping to enable effective management of key assets through simplified diagnostic and utilization reports and at-a-glance executive summaries
About Cisco Prime
Cisco Prime Collaboration Manager is a product in the Cisco Prime network management portfolio.
The Cisco Prime portfolio of enterprise and service provider management offerings supports integrated lifecycle management of Cisco architectures and technologies based on a service-centered framework. Built on an intuitive workflow-oriented user experience, Cisco Prime products help increase IT productivity and reduce operational costs through innovative management solutions for network services, infrastructure, and endpoints.
Simplified Video Collaboration Management with End-to-End Visualization
Improve Operational Efficiencies with Rapid Problem Resolution
Video collaboration service operators need to manage large service deployments and monitor many concurrent sessions. Cisco Prime Collaboration Manager provides operators with the ability to visualize the service status and topology of all sessions currently in progress. Operators can quickly pinpoint critical sessions as well as locate and address sessions with problems (Figure 1). This built-in visibility helps operators optimize video delivery and reduce operational costs across the organization.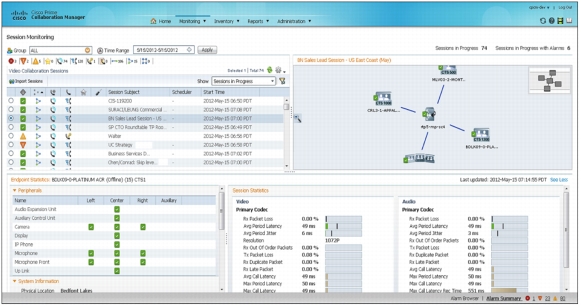 Figure 1. Session Monitoring Dashboard
End-to-End Visibility and Fault Isolation for Improved Troubleshooting
Video collaboration service operators need to quickly isolate the source of any service degradation in the network for all point-to-point and multipoint video sessions in an enterprise. Cisco Prime Collaboration Manager provides a detailed analysis of the end-to-end media path, including specifics about endpoint, service infrastructure, and network-related issues. Its ability to provide detailed visibility into the media path and critical fault and performance statistics facilitates faster isolation and resolution of video problems (Figure 2).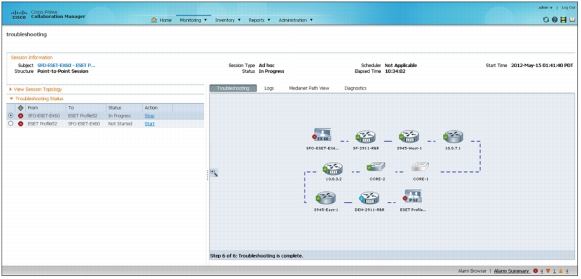 Figure 2. Media Path Visualization
Integrated Troubleshooting with Cisco Medianet
In conjunction with Cisco medianet Cisco Prime Collaboration Manager delivers richer end-to-end information that helps operators more easily identify and isolate video issues. Collaboration Manager uses Cisco medianet to provide enhanced path computation, statistics collection, and synthetic traffic generation.
When network devices are medianet-enabled, Collaboration Manager provides:
Deeper, flow-related information along the video path using Mediatrace (Figure 3)
Snapshot views of all traffic at network hot spots using Performance Monitor
The ability to initiate synthetic video traffic from network devices using the IP service-level agreement (IP SLA) video operations to assess video performance on a network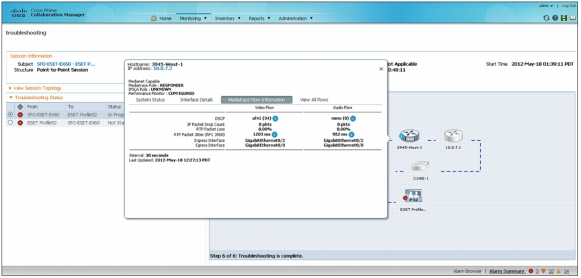 Figure 3. Network Flow-Based Information Using Mediatrace
Simplified Reports and Executive Summaries
Cisco Prime Collaboration Manager 1.2 provides simple predefined reports as well as at-a-glance executive summaries (Figure 4) that help enable service administrators quickly and easily to view utilization and problem trends as well as critical outages in their video collaboration deployments. In 1.2, these reports can be scheduled, produced in either comma-separated value (CSV) or PDF format, and emailed automatically to administrators. These reports help business decision makers allocate video collaboration resources successfully at ideal locations and increase return on investment (ROI). In addition, being able to instantly view service degradation and problem trends, service operators can help ensure higher system uptime and greater end-user experience.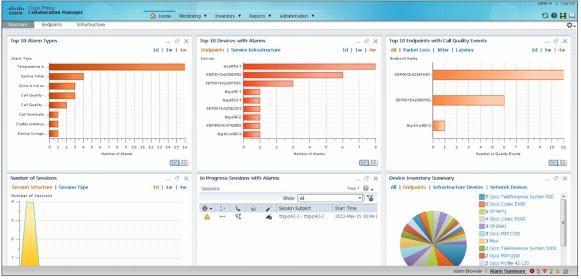 Figure 4. Collaboration Manager Landing Page Displaying Executive Summaries
---
Pricing Notes:
Pricing and product availability subject to change without notice.