Cisco Prime NAM 2304 Appliance

Four 1 Gigabit Ethernet monitoring interfaces and eight 1 TB enterprise class SATA II hard disk drives

Sorry, this product is no longer available, please contact us for a replacement.
Cisco NAM 2304 Appliance:
Consistent and accurate visibility across today's multigigabit networks is essential for managing the delivery of your business-critical applications and improving end-user experience. Knowing who is using the network, what applications are running on the network, how the applications are performing, and how traffic over the network is being used is the foundation for effective service delivery whether you are rolling out a new business application, undertaking WAN optimization, verifying quality of service (QoS) policies, optimizing network resources, or troubleshooting application performance issues.
Product Overview
Cisco Prime™ NAM 2300 Series Appliances are next-generation, purpose-built devices that uniquely combine packet- and flow-based network intelligence to help solve complex performance issues in your network. The integrated dashboard (Figure 1) allows you to undertake multidimensional analysis, dive deeper into the network, and quickly get access to critical information to help ensure that business-critical applications are able to meet committed service levels. And, when there's a problem, Cisco Prime NAM appliances can help you find it fast, reducing the time it takes to resolve the problem from days to just minutes.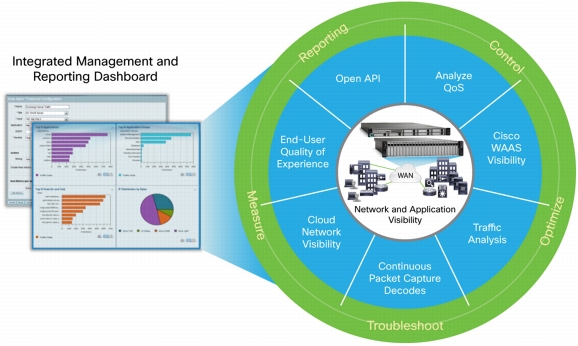 Cisco Prime NAM 2300 Series Appliances Functional Overview
Cisco Prime NAM 2300 Series Appliances take full advantage of leading-edge Cisco Unified Computing System™ (Cisco UCS®) C220/240 M3 rack-server platforms to deliver unparalleled performance, reliability, and manageability. The series comprises two appliance models, the Cisco Prime NAM 2320 Appliance and the Cisco Prime NAM 2304 Appliance designed to meet diverse performance analysis needs in scalable multigigabit switching and routing environments.
The Cisco Prime NAM 2320 Appliance includes two 10 Gigabit Ethernet monitoring interfaces and sixteen 1 TB enterprise class Serial Advanced Technology Attachment (SATA II) hard disk drives with an option to upgrade to twenty-four drives at the time of ordering. The Cisco Prime NAM 2304 includes four 1 Gigabit Ethernet monitoring interfaces and eight 1 TB enterprise class Serial Advanced Technology Attachment (SATA II) hard disk drives.
The NAM 2320 Appliance is well suited for deployments in the data center, enterprise campus core, and service provider networks. The NAM 2304 Appliance caters well to the needs in enterprise unified access and campus, WAN edge, and managed remote sites.
Cisco Prime NAM Improves Operational Efficiency
With wired/wireless convergence, growing complexity in application deployment architectures, rapid adoption of virtualization and cloud, and increasing network traffic rates, network teams are constantly challenged with the task of ensuring that the network performs to the rigorous needs of the business. Cisco Prime NAM 2300 Appliances deliver the performance and agility needed to tackle this challenge.
Cisco Prime NAM 2300 Appliances exploit their high-performance packet acquisition capability, line-rate hardware filters, and advanced analytics to deliver granular traffic statistics, rich application performance metrics, voice quality metrics, and deep, insightful packet captures. Extensive storage allows you to go back in time to understand what happened in the past when an event that affected network performance occurred. The capability can be utilized at critical observation points across the network to improve the operational effectiveness of Cisco Borderless Networks and the Cisco Data Center Fabric Path solution architectures. For example, Cisco Prime NAM can help you get the most from your WAN optimization investment, assess the impact of virtual machine (VM) mobility, or troubleshoot network bottlenecks in the data center.
Cisco Prime NAM includes integrated dashboards that provide an at-a-glance view of network and application performance and intuitive workflows that help you speed up problem detection and resolution. Using techniques such as contextual navigation, interactive reports, and one-click packet captures (Figure 1) you can get to the root cause of the issue highlighted on the dashboard. All of this can be remotely accessed from anywhere so that you can know how the network is performing at any time. The visibility helps to accelerate troubleshooting, advance resource optimization decisions, and deliver consistent end-user experience.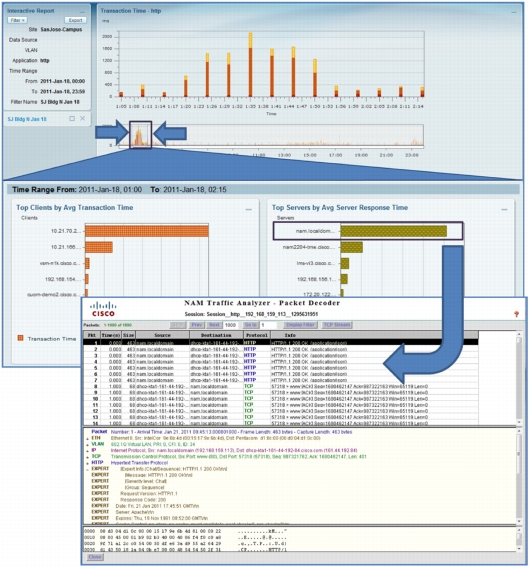 Figure 1.
 Application Performance Troubleshooting Workflow
---
Pricing Notes:
Pricing and product availability subject to change without notice.