Cisco Unified IP Phone 6911

Single-line endpoint for light voice communications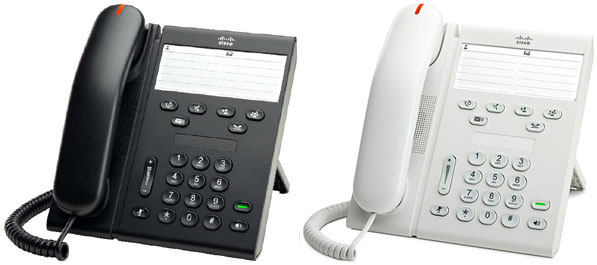 Sorry, this product is no longer available, please contact us for a replacement.
Click here for more options and pricing!
Overview:
Cisco Unified Communications Solutions enable collaboration so that organizations can quickly adapt to market changes while increasing productivity; improving competitive advantage through speed and innovation; and delivering a rich-media experience across any workspace, securely and with optimal quality.
The Cisco Unified IP Phone 6911 is a cost-effective, easy-to-use, single-line IP endpoint. It is an ideal solution for classrooms, manufacturing floors or anywhere there is need for light voice communications services with a co-located PC.
A business-grade voice communications endpoint that provides high-quality voice services in a clutter-free and eco-friendly ergonomic design, its primary features include:
Fixed keys for Hold, Redial, Call Waiting, Conference, Transfer, and Voice Messaging
IEEE 10/100 integrated switch ports support co-located PC for reduced cost and wiring infrastructure
Full-duplex speakerphone for hands-free communications
Support of up to two concurrent voice calls with Call Waiting
Tricolor illuminated line key to indicate an incoming call, an active call, and a call on hold
Two color options, charcoal and arctic white, and two handset styles for flexibility and comfort
The Cisco Unified IP Phone 6911 is a single-line endpoint delivering affordable access to Cisco voice communication services. It is an ideal solution for light communication requirements. Examples include classrooms, manufacturing floors, or employees in cubicles or teleworking from home.
The Cisco Unified IP Phone 6911 supports two incoming calls with a single-line endpoint. A full-duplex speakerphone is included in the design, which provides a more productive, flexible, and easier-to-use endpoint experience. Integrated IEEE 10/100 Ethernet switch ports support connection to a co-located PC while reducing cabling infrastructure and administration costs.
The Cisco Unified IP Phone 6911 includes fixed keys for hold, transfer, conference, redial, and voicemail, making the phone simple and easy-to-use. In addition, a programmable feature key is supported for quick access to advanced communication services. Tri-color LED illuminates on the line key to provide quick call-state indication at a glance.
The Cisco Unified IP Phone 6911 offers personalization, with the choice of two colors (charcoal and arctic white) and two handset style options (slimline and standard).
The Cisco Unified IP Phone 6911 is also eco-friendly, taking advantage of reground and recyclable plastics to deliver a more earth-responsible solution.
---
Pricing Notes:
Pricing and product availability subject to change without notice.