Cisco WebEx Connect IM

Collaborate Securely with Anyone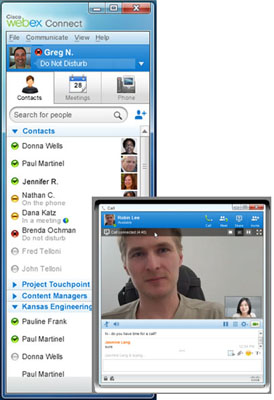 Sorry, this product is no longer available, please contact us for a replacement.
Overview:
Cisco WebEx Connect simplifies communications and enhances productivity by unifying presence, Instant Messaging (IM), IP telephony, voice and video, and web conferencing more securely into one client on your desktop. Cisco WebEx Connect is delivered through Software-as-a-Service, uses best-in-class unified communications, and integrates with commonly used desktop applications. Communicate and collaborate effectively from anywhere you have an Internet connection.
Communicate and collaborate more effectively with colleagues, partners, and customers by using Cisco WebEx Connect.
Facilitate Faster Decision Making
Enhance productivity with presence awareness. See which colleagues, partners, or customers are available, and get in touch right away.
Communicate Flexibly: The Right Solution for the Right Situation
Choose the best channel for your communication, including:
Instant messaging (IM)
Audio
Voice over IP (VoIP)
Video
Integrated web conferencing
WebEx Connect IM uses Extensible Messaging and Presence Protocol (XMPP), the only Internet presence and IM standard formalized by the IETF.
Extend Your Unified Communications Investment
Take advantage of your investments in Cisco Unified Communications by adding telephony to WebEx Connect IM.
Place, receive, and manage calls through your computer when you're working remotely, or manage your Cisco IP phone from WebEx Connect in the office. This requires Cisco Unified Communications Manager 6.1.3 or a later version and the Cisco Unified Communications Integration plug-in for WebEx Connect IM.