Cisco WAP121 Wireless-N Access Point with Single Point Setup

Secure, Easy-to-Deploy, Affordable Wireless-N Connectivity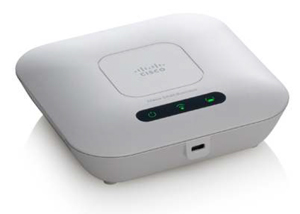 Sorry, this product is no longer available, Please contact us for a replacement.
Overview:
Highlights
Provides affordable high-bandwidth 802.11n wireless connectivity for demanding applications
Easy to set up and manage by using the configuration wizard
Single Point Setup simplifies the deployment of multiple wireless access points
Safeguards business information with enhanced security, including advanced encryption, highly secure authentication, and rogue access point detection
Attractive design with internal antennas offers flexible installation options
Can connect to a Power over Ethernet (PoE) switch or injector, simplifying installation and eliminating the need for expensive additional wiring
Product Overview
In an increasingly mobile workplace, providing secure, high-speed wireless connectivity to employees and guests is more important than ever. The Cisco WAP121 Wireless-N Access Point with Single Point Setup is an easy, affordable way to improve the performance and reach of your small business network with advanced 802.11n wireless technology. This flexible solution is ideal for connecting up to 10 employees on a single access point. With Single Point Setup controllerless multi-access point deployment technology, the wireless LAN can scale up to four WAP121s to provide broader coverage and support additional users as business needs change.
Designed for today's performance-intensive applications, the Cisco WAP121 employs 802.11n wireless technology to deliver high throughput and extended range throughout your office. It features built-in quality-of-service (QoS) features that let you prioritize bandwidth-sensitive traffic, enabling the deployment of business-quality voice over IP (VoIP) and video applications.
The Cisco WAP121 is simple to set up and use, with intuitive wizard-based configuration to get you up and running in minutes. A sleek, compact design with flexible mounting options enables the access point to smoothly blend into any small business environment. Support for PoE makes the device easy to install without the need for separate power plugs or expensive new wiring.
To enhance reliability and safeguard sensitive business information, the Cisco WAP121 supports both Wired Equivalent Privacy (WEP) and Wi-Fi Protected Access (WPA2), encoding all your wireless transmissions with powerful encryption. In addition, 802.1X RADIUS authentication helps keep unauthorized users out. For organizations that need to provide secure wireless access to employees, customers, and partners, it also provides support for separate virtual networks, with granular configuration options that let you provide the appropriate level of access for different users.
Single Point Setup provides a unique centralized method to administer and control wireless services across multiple access points. Via one access point on the LAN you have a single view of the whole WLAN to replicate configuration, security, and management across all access points.
With the Cisco WAP121, you can extend highly secure business-class wireless networking anywhere in the office, with the reliability and flexibility to meet changing business needs.
Figure 1 shows a typical configuration using this wireless access point. Figures 2 and 3 show the front and back, respectively, of the Cisco WAP121 Wireless-N Access Point with Single Point Setup.
Figure 1.     
Typical Wireless Access Point Configuration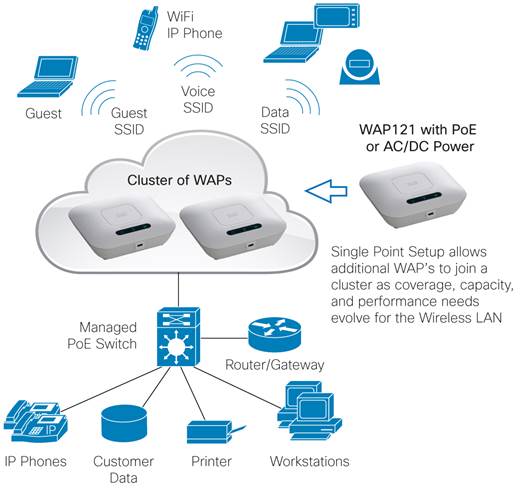 Figure 2.     
Front Panel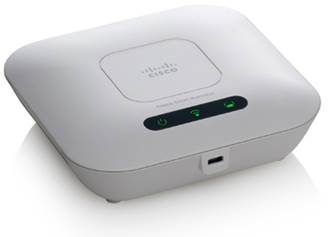 Figure 3.     
Back Panel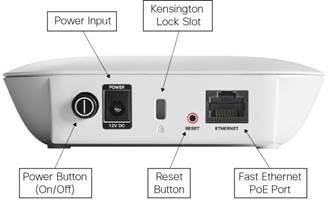 Features and Benefits:
Highly secure, high-speed 802.11n wireless networking delivers enhanced throughput and extended range for bandwidth-intensive applications.
Wizard-based setup and configuration enables fast, simple deployment.
Single Point Setup controllerless multi-access point deployment and management technology makes configuration simple.
Robust security, including WPA2, 802.1X with RADIUS secure authentication, and rogue access point detection, helps protect sensitive business information.
Support for PoE enables easy installation without expensive additional wiring.
Workgroup Bridge mode lets you expand your network by wirelessly connecting to a second Ethernet network.
Elegant, compact design with internal antennas and versatile mounting kit enables installation on a ceiling, wall, or desktop.
Intelligent QoS prioritizes network traffic to help keep critical network applications running at top performance.
Power-saving sleep mode and port control features help maximize energy efficiency.
Highly secure guest access enables safe wireless connectivity for visitors.
Support for IPv6 lets you deploy future networking applications and operating systems without costly upgrades.
Technical Specifications: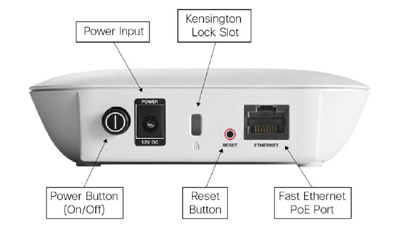 Product Specifications for the Cisco 100 Wireless Series
Specifications
Description
Standards
IEEE 802.11n, 802.11g, 802.11b, 802.3af, 802.3u, 802.1X (security authentication), 802.1Q (VLAN), 802.1D (Spanning Tree), 802.11i (WPA2 security), 802.11e (wireless QoS), IPv4 (RFC 791), IPv6 (RFC 2460)
Switch
Power button (on/off)
Ports

LAN Fast Ethernet auto sensing, DC jack

Buttons

Power (on/off) push button, Reset button

Cabling type

Category 5e or better

Antennas

Internal antennas optimized for wall, ceiling, or desktop placement

LEDs

Power, WLAN, LAN

Operating system

Linux

Physical Interfaces
Ports

10BASE-T/100BASE-TX Ethernet, 12V DC power with support for 802.3af PoE

Power supply

External 12V 0.5A DC power jack (Energy Star 2.0 compliant with Efficiency Level 5) and 802.3af PoE

Buttons
Power (on/off) push button; Reset button
Lock slot
Slot for Kensington lock
LED
Power, Wireless, Ethernet
Physical dimensions (W x D x H)
4.89 x 4.89 1.38 in or 124.17 x 124.17 x 35 mm
Weight
0.37 lb or 168 g
Network Capabilities
VLAN support
Yes
Number of VLANs
1 management VLAN plus 4 VLANs for SSID
Multiple SSIDs
4
802.1X supplicant
Yes
SSID to VLAN mapping
Yes
Auto channel selection
Yes
Spanning tree
Yes
Load balancing
Yes
IPv6

Yes

IPv6 host support
IPv6 RADIUS, syslog, Network Time Protocol (NTP), etc.

Layer 2
802.1Q-based VLANS, 4 active VLANS plus 1 management VLAN
Security
WPA/WPA2/WEP
Yes, including Enterprise authentication
Access control
Yes, management access control list (ACL) plus MAC ACL
Secure management
HTTPS
Wi-Fi Protected Setup (WPS)
Yes (soft WPS, no hardware push button)
SSID broadcast
Yes
Rogue access point detection
Yes