Cisco TelePresence ISDN GW 3241

Easily Integrate Your IP Network and ISDN

Cisco Products
Cisco TelePresence ISDN Gateway
Cisco ISDN GW 3241 - PRI ISDN H.320 To H.323 Gateway
#CTI-3241-GWISDNK9
List Price:
$21,360.00
Our Price: $12,292.74
Click here for more options and pricing!
Overview:
The Cisco TelePresence™ portfolio creates an immersive, face-to-face experience over the network-empowering you to collaborate with others like never before. Through a powerful combination of technologies and design that allows you and remote participants to feel as if you are all in the same room, the Cisco TelePresence portfolio has the potential to provide great productivity benefits and transform your business. Many organizations are already using it to control costs, make decisions faster, improve customer intimacy, scale scarce resources, and speed products to market.
The Cisco TelePresence ISDN GW 3241 is a high-capacity and scalable gateway that grows with your business demands. It provides seamless integration between IP and ISDN networks with complete feature transparency, including high definition (HD), enabling organizations using ISDN to enjoy the benefits of HD videoconferencing.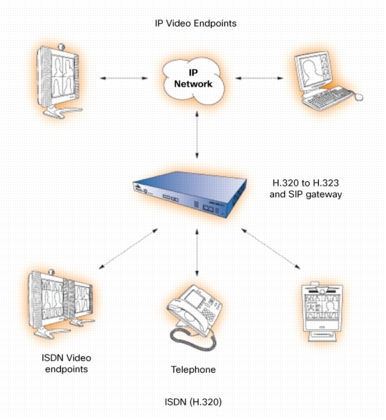 Easily Integrate Your IP Network and ISDN
Enjoy the benefits of high-definition video on your ISDN with the Cisco TelePresence ISDN GW 3241. This scalable, high-capacity gateway:
Grows with your business demands
Provides transparent communication between all features of IP networks and ISDNs
This automatically operational gateway is easy to use and a powerful tool for your organization. Included are features such as:
Standards-based compatibility with all major vendors' endpoints
Fully integrated, easily configurable unit with built-in gatekeeper
Exceptional dial plans to help ensure that calls are routed efficiently
Video resolutions up to high-definition 720p at 30 frames per second
Capability for up to 120 voice calls at 64 kbps and up to 60 video calls at 128 kbps
This rack-mountable ISDN gateway is a compact one unit tall. It delivers per-call bandwidth of 56 kbps to 2 Mbps with Advanced Encryption Standard (AES).
In addition, management features include comprehensive remote web management, diagnostics, reporting, and upgrades.
Features and Benefits:
Table summarizes the key features for the Cisco TelePresence ISDN GW 3241, and Table 2 gives interface and call information about the Cisco TelePresence ISDN GW 3241 and Cisco TelePresence ISDN GW 3241-PL models.
Feature Summary
Design features

Standards-based and compatible with all major vendors' endpoints
Pay as you grow - buy the capacity you need now and a simple license upgrade in the future
Easily configurable unit
Comprehensive remote Web management
Compact size: 1U tall and 19" rack mountable

Application features

Provides seamless integration between IP and ISDN devices
Fully integrated, with built-in gatekeeper
Powerful dial plans ensure that your calls get routed efficiently
H.239 and BFCP for presentation sharing capabilities
Support for automatic load balancing in multiple gateway environments

Performance features

Video resolutions up to High Definition 720p at 30fps
Supports up to 4 PRI ISDN ports in a single unit
Up to 120 voice calls at 64 Kbps
Up to 60 video calls at 128Kbps
Bandwidth per call from 56Kbps to 2Mbps
AES encryption
Technical Specifications:
Product Specifications
Model
T1/E1 ISDN
PRI interfaces
Maximum video calls
384 kbps
T1/E1
Maximum video calls
768 kbps
T1/E1
Maximum voice calls
64 kbps
T1/E1
Cisco TelePresence ISDN GW 3241
Up to 4 PRIs, 1 enabled
15/20
7/10
92/120
Cisco TelePresence ISDN GW 3241-PL
1 additional PRI port license
Product Specifications
Endpoints Supported

H.323 IP voice and video endpoints
SIP voice and video endpoints
H.320 ISDN voice and video endpoints
PSTN audio only calls (telephones) through ISDN

Video Standards
H.261, H.263, H.263+, H.264
Video Resolution
QCIF, QSIF, CIF, SIF, iCIF, iSIF, 288p, 384p, 400p, 448p, VGA, 4CIF, 4SIF, 480p, SVGA, 576p, XGA, 720p
Frame Rates
Up to 30 frames per second and 60 fields per second
Audio Standards
G.711, G.722, G.722.1, G.728, Polycom Siren14™/G.722.1 Annex C
Other Standards
H.323, H.320, H.233, H.234, H.235 (AES), H.239 (dual video), H.221, FTP, RTP, HTTP, HTTPS, DHCP, SNMP, NTP
ISDN Signaling
Q.931, NFAS, 4ESS, DMS100 support
ISDN Bonding

BONDING (ISO 13871)
H.221 aggregation
Automatic downspeeding on loss of ISDN B channels

Bandwidth

H.320/H.323/SIP calls supported up to 2 Mbps
Total bandwidth and number of sites supported is limited only by ISDN capacity

Presentation/Data Collaboration
Data from H.239 (dual video) of BFCP capable endpoints
Call Routing from ISDN (H.320/PSTN)

IVR/auto attendant
Direct Inward Dialing (DID)
Default (Operator) extension
Call routing to MCU/multipoint conference bridge
Dialed number digit manipulation
Calling party number digit manipulation
Flexible dial plan
TCS-4 support

Call Routing from IP (H.323/SIP)

IVR/auto attendant
Dial by E.164 address
Dialed number digit manipulation
Calling party number digit manipulation
Flexible dial plan
Dial from MCU with and without a gatekeeper

Embedded Web Server
Complete configuration, control and monitoring of the system
Built-in Gatekeeper

Resolution of E.164 numbers
Registration of endpoints and gateways
Up to 25 devices can register

System Management

Management via embedded Web server
Status through Cisco TelePresence Management Suite
XML API
RS-232 for local control and diagnostics
Syslog for diagnostics
Configurable event logs and full H.323 decoding
Configuration backup to network
Secure upgrades through Ethernet or CompactFlash
Call Detail Records downloadable as XML
SNMP

Quality of Service

Configurable DSCP or TOS/IP precedence
H.323 flow control
Dynamic jitter buffers

Security Features

Two levels of access rights and privileges for users
Strong password policy
Secure management via HTTPS
Dial plan system controls which destinations are reachable
Services may be disabled: HTTP, HTTPS, FTP, H.323, SNMP, H.323 GK
H.235 authentication for Gatekeeper registration
Secure non-PC hardware and operating system
AES encryption, 128 bit key, H.233, H.234, H.235
TLS certificate verification
Certificate-based login with OCSP certificate checking
SRTP encryption
Second Ethernet port
Audit log

Embedded Encryption

Standards based on ISDN, IP and mixed ISDN/IP: H.233, H.234, H.235, AES 128 bit key
Automatic key generation and exchange
Transparent encryption

Interfaces

RJ45 ISDN PRI ports
2 x RJ45 Ethernet, 10/100/1000 Mbps full/half duplex, manual or auto sensing
RJ45 serial port
CompactFlash socket
Up to 27 status LEDs

Environmental Data

Operating temperature 0°C to 35°C ambient
Relative humidity below 95% (non-condensing)

Physical Dimensions

Height 1.73", 44 mm (1U)
Width 17.2", 437 mm
Depth 12.3", 312 mm
Weight 9 lbs, 4kg
19" rack mountable (kit supplied) or standalone
Power 100-240 VAC, 50/60Hz
110W max power consumption

Regulatory Compliance

European safety: EN 60950-1:2001
USA safety: UL 60950-1 First Edition
Canada safety: CSA 60950-1-03
CE Marked
EMC:
– EN55022 class A
– EN61000-3-2, EN61000-3-3
– EN55024: EN61000-4-2,-3,-4,-5,-6,-11
– FCC Part 15 class A
– VCCI class A
– AS/NZS 3548 (C-Tick)
– CCC Approved: GB4943-2001, GB9254-1998
– YD/T993-1998
Telecoms:
– USA TIA-968-A: October 2002, 47 CFR Part 68: October 2004
– Canada: IC CS-03, Issue 9, Part VI
– Europe: ETS 300 046-3,
– Japan: Ordinance of MPT No 31, 1984
– China: NAL Certificate
RoHS compliant
Pricing Notes:
Pricing and product availability subject to change without notice.
Cisco Products
Cisco TelePresence ISDN Gateway
Cisco ISDN GW 3241 - PRI ISDN H.320 To H.323 Gateway
#CTI-3241-GWISDNK9
List Price:
$21,360.00
Our Price: $12,292.74