Cisco TelePresence Content Server

Turn Meeting Rooms into Video Capture Studios

Cisco Unified Communications
Cisco TelePresence Content Server

Cisco TelePresence Content Server
#TCS-C220-5RP-K9
List Price:
$43,920.00
Our Price: $29,470.32
Click here for more options and pricing!
Overview:
With the Cisco TelePresence Content Server (UCS C220 M3 Hardware), your organization can share knowledge and enhance communication by recording video conferences. You can access live and on-demand presentations, distance education classes, and corporate training sessions-anywhere, anytime. In addition, you can distribute live or recorded content to any computer or download to your favorite portable media device.
Combine Cisco TelePresence Content Server with Cisco Media Experience Engine 3500, to provide comprehensive multimedia transcoding capabilities, automatically converting video files into a wide array of formats and bitrates for optimal viewing on any device. Cisco Media Experience Engine 3500 also creates a simple and automated way for customers to make their videos look more professional before posting through the addition of graphics, such as a "lower third" graphic containing the speaker's name and title or the company logo as a watermark. The MXE 3500 can also add a short introductory video known as a bumper, and add a closing "trailer" video to each recorded call before creating versions in different formats and speeds.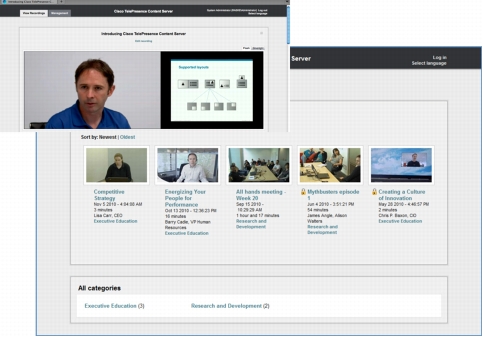 Turn Meeting Rooms into Video Capture Studios
Easily share knowledge using the Cisco TelePresence Content Server, which records Cisco TelePresence and third-party videoconferencing meetings and multimedia presentations for live broadcast and on-demand access.
The Cisco TelePresence Content Server simplifies the process of capturing and sharing many types of content throughout your organization, including:
Lectures
Training sessions
Meetings
Any critical events
You can create and manage business-quality multimedia content easily from any H.323 or Session Initiation Protocol (SIP) video endpoint. You can also distribute that content, live or recorded, to any PC or portable media device or to Cisco Show and Share.
Add in the Cisco MXE 3500 (Media Experience Engine), so you can easily add professional graphics, watermarks, bumpers, and trailers. The Cisco MXE 3500 also allows you to create versions in different formats and speeds for optimal viewing on any device.
Features and Benefits:
Table summarizes the key features of the Cisco TelePresence Content Server.
Feature Summary
Design features

Appliance-based architecture for easy deployment and high reliability
One rack unit (1RU) rack-mountable
Built-in, easy-to-use, web-based management interface
Built-in web-based content library
Ability to interoperate with a range of complementary multivendor products

Application features

Live and on-demand streaming
Scheduled and impromptu call support with dial-in and -out capabilities
Ability to record and stream video and H.239 dual-stream presentations from any H.323 or Session Initiation Protocol (SIP) video conferencing unit
Content creation from anywhere using Cisco TelePresence Expressway technology
Compatibility with all major streaming formats, including Windows Media, Flash, and QuickTime
Support for major distribution servers and corporate web portals
Editing and library features for simple content creation and retrieval
Support for download of content to PC, Mac, and portable media devices

Performance features

Hosts up to five concurrent calls (up to 10 calls with Additional Five Port Option), up to two of which can be streamed live
Video-conference bandwidth up to 4 Mbps (with premium Resolution Option)
Synchronized streaming of video and presentation in live and on-demand modes
Unicast and multicast streaming support
Internal and external storage capabilities
Support for Active Directory authentication through Lightweight Directory Access Protocol (LDAP)
Call configuration and access rights management
Ability to cluster up to 10 content servers
Support for SQL Server 2008 with Content Server clusters
Ability to export and import recordings from one Content Server to another
Technical Specifications:
Product Specifications
Product compatibility
Support for recording initiation from all standards-based endpoints
Components
 Simplified, common format, complete solution for streaming, all in one component
Recording

Predefined template-based recording options
Recording flexibility through a built-in web-based template editor
Personal and system recording aliases for ultimate flexibility
Support for automated creation of personal recording aliases
Ability to record presentations or video from a live dual stream (H.264, H.239, or DuoVideo)
Support for H.323 endpoints, multipoint control units (MCUs), gateways, and the Session Initiation Protocol (SIP)
Ability to record up to five simultaneous H.323 or SIP video calls
Ability to receive calls at up to 4 Mbps, up to 1080p high-definition (HD) resolution for the main camera and for the second input source
Ability for calls to include main video or audio and H.264, H.239, or DuoVideo
Transcoding of recorded calls into streaming and downloadable file formats, including Windows Media, Flash, and MPEG4 formats
Recording of every call directly to disk for "offline" transcoding after the call completes
Optional record start countdown
Record PIN-protected MCU Conferences
Personal sandbox for safe working on recorded content before publishing
Optional automated email notifications to content owners on completion of recording
Recording indicator on Cisco TelePresence MCU calls

Live and on-demand streaming

Ability to live stream up to two calls (of the total five) in a single format and size
Native Windows Media Streaming Server is embedded
When integrated with customer-provided Wowza Media Server, the content server streams Flash* content.
When integrated with customer-provided Apple Quicktime or Darwin Streaming Servers, the content server streams MPEG4 QuickTime content
Flash and QuickTime Media can be viewed as a progressive download without external streaming servers
Static URLs for live streaming of MPEG-4 for Flash content from a Wowza Media Server

Streaming

Live (unicast supported natively and multicast supported by external Microsoft Windows Media Server)
On demand (unicast)
Native support for streaming Microsoft Windows Media through an embedded Windows Media Server
Support for external streaming servers (Microsoft Windows Media Server, Wowza Media Server, and Apple QuickTime Streaming Server)

Portable devices
Support for media download, then sync with Apple iPod and MPEG-4 capable devices
Distribution server

Support for Cisco MXE 3500 transformation engine
Support for Cisco Show and Share

Content library

Download options
Really Simple Syndication (RSS) feed subscription to provide alternate access to content library
Searchable content library web interface, with thumbnail images and categories for easy content searching
Ability to preconfigure recording outputs, media access, metadata
Ability to share links to recording, allowing you to easily identify and share recordings
Ability to view live and recorded content through content viewer web interface and telepresence endpoints (PIN Protection available)
Editable indexes
Content editor that enables trimming and joining recordings
Support for major web browsers (Internet Explorer, Mozilla Firefox, and Safari)
Context-sensitive help in the interface
Simplified graphical template editor for easy creation of new recording templates
Automatic and manual bandwidth detection, to provide the best viewing experience for your Internet connection

Content viewer

An intuitive content viewer supports Windows Media, Adobe Flash, Microsoft Silverlight, and QuickTime plug-ins
Multiple video layouts are supported, including:
Switching layout
Joined layout
Fixed aspect ratio 16:9 joined layout
Picture-in-picture video layout
Stacked layout
Dual-stream or still-image content is presented fully synchronized with the main video
Video, audio, and content are fully synchronized
Pause and seek in recordings

Storage

Large-capacity internal storage (600-GB hard disk in RAID 1 redundancy)
Support for external network storage using network-attached storage (NAS)

Language support
English, French, Simplified Chinese, and Japanese
Physical dimensions
(H x W x D)
1RU: 1.7 x 16.9 x 28.5 in (4.32 x 43 x 72.4 cm)
Power
100-240 VAC, 50-60 Hz, 650W maximum
Video and Audio Specifications
Bandwidth
H.323 and SIP up to 4 Mbps
Video standards
Live video resolutions

QCIF (176 x 144 pixels)
CIF (352 x 288 pixels)
VGA (640 x 480)
4CIF (704 x 576)
SVGA (800 x 600)
XGA (1024 x 768)
448p (576 x 448)
w288p (512 x 288)
w448p (768 x 448)
w576p (1024 x 576)
720p (1280 x 720): Supported for H.264 only

Audio standards

G.711
G.722
G.722.1
AAC-LD

Frame rates
Up to 60 frames per second (requires premium resolution option)
Network, Security, and Management Specifications
System management and scheduling

Allows for easy configuration using serial port management console
Allows for total management through embedded web server
Provides application programming interface (API) for customized integration with third-party solutions
Allows for one click to record scheduled conferences with Cisco TelePresence Management Suite
Allows for simple addition of audio-only outputs for recording of scheduled conferences with Microsoft Outlook or IBM Lotus Notes
Uses Cisco TelePresence Management Suite to monitor Content Server status, such as free disk space
Allows administrators to set maximum streaming bandwidth limits to fit their network rules

Network interfaces
Two 1 GB Ethernet interfaces
Firewall traversal

Cisco TelePresence Expressway technology
Auto Network Address Translation (NAT)
H.460.18
H.460.19 Firewall Traversal

Quality of service (QoS)

Dynamic jitter buffering
Packet-loss concealment

Security features

Secure management through Secure HTTP (HTTPS)
Integration with Active Directory through LDAP for access
Password-protected recordings
Full access control lists (ACLs) on all content library items
Pricing Notes:
Pricing and product availability subject to change without notice.
Cisco Unified Communications
Cisco TelePresence Content Server

Cisco TelePresence Content Server
#TCS-C220-5RP-K9
List Price:
$43,920.00
Our Price: $29,470.32