Cisco SD-WAN Security

Full security stack to protect SaaS and Internet applications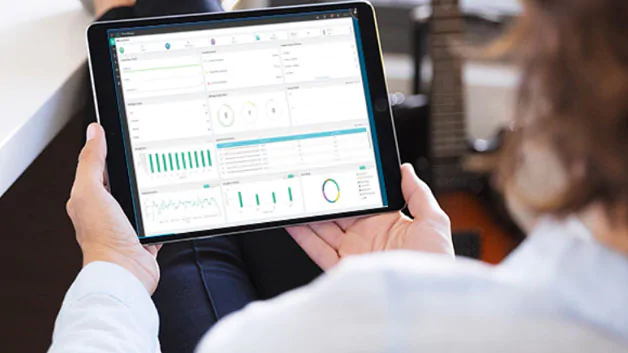 SD-WAN enables efficient access to Internet and cloud applications, but enterprises need to be protected against security blind spots and other vulnerabilities.
Cisco SD-WAN provides full threat protection and visibility to guard against major web-based attacks. Delivered by means of the Umbrella cloud or by the in-built capability of the router, enterprises can gain visibility into and control of major SaaS and Internet applications.
Protect users, connected devices, and all traffic across the WAN
To help with the ever-increasing adoption of multicloud environments, SD-WAN offers total transport flexibility to connect directly with the cloud using the internet. The network efficiency that comes with SD-WAN creates a better user application experience and reduces cost for organizations. Unfortunately, all these benefits have a tradeoff – rearchitecting the enterprise WAN and branch networks into SD-WAN creates exposure to threats and additional security complexity.
How do you protect your newly implemented SD-WAN against internal and external threats? If you plan to deploy additional security devices or services on-premises, in the cloud, or both, could you scale easily for future traffic growth? How do you reduce the complexity of deploying and managing security solutions from multiple vendors? How about your visibility into traffic to or across branches and data centers?
Cisco® SD-WAN offer engineering leadership in both networking and security to include full-stack multilayer security capabilities on the platform and in the cloud. Its integrated on-premises and cloud security arms IT with advanced threat defense wherever it is needed – for branches connecting to multiple SaaS or IaaS clouds, to data centers, or everything on the internet.
Features and benefits
With SD-WAN security, you'll get the right security at the right place with no compromises on scale, performance or application experience.

Easy to consume
Consistent packaging and entitlement reporting, plus simplified billing for enterprises and service providers.

Simple to manage
Integrated workflows for NetOps and SecOps, plus unified security policies and threat insights with intuitive troubleshooting

Fast to deploy
Auto-registration and auto-provisioning of SD-WAN to Umbrella, plus intuitive discovery and control of SaaS .
Built-in Full Edge Security Stack
Cisco SD-WAN offers a fulls security stack to protect against major forms of attacks arising due to opening branches to the internet.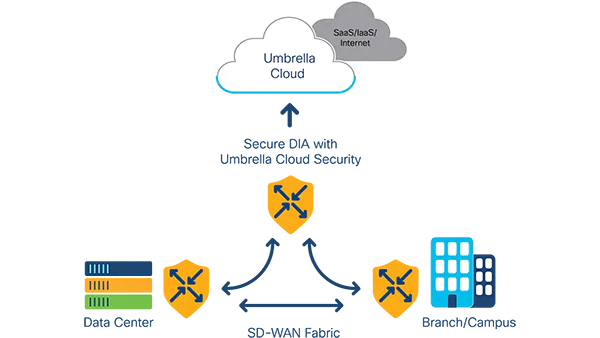 Umbrella cloud security
Integrated connectivity and cloud-delivered security provides secure access to the internet and SaaS applications and scales for future traffic growth. Umbrella Cloud security is fully automated with Cisco SD-WAN and can be auto-configured from within the vManage dashboard.
On-Premises Security
Embedded enterprise firewall and intrusion prevention in addition to URL filtering, SSL inspection and malware sandboxing provide secure WAN access and meet compliance demands onsite.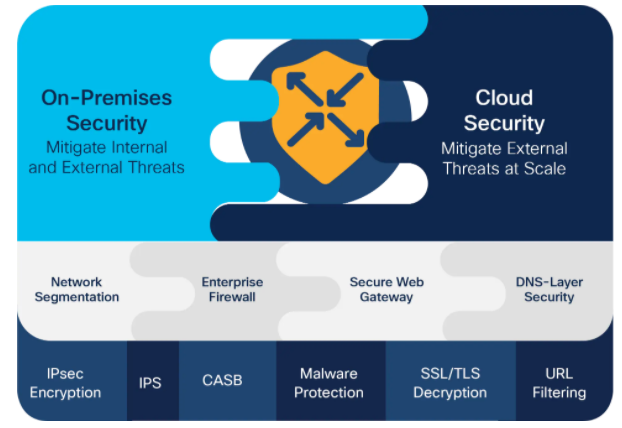 Cisco's open, integrated SD-WAN security architecture
Cisco SD-WAN offers a full range of integrated security functionality that can be enabled on-premises and using the cloud security solution spanning major security categories: network segmentation, enterprise firewall, secure web gateway, and DNS-layer security. Each security category itself spans a different combination of security features. These security features are:
Network Segmentation: Secure isolation of different portions of the enterprise to protect critical assets
Enterprise Firewalls: Granular policy and control of thousands of applications
Secure Web Gateway: Full protection of all kinds of web-based attacks including SSL inspection
DNS Layer Security: Significantly reduce incidences by stopping threats at the earliest point
IPsec encryption: An underlying WAN fabric for securing on-premises WAN access and direct internet access
IPS: A built-in intrusion prevention system within an on-premises enterprise firewall based on Snort® and powered by Talos®
CASB: Protects against account compromises, breaches, and other major risks in the cloud app ecosystem.
Malware protection: An extended security feature across both on-premises and cloud security using Cisco AMP and Threat Grid to prevent/detect malicious files with sandboxing
SSL/TLS decryption: A security feature with unlimited scale for either cloud security or on-premises security with sufficient resources
URL filtering: An extended security feature across both on-premises and cloud platforms with 80+ web categories covering millions of domains and billions of web pages