Cisco Catalyst SD-WAN Analytics

Cisco vAnalytics and Cisco ThousandEyes
Unified application experience
Simplify your IT with actionable insights and automate your network operations under a highly predictive model.
At-a-glance
Features and benefits
Use Cisco vAnalytics and Cisco ThousandEyes to extend network observability and visibility for a unified application experience.
Enhanced visibility
Extend network visibility into the underlying Cisco Catalyst SD-WAN fabric and into the cloud.
Operational insights
Aggregate large volumes of telemetry data and correlate application performance with underlying networks for actionable insights.
Closed-loop automation
Predict network issues and take corrective actions before users are impacted.
Perpetual optimization cycle
Auto-registration and auto-provisioning of SD-WAN to Umbrella, plus intuitive discovery and control of SaaS .
---
Cisco Catalyst SD-WAN Analytics solutions
Improve your users' application experience with visibility, predictability, and automation.
Cisco vAnalytics
Use Cisco vAnalytics to correlate application performance with underlying networks for operational insights. Leverage Predictive Path Recommendations to predict network issues and automatically take corrective actions.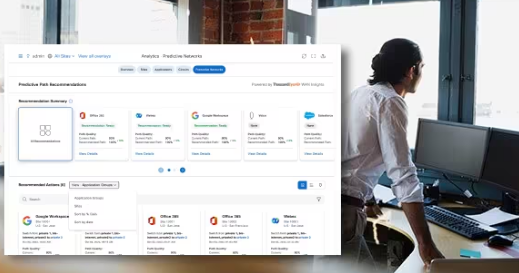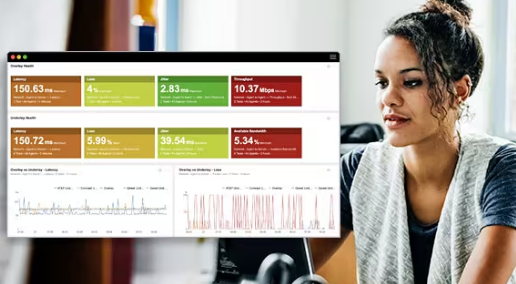 On-Premises Security
Embedded enterprise firewall and intrusion prevention in addition to URL filtering, SSL inspection and malware sandboxing provide secure WAN access and meet compliance demands onsite.