Cisco Small Business 300 Series Wireless Access Points

Helping small businesses easily expand their wired networks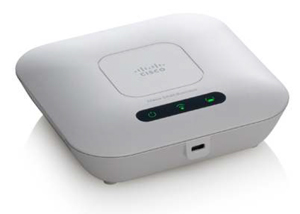 Sorry, this product is no longer available, replace by Cisco WAP150 Wireless-AC/N Dual Radio Access Point with PoE!
More pricing below, click here!
Overview:
Get sleek, high-performance, selectable Wireless-N access points that deliver fast, reliable wireless connectivity. Cisco Small Business 300 Series Wireless Access Points help small businesses easily expand their wired networks, offering:
Simplicity: Access points are easy to use, with simple installation, intuitive web based configuration, and integrated Setup Wizard.
High speed LAN connectivity: Fast Ethernet LAN interfaces help enable faster downloads, and support bandwidth intensive applications.
Flexible placement: Intelligent design provides flexible mounting options. Voice support: Place or receive calls over the wireless LAN infrastructure.
Expandability: Using client bridge mode, expand a wired network wirelessly to a second Ethernet network at high speed, without cabling or installation costs.
Easier Management and Improved Interoperability
Cisco Small Business 300 Series Wireless Access Points also offer native support for IPv6, and a standards-based design that helps to ensure compatibility with other Ethernet or wireless devices.
Your business will also benefit from:
Highly secure guest access: Access points support separate "virtual" networks.
Power over Ethernet: Integrated PoE simplifies deployment of access points, IP phones, IP cameras, and other network devices without a nearby power outlet or the cost of installing additional outlets.
Cisco Limited Lifetime Hardware Warranty: Get protection for your investment.