Cisco Small Business 300 Series Wireless Access Points

Helping small businesses easily expand their wired networks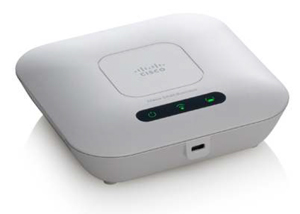 Sorry, this product is no longer available, replace by Cisco WAP150 Wireless-AC/N Dual Radio Access Point with PoE!
More pricing below, click here!
Overview:
Get sleek, high-performance, selectable Wireless-N access points that deliver fast, reliable wireless connectivity. Cisco Small Business 300 Series Wireless Access Points help small businesses easily expand their wired networks, offering:
Simplicity: Access points are easy to use, with simple installation, intuitive web based configuration, and integrated Setup Wizard.
High speed LAN connectivity: Fast Ethernet LAN interfaces help enable faster downloads, and support bandwidth intensive applications.
Flexible placement: Intelligent design provides flexible mounting options. Voice support: Place or receive calls over the wireless LAN infrastructure.
Expandability: Using client bridge mode, expand a wired network wirelessly to a second Ethernet network at high speed, without cabling or installation costs.
Easier Management and Improved Interoperability
Cisco Small Business 300 Series Wireless Access Points also offer native support for IPv6, and a standards-based design that helps to ensure compatibility with other Ethernet or wireless devices.
Your business will also benefit from:
Highly secure guest access: Access points support separate "virtual" networks.
Power over Ethernet: Integrated PoE simplifies deployment of access points, IP phones, IP cameras, and other network devices without a nearby power outlet or the cost of installing additional outlets.
Cisco Limited Lifetime Hardware Warranty: Get protection for your investment.
Features and Benefits:
Cisco Small Business 300 Series Wireless Access Points offer highly secure, high-speed Wireless-N connectivity. Standards based 802.11n enhances throughput and range to support bandwidth intensive applications, and is backward compatible with 802.11b/g devices. They offer up to 10 times the coverage and 15 times the speed of Wireless-G networks.
You'll also benefit from advanced business-class security features to fortify your WLAN with Wi-Fi Protected Access II (WPA2). Among these are rogue access point detection and 802.1X with RADIUS authentication.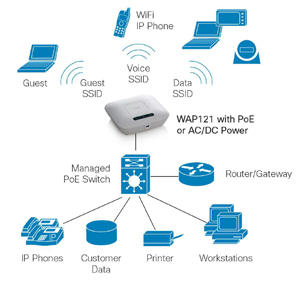 Other benefits include:
Energy efficiency: Energy-Efficient Ethernet and the power saving radio scheduler help to dramatically reduce power consumption.
Quality of Service: Access points prioritize network traffic to help keep critical network applications running at top performance.
Greater coverage: Deploy wireless coverage over large areas with point-to-point and point-to-multipoint bridging using a wireless distribution system (WDS).
Integrated Power over Ethernet: Reduce deployment costs with simpler installation and easy placement in optimal locations.
Easier management: Save time and resources with comprehensive Simple Network Management Protocol (SNMP) capabilities.
Cisco Small Business 300 Series Wireless Access Points come in a sleek elegant design with flexible mounting options (ceiling, wall, or desktop). Internal antennas are optimized for superior RF performance.
Technical Specifications: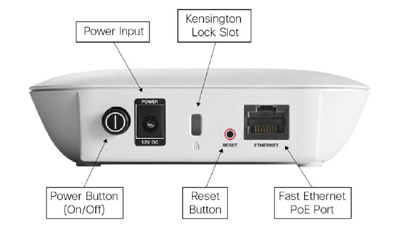 Product Specifications for the Cisco 300 Wireless Series
Specifications
Description
Standards
IEEE 802.11n, 802.11g, 802.11b, 802.3af, 802.3u, 802.1X (security authentication), 802.1Q (VLAN), 802.1D (Spanning Tree), 802.11i (WPA2 security), 802.11e (wireless QoS), IPv4 (RFC 791), IPv6 (RFC 2460)
Switch
Power button (on/off)
Ports

LAN Fast Ethernet auto sensing, DC jack

Buttons

Reset button

Cabling type

Category 5e or better

LEDs

Power, WLAN, LAN

Operating system

Linux

Physical Interfaces
Ports

10BASE-T/100BASE-TX Ethernet, 12V DC power with support for 802.3af PoE

Power supply

External 12V 0.5A DC power jack (Energy Star 2.0 compliant with Efficiency Level 5) and 802.3af PoE

Buttons
Power (on/off) push button; Reset button
Lock slot
Slot for Kensington lock
LED
Power, Wireless, Ethernet
Physical dimensions (W x D x H)
6.66 x 6.67 x 1.38 in or 169.08 x 169.42 x 35 mm
Weight
0.606 lb or 275g
Network Capabilities
Network protocols
IEEE 802.11n, 802.11g, 802.11b, 802.3, 802.3u, 802.1X (security authentication), 802.1Q (VLAN), 802.11i (WPA2 security), 802.11e (wireless QoS), IPv4 (RFC 791), IPv6 (RFC 2460), RADIUS, syslog, HTTP/HTTPS, Telnet/Secure Shell Protocol (SSH), Simple Network Management Protocol (SNMP)
VLAN support
Yes
Number of VLANs
1 management VLAN plus 4 VLANs for SSID
Multiple SSIDs
4
802.1X supplicant
Yes
802.11d
No
SSID to VLAN mapping
Yes
Auto channel selection
Yes
Spanning tree
Yes
Load balancing
Yes
IPv6

Yes

IPv6 host support
IPv6 RADIUS, syslog, Network Time Protocol (NTP), etc.

Layer 2
802.1Q-based VLANS, 4 active VLANS plus 1 management VLAN
Security
WPA/WPA2/WEP
Yes, including Enterprise authentication
Access control
Yes, management access control list (ACL) plus MAC ACL
Secure management
HTTPS
Wi-Fi Protected Setup (WPS)
Yes (soft WPS, no hardware push button)