ActionPacked! LiveAction

Intelligent situational awareness and control for your network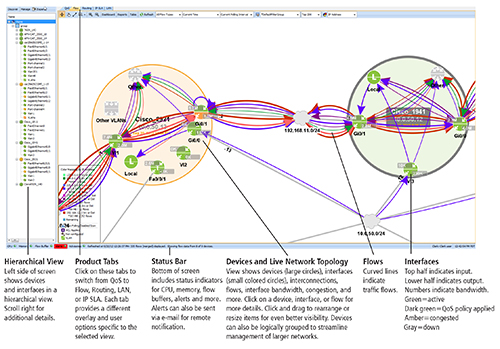 ActionPacked! Networks Products
All-In-One QoS Expert
All-In-One QoS Expert Provisioner
Click here for more options and pricing!
Overview:
Application-aware Network Performance Management and QoS Control for Your Next-Generation Cisco Network
Optimize your business application delivery and accelerate troubleshooting and resolution of performance issues with LiveAction. An industry-leading application-aware network performance management software, LiveAction allows you to control your complex enterprise network by:
Deploying and enabling Cisco advanced technologies
Monitoring and analyzing traffic
Troubleshooting network and application problems
Resolving issues by leveraging Cisco advanced technologies such as QoS, LAN Switching, Routing, NetFlow, FnF, NBAR2, Medianet, AVC, PfR, and IP SLA
LiveAction provides scalability, dashboard and site-based reporting, enhanced filter and search, 360-degree report view, and highly correlated workflows to quickly resolve business critical performance issues in your WAN, SaaS and cloud application, MPLS or DMVPN links, converged wired and wireless, video, VoIP, surveillance cameras, and BYOD devices.
In addition, LiveAction is the Cisco Intelligent WAN management platform providing visualization of PfR path changes across the network topology, Out-of-Policy (OOP) reasons triggering PfR route changes, and the resulting application traffic associated with those PfR route changes.
LiveAction Key Functionalities
Visual Awareness and Monitoring: Literally see and trace traffic flows end-to-end across the network in real-time or via the playback feature
Text-based Filter and Search: Quickly find specific information with an easy keyword search approach across hundreds of reports and millions of flow records
360-degree Report View: New smart 'slice and dice' feature enables greater reporting flexibility with a 360-degree report view
Alert Drilldown: Well-defined workflows to drill down from alerts to applicable flows to pinpoint who is having the issue and what the issue is
Site-Based WAN Application Performance: Quickly pinpoint site related performance issues by defining/reporting sites with characteristics such as WAN interfaces, bandwidth, and service provider connections
SaaS and Cloud Application Visibility: Identify which applications are using network bandwidth and understand application performance with AVC metrics and color coded status across merged WAN clouds for faster troubleshooting
Video and VoIP Control: Troubleshoot and fix video and voice performance quickly and accurately through dashboard views and workflow drill down, correlation of congestion points to QoS policies, and on-the-fly QoS policy adjustments
Flexible NetFlow (FNF) Configuration: Quickly enable FNF configurations of Cisco advanced technologies across discovered devices with simple GUI-based selection and verification of capabilities
QoS Control: Create and edit QoS policies using a graphical policy editor built around Cisco best practices and gain immediate feedback to QoS changes through real-time traffic visualization
Converged Wired and Wireless Flow Analysis and Control: Visualize wired and wireless flows from converged wired and wireless Cisco Catalyst 3850 Series Switch controller to understand application bandwidth usage across access points and SSIDs.
BYOD Monitoring: Visualize application traffic from BYOD devices and understand application and network behaviors. Provide wireless user identity information so network administrators can better manage BYOD policy control when the Cisco wireless controller is integrated with Cisco ISE (Identity Service Engine)
Configuration Audit Trail: Provide an audit trail of who makes what device configuration changes and when
CyberSecurity: Visualize and minimize DoS attacks and unauthorized traffic. Remediate malicious traffic on the network
Specifications:
LiveAction Products and Options
LiveAction Enterprise is our most popular product as it includes all features and capabilities to multiple users and multiple servers managing the same network with unlimited historical data.
LiveAction Professional includes all features and capabilities to a single user with one server managing up to 200 network devices with 5-day historical data.
LiveAction software licensing and pricing is based on the number of network devices such as routers and switches connected to LiveAction. For example, LiveAction Enterprise is available for use with 5, 25, 50, 100, 500, 1000, 2500, and 5000 or more network devices and unlimited number of end-points. LiveAction Professional is available for use with 5, 25, or up to 200 network devices.
LiveAction is sold as an annual subscription or perpetual licenses plus annual maintenance that includes support and software updates.
Network Devices Supported
Cisco® Series Routers
Cisco 800, 1700, 1800, 1900, 2600, 2600XM, 2800, 2900, 3600, 3700, 3800, 3900, 7200, 7600, ASR 1000, CSR 1000V Series Routers are supported by LiveAction Flow, QoS Monitor, QoS Configure, Routing, and IP SLA.
For Cisco ASR 9000 and CRS-1, only LiveAction Flow is supported.
Recommended IOS versions 12.3 or higher or 15.0 or higher for use with the software (IOS XE 2.6.0 or higher for ASR 1000 series). Earlier IOS versions may also work but are not officially supported.
General-release IOS versions are recommended, although early- and limited-release versions will also work with LiveAction.
Cisco Catalyst® Series Switches
Cisco Catalyst 2960, 2960-X, 3560, 3750, 3850, 4500, and 6500 Series Switches are supported by LiveAction LAN.
Cisco Catalyst 3850, 4500, 6500, and Nexus 1000v Series and 7000 Series Switches are supported by LiveAction Flow. Please consult Cisco feature navigator for specific hardware requirements.
Limited LiveAction QoS Monitor and QoS Configure support on Layer 3-routable interfaces and VLANs depending upon Cisco hardware capabilities.
No Layer 2 QoS configuration.
Cisco Security Devices
Cisco ASA 5500 Series running 8.3.
NetFlow Secure Event Logging (NSEL).
ASR 1000 Zone-Based Firewall High-Speed Logging
Cisco Other
NGA
Non-Cisco Devices
The following are non-Cisco devices that have gone through flow-analysis testing with LiveAction. Note that only LiveAction flow analysis is available for these products.
Alcatel
Extreme
Brocade
Hewlett-Packard
Juniper
NetVanta
nProbe
Recommended LiveAction Server Hardware and Operating System Specifications
For less than 100 devices (routers/switches) or less than 100K Flows/sec
8 Core 2+ GHz CPU
8 GB RAM
2-6 TB 7,200 RPM HD (See Notes 1, 2)
For 100-500 devices (routers/switches) or greater than 100K Flows/sec
12 Core, 2+ GHz CPU
16 GB RAM
3-10 TB 7,200 RPM HD (See Notes 1, 2)
For 500-1000 devices (routers/switches) or greater than 200K Flows/sec
2×12 Core, 2+ GHz CPU
16 GB RAM
5-10 TB 7,200+ RPM HD (See Notes 1, 2)
Note 1: For higher performance use RAID 10 or RAID 0 if redundancy is not required.
Note 2: Windows 64-bit Operating System – Server 2008 R2 or later, Windows 7 (Professional or Ultimate)
Pricing Notes:
All-In-One QoS Expert
All-In-One QoS Expert Maintenance
All-In-One QoS Expert Provisioner
All-In-One QoS Expert Maintenance
LiveAction Professional Services