ActionPacked! LiveAction Voice and Video Optimization

Reverse Mediatrace where applicable to enhance troubleshooting of video quality issues
LiveAction for Voice and Video Optimization
LiveAction arms IT departments with a complete solution that enables engineers of all skill levels to efficiently and confidently deploy QoS for interactive services. Identify, analyze, troubleshoot and mitigate underlying performance issues for voice and video with LiveAction.
Problem: Network administrators need to determine the causes of poor voice and video quality and how to get these multimedia applications working properly.
LiveAction Solution
Medianet Mediatrace hop-by-hop and Medianet Flow Analysis to accelerate troubleshooting of voice/video performance issues Dashboard view, text-based filter/search, workflow drill down from alerts to applicable flows, and 360-degree report view for quicker problem determination
Reverse Mediatrace where applicable to enhance troubleshooting of video quality issues
On-the-fly QoS policy adjustments to fix performance issues and optimize application traffic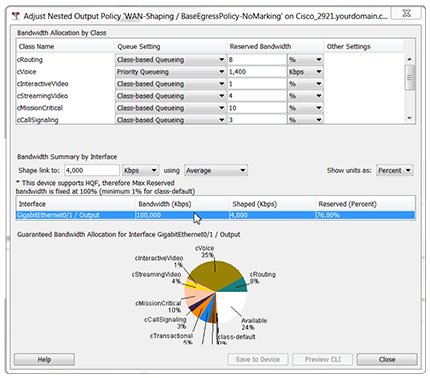 Configure voice & video QoS policies on the fly
Cisco Technologies Used
NetFlow, Quality of Service (QoS), Network Based Application Recognition (NBAR)
Cisco Application Visibility and Control (AVC)
Cisco Medianet

Pinpoint and identify voice && video issues with Mediatrace
Solution Benefits
Reduced Down Time: Fast diagnosis and resolution of voice and video application performance via rich visualization. Resolution time has been estimated to be 60% less than that of traditional troubleshooting via CLI
Enhaced User Experience and Quality: Consistent quality and response time increase customer satisfaction and improve Service Level Agreements (SLA)
Faster QoS Changes: Accurate configuration changes across complex Cisco QoS deployments through simple point-and-click operations
---
Pricing Notes:
Pricing and product availability subject to change without notice.