ActionPacked! LiveAction NetFlow

Intelligent situational awareness and control for your network
Advanced End-to-End Network Flow Visualizations and Monitoring
LiveAction is the only tool that provides real-time, end-to-end flow visualization across your network incorporating visual analytics. Clicking on a flow highlights its entire path hop-by-hop. You can also examine historical views to see and analyze flows at any date and time in the past.
Starting with a network topology view that provides a unique end-to-end flow visualization of live traffic and situational awareness across the network, LiveAction enables users to quickly drill down to individual devices or interfaces for more detail on flow characteristics such as IP addresses, DSCP values, byte rates and count.
LiveAction incorporates Cisco NetFlow (flexible netflow) Juniper J-Flow, InMon sFlow, and IPFIX. In addition, conventional SNMP is used. All combined, this enables LiveAction to automatically discover devices on your network and create deep and intuitive network maps.
Benefits
Intuitive topology view—See your traffic flows mapped from source to destination across the network topology.
Faster troubleshooting and root cause analysis—Accelerate problem determination through powerful text-based filter and search, color-coded flows, 360-degree report view, alert drilldown workflows, visual path tracing and historical playback.
High level Flow dashboard—Save time by viewing high level flow status and focusing on trouble areas only.
Instant validation—Observe the effects of QoS changes on network traffic in real time. Use DSCP color-coding to easily spot QoS trust and re-marking issues.
Baseline and understand current traffic profiles to prepare for QoS deployments.
Historical playback—Replay individual captured flow data from any date or time to view activity and problems exactly as they occurred.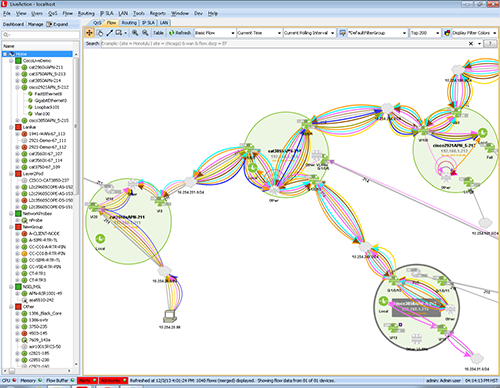 Topology-based, end-to-end flow visualization.
Features
Topology-based end-to-end traffic flow visualization
Flow dashboard and workflow to trackable alerts
Supports NetFlow v5/v9, IPFIX, sFlow, and J-Flow
Ability to filter or search across millions of flows with text-based strings
Built-in direct workflows to 360-degree report view from a flow
Ability to filter flows by application, port, country, source, destination, or flow types
True end-to-end workflow with alerts, visualization, analysis, and control
Flexible NetFlow framework for reading in any template
Medianet Path Flow Analysis visualization
Forward and reverse Mediatrace visualization
Aggregate flow or individual flow views
Display top 200 flows from each device
System topology view in sortable tabular format
Adjustable flow polling rates
X-Ray view of flows inside router
Display end points as host IP address, port number, or application name in device view
Bidirectional source/destination filter
Start, stop, and pause flow data
Flow graph—by port, source or destination address
Built in DNS name resolution
Flow alerts off main topology view and drilldown
Flow count query with user-selectable time duration
Flow legend in system and device view
NetFlow database conversion tool for data collected in v2.4x and earlier
Historical playback and rich flow reporting
Support/filter by flow types: Basic NetFlow, Cisco Performance Routing (PfR), Cisco Medianet Performance Monitoring (PerfMon), Cisco Application Visibility and Control (AVC), Cisco ASA Network Secure Event Logging (NSEL), Wireless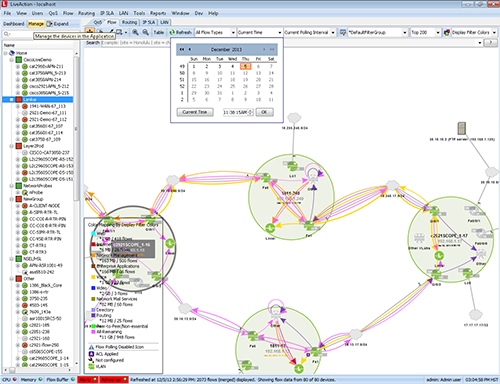 Individual flows can be color-coded by port, DSCP, IP address, byte count, byte rate, or custom filter colors.
---
Pricing Notes:
Pricing and product availability subject to change without notice.