ActionPacked! LiveAction WAN Bandwidth Management

Reports on traffic class/application associated with path change(s)
Cisco® Intelligent WAN (IWAN) protects performance-sensitive applications from brownouts and blackouts, provides active-active load balancing for applications securely and reliability, and improves application performance, while reducing significant WAN costs. LiveAction is recommended by Cisco as an IWAN Management Platform that provides users with GUI-based management for Cisco IWAN path control and application performance optimization.
LiveAction IWAN Management Solution Features
LiveAction IWAN Management Capabilities
PfR Path Control Visualization
PfR Dashboard and Trending
Shows what OOP reason triggers path change(s)
Reports on traffic class/application associated with path change(s)
PfR Configuration of multiple MCs
AVC Visualization, Reporting, and Configuration
AVC Flow Visualization
Alert threshold configuration & reports
Full NBAR2 QoS control on Cisco routers
Use QoS to optimize application performance
Medianet Path Analysis
QoS Monitoring and Configuration
Visualize QoS classification and congestion indicators
Track QoS performance on a per-class basis
Monitor and alert of priority queue drops for proactive notification of potential voice/video quality issues
Full MQC QoS configuration support via graphical editor
Instant Validation
Network Health Status
Network discovery and network topology
Networkwide audits of QoS policies
Dashboard and at-a-glance color-coded status for top application performance, site performance, networking device CPU and memory usage, link usage, and interface up or down
Top QoS conditions on interfaces, links, and Layer 2 devices: Drops and congestions
Top applications by volumes, top countries where traffic is coming from or going to, etc.
ASA NSEL and ASR1K HSL Event Logging and Alerting
ASA NSEL Flow visualization, event creation, denial and ACL hits
ASR1K HSL Flow visualization, and session creation/removal notifications
Intelligent WAN Path Control with Cisco PfR
The Benefits of the LiveAction IWAN Management Solution
Save Time and Money
Faster IWAN troubleshooting
Easier justification of IWAN ROI
Increase IWAN Adoption
Increase Cisco IWAN value to customers with visualization
Cisco+LiveAction provides an end-to-end IWAN solution
Increased Productivity
Deep understanding of application traffic with end-to-end flow visibility and QoS control
Find and fix problems faster
Robust IWAN reporting
Ease of Operations
High visualization of path changes
Intuitive GUI for faster deployment, configuration, monitoring, and troubleshooting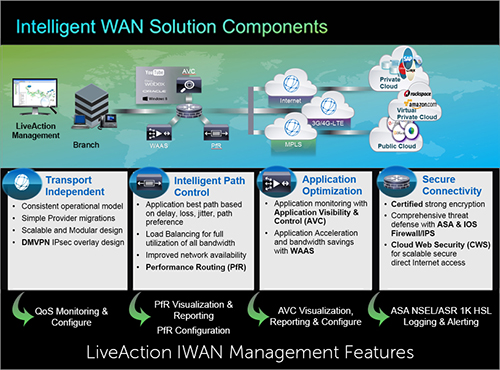 ---
Pricing Notes:
Pricing and product availability subject to change without notice.