ActionPacked! LiveAction Application Performance and Troubleshooting

Text-based filter and search enables targeted problem determination
LiveAction with Cisco Application Visibility and Control
LiveAction enables users to leverage the high network visibility provided by AVC and NBAR2 as well as perform active response to monitored traffic classes and flows. Experience effective root cause analysis with guided workflows and in-depth visibility for application-level performance.
Problem: Network administrators are faced with the challenge of having to quickly pin point root causes of application performance problems.
LiveAction Solution
Text-based filter and search enables targeted problem determination
Alert dashboards allow focused and early detection of problems
Workflow drilldown from alerts to applicable flows for quicker root cause analysis
Correlation of AVC metrics to easily pin point network or application issues
Medianet Mediatrace hop-by-hop and Medianet Flow Analysis provide faster determination of problem location
Highly intelligent reporting of class-based quality of service (CBQoS) performance data provides insight to traffic pattern changes and anomalies
Solve application performance problems with point-and-click editing and applying of QoS policies
Cisco Technologies Used
NetFlow
Quality of Service (QoS)
Application Visibility and Control (AVC)
Cisco Medianet Performance Monitor
Cisco Medianet Mediatrace

Pinpoint and identify application performance issues with Mediatrace
Solution Benefits
Faster Application Troubleshooting
Dashboards, site-based performance, 360-degree report view, and alert drilldown provide intelligent correlation of multiple various indicators to pinpoint root causes
Intelligent representation of CBQoS and full historical playback to identify application traffic pattern changes and bandwidth contention, leading to quicker and more accurate problem determination
Visual representation of Medianet Mediatrace indicating performance issues via color-coded status allows customers to see where the problem occurs
Improved Application Performance
Network and application response time visibility via NBAR2 Deep Packet Inspection (DPI)
Full NBAR2 QoS control enables easy mitigation of performance issues
Increased Productivity
Deep understanding of application traffic with end-to-end flow visibility
Application-aware QoS control with policy real-time views and reports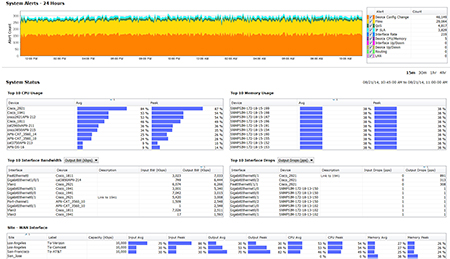 Monitor network performance metrics from a selection of built-in or customizable dashboards and reports
---
Pricing Notes:
Pricing and product availability subject to change without notice.