IronPort S670 Web Security Appliance

Simple Installation, Easy Management, and Powerful Protection for Your Email Infrastructure.

This product is no longer available, please contact us for a replacement solution
Overview:
In a highly connected and increasingly mobile world with more complex and sophisticated threats, only Cisco delivers the strong protection, complete control, and investment value businesses need. Cisco offers the broadest set of web security deployment options in the industry, combined with market-leading global threat intelligence. The Cisco Web Security Appliance simplifies security with a high-performance, dedicated appliance, and the Cisco Web Security Virtual Appliance enables businesses to deploy web security wherever and whenever it's needed.
The Cisco Web Security Appliance (WSA) is the first secure web gateway to combine advanced malware protection, application visibility and control, acceptable use policy controls, insightful reporting, and secure mobility on a single platform, helping organizations address the growing challenges of securing and controlling web traffic.
The Cisco WSA enables simpler, faster deployment with fewer maintenance requirements, reduced latency, and lower operating costs. "Set and forget" technology frees up staff once initial automated policy settings go live, and automatic security updates are pushed to network devices every three to five minutes. Flexible deployment options and integration with the existing security infrastructure help customers meet demanding business needs.
Advanced Threat Defense
The Cisco WSA is powered by Cisco Security Intelligence Operations (SIO), our industry-leading threat intelligence organization. Cisco SIO detects and correlates threats in real time using the largest threat detection network in the world. It monitors 100 TB of daily security intelligence, 1.6 million deployed security devices, 13 billion daily web requests, and 35 percent of worldwide email traffic.
The Cisco WSA uses multiple layers of anti-malware technologies and intelligence from SIO updated every three to five minutes. It protects against hidden threats by analyzing every piece of web content accessed by the user, from HTML to images and Flash graphics.
Advanced Malware Protection
The Cisco WSA now includes Advanced Malware Protection (AMP), a malware-defeating solution that takes advantage of Cisco SIO and the vast cloud security intelligence network of Sourcefire (now a part of Cisco).
It delivers protection across the attack continuum—before, during, and after an attack—with malware detection and blocking, continuous analysis, and retrospective alerting. Users can block more attacks, track suspicious files, mitigate the scope of an outbreak, and remediate faster.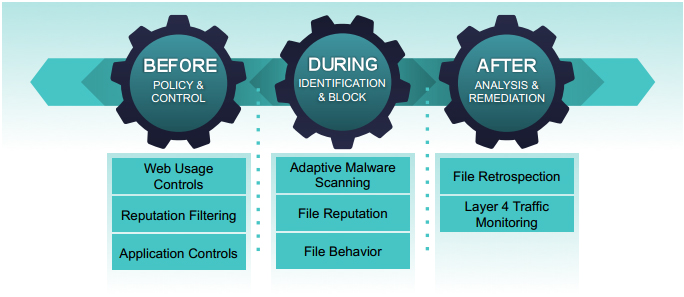 Protection across the Attack Continuum
Granular Acceptable Use Controls
Our WSA gives businesses complete control over how end users access the Internet. By identifying hundreds of applications and more than 150,000 micro-applications, the WSA helps administrators create policies that match the nuanced business needs of today. Specific features such as chat, messaging, video, and audio can be allowed or blocked, according to the requirements of businesses and users—without the need to block entire websites.
Vital Data Loss Prevention (DLP)
Using onboard DLP capabilities, administrators can create content control rules based on context. The Cisco WSA also integrates, using Internet Content Adaptation Protocol (ICAP), with DLP solutions from leading vendors. This helps to ensure consistent enforcement of DLP policies and deep content analysis.
Flexible Deployment
Cisco currently delivers the broadest set of web security deployment options in the industry. The Cisco WSA simplifies security with a high-performance, dedicated appliance. The Cisco Web Security Virtual Appliance (WSAV) helps businesses deploy web security wherever and whenever it's needed.
The WSAV offers all the same features as the WSA, with the added convenience and cost savings of a virtual deployment model. That includes instant self-service provisioning.
The Cisco Difference
Cisco IronPort email and web security products are high-performance, easy-to-use and technically-innovative solutions, designed to secure organizations of all sizes. Purpose built for security and deployed at the gateway to protect the world's most important networks, these products enable a powerful perimeter defense.
Leveraging the Cisco Security Intelligence Operations center and global threat correlation makes the Cisco IronPort line of appliances smarter and faster. This advanced technology enables organizations to improve their security and transparently protect users from the latest Internet threats.
---
Pricing Notes:
Pricing and product availability subject to change without notice.