Cisco Industrial Ethernet

Resilient, easy-to-deploy Switches enable scaling Internet of Things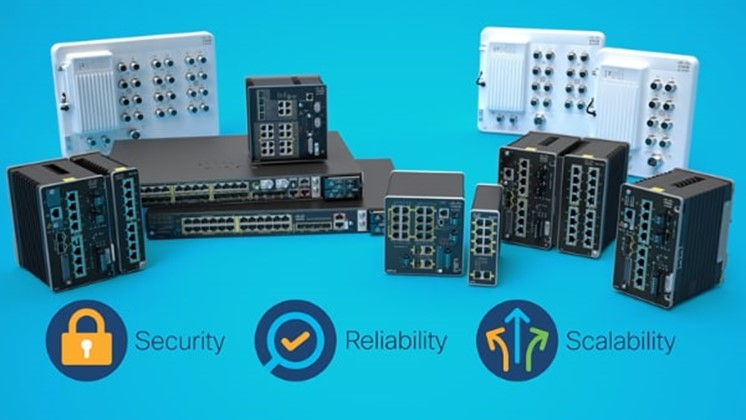 ---
Cisco Industrial Ethernet Switches
---
---
Rack mount
---
IP67-rated
---
Embedded
---
A manufacturer sees its build-to-order cycle times improve by up to 25 percent with a more flexible, integrated plant and IT infrastructure. A transportation department with sensors deployed throughout its track and train system is alerted to a malfunction on its track-signaling system days before it can cause a serious accident. And an electrical utility identifies fault locations and restores service 20 percent faster than before
This is what's possible when Cisco Industrial Ethernet (IE) switches are deployed as part of an integrated, converged Information Technology (IT) and Operational Technology (OT) network. One that also prepares you to capture new opportunities and achieve greater efficiencies as your network expands dramatically with end devices and sensors in the age of the Internet of Things (IoT).
The Cisco® Industrial Ethernet (IE) switching portfolio includes ruggedized, secure, easy-touse switches built for extending the enterprise to harsh, industrial environments. They provide secure connectivity across challenging environments and industries such as manufacturing, utilities, transportation, oil and gas, mining, and smart cities.
Benefits
Reduced downtime with managed Ethernet switches that are more reliable and include high-availability technology to ensure resilient networks, even in extreme industrial environments
Lower operational costs with zero-touch deployment that automates connecting thousands of new endpoints as part of Internet of Things (IoT) deployments
Increased IT and operations team efficiency with a single, standardized operation system
Real-time visibility to monitor, manage, and react across the whole network, from any location
Improved security with cyber and physical network-wide security policies that also deliver unparalleled visibility and control
Investment protection with modular switches that scale with IoT device growth and software licensing that gives you new and improved software features without hardware upgrades
---
Documentation:
Download the Cisco Industrial Ethernet Switching Portfolio (PDF).