Cisco Integrated Services Router 4461

Build your digital branch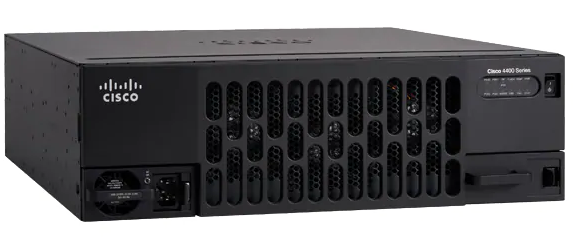 Cisco Products
Cisco 4000 Series ISRs
Cisco ISR 4461 with 4 onboard GE, 3 NIM slots, 1 ISC slot, 3 SM slots, 8 GB Flash Memory default, 2 GB DRAM default (data plane), 4 GB DRAM default (control plane)
Click here for more options and pricing!
Overview:
Build your digital branch
The Cisco 4000 Series Integrated Services Routers provide routing, hosting, security, and switching--all in a single, trustworthy platform. Build your digital branch to be secure, fast, and scalable. Quickly adopt the latest technologies, from SD-WAN to edge computing, while meeting the explosive network-performance needs driven by cloud applications and digital transformation.
The Cisco 4000 Family Integrated Services Router (ISR) revolutionizes WAN communications in the enterprise branch. With new levels of built-in intelligent network capabilities and convergence, it specifically addresses the growing need for application-aware networking in distributed enterprise sites. These locations tend to have lean IT resources. But they often also have a growing need for direct communication with both private data centers and public clouds across diverse links, including Multiprotocol Label Switching (MPLS) VPNs and the Internet.
---
Pricing Notes:
Pricing and product availability subject to change without notice.
Cisco Products
Cisco 4000 Series ISRs
Cisco ISR 4461 with 4 onboard GE, 3 NIM slots, 1 ISC slot, 3 SM slots, 8 GB Flash Memory default, 2 GB DRAM default (data plane), 4 GB DRAM default (control plane)