Cisco Unified IP Conference Phone 8831

Collaborate with High-quality Audio Communications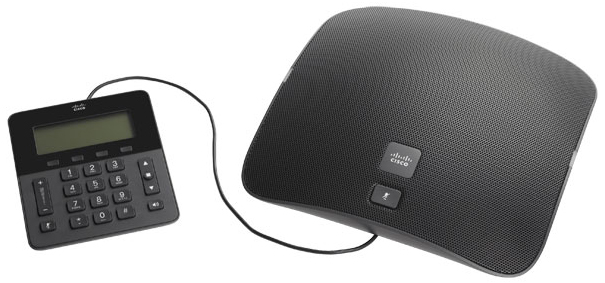 Cisco Unified Communications
Cisco Unified IP Phones 8800 Series

Cisco Unified IP Conference Phone 8831 base unit and control panel
#CP-8831-K9=
List Price:
$1,801.28
Our Price: $1,230.00
Click here for more options and pricing!
Overview:
The Cisco Unified IP Conference Phone 8831 enhances people-centric communications, combining superior high-definition (HD) audio performance and 360-degree coverage for all sizes of conference rooms and executive offices. It provides an audiophile sound experience with a full-duplex two-way wideband (G.722) audio hands-free speaker.
The IP Conference Phone 8831 is a simple, scalable solution that meets the challenges of the most diverse rooms. It provides flexible deployment options and expansion by using extension microphones that can be wired or wireless (Digital Equipment Cordless Telephone [DECT]) with a daisy-chain configuration of two units.
The IP Conference Phone 8831 has an industrial design with enhanced ergonomics that puts the user first. It offers a detached control panel so that the display may be easily viewed without having to move the entire unit. It also provides easy view of device mute status from all sides.
Supported on Cisco Unified Communications Manager and Business Edition systems, the IP Conference Phone 8831 delivers a more productive, acoustically pleasing, and secure communications experience across sites and participants.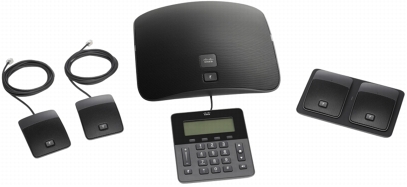 With Cisco Unified IP Conference Phone 8831, your business can benefit from:
Audio communications support for executive offices and conference rooms up to 1500 square feet (139 square meters) providing 360 degree room coverage*
Unified Communications delivered from on-premise and hosted Cisco Unified Communications Manager and Cisco Business Edition 6000
New wired control panel with dial pad that extends from the base station, adding convenience and flexibility in multi-chairperson meetings
Full-duplex, two-way wideband (G.722), acoustic audio speaker that delivers superior audio performance for a "good as being there" audio experience
Choice of accessory options with both wired and Digital Equipment Cordless Telephony (DECT) wireless extension microphones and charging stations
Administration and Management:
Private, highly secure, business audio communications through the 128K Advanced Encryption Standard (AES)
10/100 Ethernet port reduces cabling infrastructure and costs with support for collocated PC
Class 3 Power over Ethernet (PoE) support for infrastructure reduction through elimination of local power cubes
Configured, deployed, and managed just like other Cisco Unified IP Phones for faster, easier administration
*Larger conference rooms may require daisy-chaining of base units (up to two maximum)
Features and Benefits:
The Cisco Unified IP Conference Phone 8831 offers many improvements over the existing Cisco Unified IP Conference Station 7937G. New features include:
Superior wideband acoustics with the first two-element speaker in a conference phone; this feature allows the phone to capture the full voice spectrum without having to compromise with a single-element speaker
Expanded room coverage with support for daisy chaining two units
Support for DECT wireless extension microphones
Session Initiation Protocol (SIP) signaling
Device authentication and signaling encryption using Transport Layer Security (TLS) with Advanced Encryption Standard 128 (AES-128)
Media encryption using Secure Real-Time Transport Protocol (SRTP) with AES-128
Table lists the features and benefits of the Cisco Unified IP Conference Phone 8831.
Feature
Benefit
Features
Superior wideband acoustics

160 Hz to 20 kHz, +/-3 dB.
The latest in wideband codecs for maximum voice bandwidth.
Enhanced speech quality and speaker recognition.

Output
92-dB SPL peak output*
Expanded room coverage

160-degrees conical pattern provides even coverage of listening area.
Four Hemi-Cardioid microphones are perfectly spaced so that they combine to provide a 180-degree pick-up pattern around the device. Speech is captured at the same level at all points around the Cisco Unified IP Conference Phone 8831.

Wired microphones
These microphones extend the operational range of the Cisco Unified IP Conference Phone 8831 with even coverage around the periphery of the device with 7 feet of additional reach.
Wireless microphones
DECT wireless microphones for the Cisco Unified IP Conference Phone 8831 provide additional coverage with the added flexibility of 300 feet of range.
Wired control panel
The panel allows easy control of the unit and viewing of the display without having to move the entire unit.
Power Features
IEEE 802.3af line power
Local power supply is not required.
Cisco Power Cube 3
This power cube uses a standard Cisco Unified IP Phone Power Supply for non-Power over Ethernet (PoE) deployments. It is required for daisy chaining two units together.
Call-Control Support
Cisco Unified Communications Manager
The phone supports Cisco Unified Communications Manager (Cisco UCM) Releases 7.1(5), 8.5(1), 8.6(2), 9.0, and later.
Cisco Business Edition 3000
The phone is supported on the Cisco Business Edition 3000 Releases 8.6(1) and later.
Cisco Business Edition 6000
The phone is supported on the Cisco Business Edition 6000 Releases 8.6(5) and later.
* Peak output measured in half-space environment.
Technical Specifications:
Product Specifications
Features and Specifications
Signaling protocol support
Session Initiation Protocol (SIP)
Codec support
G.711, G.729(a and ab), G.722, and Internet Low Bitrate Codec (iLBC)
Calling feature support

+ Dialing
Adjustable ringing and volume levels
Adjustable display brightness
Application Launch Pad
Auto-answer
Auto-detection of headset
Barge
Callback
Call forward
Call history lists
Call timer
Call waiting
Caller ID
Corporate directory
Conference
Direct transfer
Fast-dial service
Hold
Immediate divert
Join
Message-waiting indicator
Music on hold
Mute
Network profiles (automatic)
On- and off-network distinctive ringing
Personal directory
Predialing before sending
Privacy
Ring tone per line appearance
Shared line
Survivable Remote Site Telephony (SRST)
Time and date display
Transfer
Voicemail

Directories
The Cisco Unified IP Conference Phone 8831 identifies incoming messages and categorizes them for users on the screen. This feature allows you to quickly and effectively return calls using direct dial-back capability. The corporate directory integrates with the Lightweight Directory Access Protocol Version 3 (LDAPv3) standard directory.
Settings
The Settings feature key allows you to adjust display contrast, select background images (if available), and select from a large number of unique ringer sounds through the User Preference menu. Network configuration preferences also can be set up (usually by the system administrator). Configuration can be either automatically or manually set up for Dynamic Host Control Protocol (DHCP), Trivial File Transfer Protocol (TFTP), Cisco Unified Communications Manager, and backup Cisco Unified Communications Manager instances.
Help
The online Help feature gives you information about the phone keys, buttons, and features. The pixel display allows for more flexible feature navigation and significantly expands the information viewed when using features such as Services, Information, Messages, and Directory. For example, the Directory button can show local and server-based directory information.
Hold, Mute, and Redial keys
The Mute key is a fixed key. When it is active, the LED flashes on the Cisco Unified IP Conference Phone 8831 as well as on the optional wired and wireless microphone kits. Hold and Redial are provided as soft keys associated with the screen, and are always at the same position for easy access.
Display
The conference station has a large high-resolution, graphical 3.5-inch backlit display (396 x 162 pixels).
Speakerphone
The Cisco Unified IP Conference Phone 8831 offers full-duplex high-quality wideband speakerphone technology. Included are Automatic Gain Control, comfort-noise generation, silence suppression and voice activity detection, Echo Suppression, and dynamic noise reduction, which reduces noise by up to 9 dB from constant noise sources such as fans or heating, ventilation, and air conditioning (HVAC) systems.
A two-way high-fidelity loud speaker system provides superior speech clarity versus traditional conferencing systems.
Volume control
The convenient Volume Control buttons on Cisco Unified IP Conference Phone 8831 provide for easy, decibel-level adjustments for the speakerphone and ringer.
Quality-of-service (QoS) options
The Cisco Unified IP Conference Phone supports DHCP and 802.1Q/p standards. The conference station can also be configured with an 801.1Q VLAN header containing the VLAN ID overrides configured by the Admin VLAN ID.
Multiple ring tones
User-adjustable ring tones are available.
Security
The Cisco Unified IP Conference Phone 8831 supports device authentication through 802.1.x supplicant (TLS) and SRTP.
Language support
Arabic, Bulgarian, Catalan, Chinese (People's Republic of China), Chinese (Hong Kong), Chinese (Taiwan), Croatian, Czech, Danish, Dutch, English - plus localized prompts for the UK, Estonian, French, Finnish, German, Greek, Hebrew, Hungarian, Italian, Japanese, Korean, Latvian, Lithuanian, Norwegian, Polish, Portuguese (Portugal), Portuguese (Brazil), Romanian, Russian, Spanish (Spain), Slovak, Swedish, Serbian (Republic of Serbia), Serbian (Republic of Montenegro), Slovenian, Thai, Turkish
Configuration options
You can configure IP address assignment statically or through the DHCP client.
System Specifications
Dimensions (H x W x D)
Base: 10.38 x 10.38 x 2.0 in. (15.05 x 26.35 x 5.08 cm)
Control panel: 5.75 x 5.0 x 1.0 in. (14.61 x 12.7 x 2.54 cm)
Microphones: 3.5 x 2.5 x 0.5 in. (8.89 x 6.35 x 1.27 cm)
Charger tray: 6.5 x 4.5 x 0.75 in. (16.51 x 11.43 x 1.90 cm)
Weight
Base 3.50 lbs. (1,587.0 grams) DCU 0.56 lbs. (253.0 grams)
Wired Microphones 0.15 lbs. (66.8 grams)
Wireless Microphones 0.14 lbs. (64.7 grams)
Charger 0.42 lbs. (191.9 grams)
Display
3.25 x 1.5 in. (8.26 x 3.81 cm); 396 x 162 pixels
Phone casing composition
Polycarbonate acrylonitrile butadiene styerene (ABS) plastic.
Power requirements
The Cisco Unified IP Conference Phone 8831 is an interoperable IEEE 802.3af PoE (Class 3 device); 48 VDC is required; it can be supplied locally at the desktop using an optional AC-to-DC power supply (CP-PWR-CUBE-3=). Use of the power supply also requires the use of one of the corresponding AC country cords listed in Table later in this document.
Use of a power supply (CP-PWR-CUBE-3=) is required when using the Cisco Unified IP Conference Phone 8831 in a daisy-chain configuration.
Temperature Ratings
Operating temperature
32 to 104ºF (0 to 40ºC)
Relative humidity
10 to 95% (noncondensing)
Storage temperature
14 to 140ºF (-10 to 60ºC)
Regulatory Standards Compliance
Regulatory compliance
Products should comply with CE Marking per directives 2004/108/EC and 2006/95/EC
Safety

UL 60950-1 Second Edition Amd 1
CAN/CSA-C22.2 No. 60950-1 Second Edition Amd 1
EN 60950-1 Second Edition A11, A1, A12
IEC 60950-1 Second Edition Amd 1
AS/NZS 60950-1: 2011
GB4943 2011

EMC: Emissions

FCC Part 15 Subpart B Class B
AS/NZS 3548 CISPR22 Class B
EN55022 Class B
ICES-003 Class B
VCCI Class B
KN22 Class B
CNS13438 Class B

EMC: Immunity

EN55024
CISPR24
EN300386 KN24

EMC: Radio DECT

FCC Part 15 Subpart D
IC RSS-213
EN 301 406

Telecom
AUS AS/ACIF S004 - Hands-free Send Frequency Response
Pricing Notes:
Pricing and product availability subject to change without notice.
Cisco Unified Communications
Cisco Unified IP Phones 8800 Series

Cisco Unified IP Conference Phone 8831 base unit and control panel
#CP-8831-K9=
List Price:
$1,801.28
Our Price: $1,230.00