Cisco IP Phone 7800 Series

Use Affordable, Full-Featured Voice Communications
| | |
| --- | --- |
| Cisco IP Phone 7821 and 7841 | Cisco IP Phone 7861 |
Cisco Products
Cisco IP Phones 7800 Series
Cisco IP Phone 7821
Supporting Two Lines
#CP-7821-K9=
List Price:
$301.50
Our Price: $162.45
Cisco IP Phone 7841
Supporting Four Lines
#CP-7841-K9=
List Price:
$427.13
Our Price: $230.13
Cisco IP Phone 7861
Supporting Sixteen Lines
#CP-7861-K9=
List Price:
$457.28
Our Price: $246.38
Click here for more options and pricing!
Overview:
The Cisco IP Phone 7800 Series is a cost-effective, high-fidelity voice communications portfolio designed to improve your organization's people-centric communications, while reducing your operating costs.
It combines an attractive new ergonomic design with "always-on" reliability and secure encrypted communications. The Cisco® IP Phone 7800 Series delivers advanced IP Telephony features and crystal clear wideband audio performance to deliver an easy-to-use, full-featured voice communications experience.
The Cisco IP Phone 7800 Series introduces three models to the Cisco IP Phone portfolio. From left-to-right, they are:
The IP Phone 7821 supporting two lines
The IP Phone 7841 supporting four lines
The IP Phone 7861 supporting sixteen lines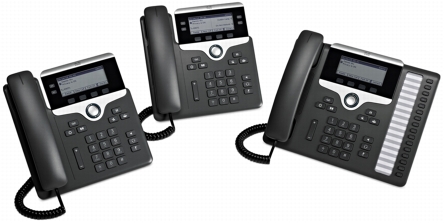 The line keys on each model are fully programmable. You can set up keys to support either lines, such as directory numbers, or call features like speed dialing. You can also boost productivity by handling multiple calls for each directory number, using the multi-call per-line appearance feature. Tri-color LEDs on the line keys support this feature and make the phone simpler and easy to use.
Fixed function keys on all models give you one-touch access to service, messaging, directory, hold/resume, transfer, and conference features. A full-duplex speakerphone lets you set up clear multi-party conferences for flexible, productive collaboration.
The Cisco IP Phone 7800 Series sets a new standard in usability and delivers a context-sensitive user experience. It features a high resolution 3.5" (396x162) greyscale display, with white backlighting for easy reading. Localized language support, including right-to-left onscreen text, meets the needs of global users.
The Cisco IP Phone 7800 Series is also more energy-efficient and eco-friendly, to support your green initiatives. Each phone supports Power-over-Ethernet (PoE) Class 1 and Cisco's EnergyWise™. A standard power-save option reduces power consumption during off-hours, to save money and maximize energy efficiency.
The IP Phone 7800 Series portfolio is ideal for any mid-sized to large enterprise company that wants to update its phone system from a traditional analog or digital-based system to an IP Communications system. It's also an excellent choice if you're seeking to expand your voice communicatons support with your current Cisco Unified Communications solution.
Use Affordable, Full-Featured Voice Communications
Enjoy reliable, full-featured voice communications with the affordable Cisco IP Phone 7800 Series. Increase business call efficiency and productivity while reducing operating costs.
These Session Initiation Protocol (SIP) endpoints:
Are user-friendly and ecofriendly
Support highly secure, high-definition voice communications
Offer advanced telephony features
The cost-effective Cisco IP Phone 7800 Series can help midsize to large enterprises meet their business needs with high-quality, full-featured voice communications. The IP Phone 7800 Series is optimal for:
Customers who currently use traditional analog or digital phones but want to move to IP telephony
Organizations that want to expand their investment in Cisco Unified Communications
This series adds three new phones to our portfolio that address the needs of business users such as:
Knowledge workers
Administrative staff
Managers
Contact center agents
Exceptional User Experience
Key features and capabilities that promote a superior user experience include:
High-resolution, graphical, pixel-based, white-backlit grayscale displays, and context-sensitive soft keys
Dedicated fixed keys for common functions such as conference, messaging, and directory, and a two-way navigation button
Full wideband capability throughout the handset, headset, and speakerphone for clear audio
Choice of models with 2, 4, or 16 programmable line keys
Electronic hookswitch control for added flexibility in managing personal calls
Simple Administration
The IP Phone 7800 Series is easy to deploy and manage, with features such as:
Power over Ethernet (PoE) Class 1 endpoints and Cisco EnergyWise options to reduce your energy costs and carbon footprint
Enhanced customization and flexibility with a field-replaceable bezel option
Integrated IEEE switches on all models to support traffic from a colocated PC
Wall-mount option for common areas, such as hallways, cafeterias, and shipping and receiving, or where desk space is limited
Features and Benefits:
Table lists the features and benefits of the Cisco Unified IP Phone 7800 Series.
Feature
Benefit
Hardware Features
Ergonomic design
The phone offers an easy-to-use interface and provides a traditional telephony-like user experience.
Graphical display
White backlit, greycale, 396×162 pixel-based display (3.5") provides scrollable access to calling features and text-based XML applications.
Backlit Indicator
The phone supports backlit indicators for the audio path keys (handset, headset and speakerphone), select key, line keys, and message waiting.
Volume control
A volume-control toggle provides easy decibel-level adjustments of the handset, monitor speaker, and ringer.
Full duplex speakerphone
Full-duplex speakerphone allows gives you flexibility in placing and receiving calls.
Replaceable bezel
Phone includes a black bezel. Optional silver bezel is also available separately.
Dual-position foot stand
The display is easy to view and the buttons and keys are easy to use. The two-position foot stand supports viewing angles of 30 degrees and 45 degrees; you can remove the foot stand for wall mounting, with mounting holes located on the base of the phone.
Wall-mountable
The phone can be installed on a wall using optional wall-mount kit (available separately).
Electronic hook switch
The hookswitch can be controlled electronically with a third party headset connected to the auxiliary port.
Keys

The phone has the following keys
Line keys
Soft-keys
Two-way navigation and select keys
Hold/Resume, Transfer and Conference keys
Messaging, Service and Directory keys
Standard key pads
Volume control toggle key
Speakerphone, headset and mute keys

Power Features
IEEE PoE class 1
The phone supports IEEE 802.3af PoE (Class 1); power consumption does not exceed 3.84 watts.
Cisco power cube 3
This power cube is used as a standard Cisco IP Phone Power Supply for non-PoE deployments.
Call-Control Support
Cisco Unified Communications Manager
8.5.1 and later
Cisco Business Edition 6000
8.6.2 and later
Cisco Hosted Collaboration Solution
8.6.2 and later
Technical Specifications:
| | IP Phone 7821 | IP Phone 7841 | IP Phone 7861 |
| --- | --- | --- | --- |
| Screen | 396 x 162 pixel (3.5 in. / 89 mm) | 396 x 162 pixel (3.5 in. / 89 mm) | 396 x 162 pixel (3.5 in. / 89 mm) |
| Ethernet Switch | 10/100 | 10/100/1000 | 10/100 |
| Programmable Line Keys | 2 | 4 | 16 |
| Full Duplex Speakerphone | Yes | Yes | Yes |
| Wideband Audio | Yes | Yes | Yes |
| PoE Class | 1 | 1 | 1 |
| Replaceable Bezel | Yes | Yes | Yes |
Product Specifications
Signaling protocol support
Session Initiation Protocol (SIP)
Codec support
G.711a/μ, G.722, G.729ab, iLBC
Key call features support

+ Dialing (E.164)
Adjustable ringing and volume levels
Adjustable display contrast
Auto-answer
Auto-detection of headset
Call forward
Call history
Call timer
Call waiting
Caller ID
cBarge
Corporate directory
Conference
Dial from the list
Direct transfer
Do not disturb
Hold/resume
Immediate divert
Join
Message-waiting indicator
Music on hold
Mute
Network profiles (automatic)
On- and off-network distinctive ringing
Personal directory
Privacy
Ring tone per line appearance
Shared line
Silent monitoring and recording
Speed dial
Time and date display
Transfer
Voicemail

Language support
Arabic, Bulgarian, Catalan, Chinese (People's Republic of China), Chinese (Hong Kong), Chinese (Taiwan), Croatian, Czech, Danish, Dutch, English - plus localized prompts for the UK, Estonian, French, Finnish, German, Greek, Hebrew, Hungarian, Italian, Japanese, Korean, Latvian, Lithuanian, Norwegian, Polish, Portuguese (Portugal), Portuguese (Brazil), Romanian, Russian, Spanish (Spain), Slovak, Swedish, Serbian (Republic of Serbia), Serbian (Republic of Montenegro), Slovenian, Thai, Turkish
Multiple ring tones
The phone supports user-adjustable ring tones
Directories
The phone identifies incoming messages and categorizes them for users on the screen. This makes it fast and easy to return calls using direct dial-back capability. The corporate directory integrates with the Lightweight Directory Access Protocol (LDAP) standard directory
Quality-of-service (QoS) options
The phone supports CDP and 802.1Q/p standards, and can be configured with an 801.1Q VLAN header containing the VLAN ID overrides configured by the Admin VLAN ID
Security

Certificates
Image authentication
Device authentication
File authentication
Signaling authentication
Media encryption using Secure Real-Time Transfer Protocol (SRTP)
Signaling encryption using Transport Layer Security (TLS) Protocol
Encrypted configuration files
802.1X authentication
Cryptography

Configuration options
The user can configure IP address assignment statically or through the DHCP client
Physical dimensions (H×W×D)
CP-7821: 207 x 206 x 28mm (exclude foot stand)
CP-7841: 207 x 206 x 28mm (exclude foot stand)
CP-7861: 207 x 265 x 28mm (exclude foot stand)
Weight
CP-7821: 867g
CP-7841: 868g
CP-7861: 1053g
Display
3.5" 396×162 pixels
Ethernet switch
The phone has a 10/100BASE-T (The Cisco IP Phone 7821 & 7861) or a10/100/1000BASE-T (The Cisco IP Phone 7841) Ethernet connection through two RJ-45 ports, one for the LAN connection and the other for a downstream Ethernet device connection like a PC
Phone casing composition
Polycarbonate acrylonitrile butadiene styrene (ABS) textured plastic
Power requirements
The phone is an interoperable IEEE 802.3af PoE (Class 1 device); 48 VDC is required; it can be supplied locally at the desktop using an optional AC-to-DC power supply (CP-PWR-CUBE-3=). Use of the power supply also requires the use of one of the corresponding AC country cords
Operating temperature
32 to 104ºF (0 to 40ºC)
Nonoperational temperature shock
14 to 140°F (-10 to 60°C)
Operating humidity
10% to 90%, non-condensing
Non-operating humidity
10% to 95%, non-condensing
Cosmetic
Cisco cosmetic class A
Certification and compliance

Underwriters Laboratories (UL) 60950
Canadian Standards Association (CSA) C22.2 No. 60950
EN 60950
IEC 60950
AS/NZS60950
TS 001
Pricing Notes:
Pricing and product availability subject to change without notice.
Cisco Products
Cisco IP Phones 7800 Series
Cisco IP Phone 7821
Supporting Two Lines
#CP-7821-K9=
List Price:
$301.50
Our Price: $162.45
Cisco IP Phone 7841
Supporting Four Lines
#CP-7841-K9=
List Price:
$427.13
Our Price: $230.13
Cisco IP Phone 7861
Supporting Sixteen Lines
#CP-7861-K9=
List Price:
$457.28
Our Price: $246.38