Cisco Unified IP Phone 6945

Builds upon the IP Phone 6941 with the addition of Gigabit Ethernet and wideband audio support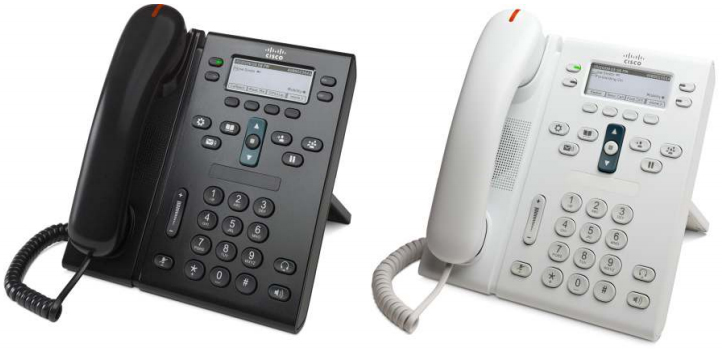 Sorry, this product is no longer available, please contact us for a replacement.
Click here for more options and pricing!
Overview:
Cisco Unified Communications Solutions enable collaboration so that organizations can quickly adapt to market changes while increasing productivity, improving competitive advantage through speed and innovation, and delivering a rich-media experience across any workspace, securely and with optimal quality.
The Cisco Unified IP Phone 6945 is an innovative IP endpoint that delivers affordable, business-grade voice communication and support for video communications services to customers worldwide.
Built upon the features offered by the Cisco Unified IP Phone 6941, this Gigabit Ethernet enhanced business IP phone supports wideband audio handset and headset communications to provide clear voice quality in a business environment. The phone also supports Power-over-Ethernet (PoE) Class 1, which is the lowest-power consumption IP phone to save energy and support your green initiatives.
Power-Friendly, Affordable Communications
Ideal for video and moderate levels of voice communication needs, the four-line Cisco Unified IP Phone 6945 builds upon the IP Phone 6941 to deliver gigabit Ethernet and wideband audio that improves the user experience. This model helps reduce power consumption and features an eco-friendly design as well.
The IP Phone 6945 includes:
Integrated 10/100/1000 Ethernet switch for colocation of a PC to help reduce costs and wiring infrastructure
Wideband audio headset and handset support for clear voice communications
[Cisco Unified Video Advantage 2.2 and the VTIII Camera | to enhance communications with video
This model also offers:
Fixed keys for Directory, Settings, Transfer, Conference, Hold, and Messages to improve productivity
Four programmable soft-label keys for fast access to Cisco Unified Communications features
Four tricolor illuminated line keys that support at-a-glance call status indication
An eco-friendly solution, the IP Phone 6945 provides:
IEEE Power Class 1 rating that helps reduce costs with added power savings
Reground, recyclable plastics
Deep-sleep power option that reduces power consumption in off-hours for energy cost savings
---
Pricing Notes:
Pricing and product availability subject to change without notice.