Cisco Unified IP Phone 6921

Two-line endpoint for video and light to moderate voice communications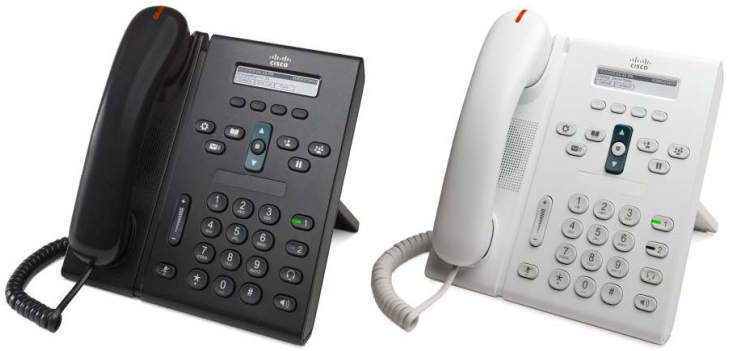 Sorry, this product is no longer available, please contact us for a replacement.
Click here for more options and pricing!
Overview:
Cisco Unified Communications Solutions enable collaboration so that organizations can quickly adapt to market changes while increasing productivity, improving competitive advantage through speed and innovation, and delivering a rich-media experience across any workspace, securely and with optimal quality.
The Cisco Unified IP Phone 6921 is an innovative endpoint that delivers affordable, business-grade voice communications and support for video communications services to customers worldwide.
The Cisco Unified IP Phone 6921 supports two lines and offers a full-duplex speakerphone for a more productive, more flexible, and easier-to-use endpoint experience. The Cisco Unified IP Phone 6921 supports multi-call per-line appearance, offering end user the opportunity to handle multiple calls per directory number (DN). Fixed keys for hold, transfer, and conference; tri-color LED line and feature keys also make the phone simpler and easier to use.
The Cisco Unified IP Phone 6921 offers greater personalization, with the choice of two colors and two handset style options. Right-to-left language presentation is also supported on the displays, addressing the language localization needs of global customers.
The Cisco Unified IP Phone 6921 is also more energy-efficient and eco-friendly, in support of customer green initiatives. A Deep-Sleep option provides energy savings. With this option, the Cisco Unified IP Phone 6921 consumes up to 50 percent less power in off-hours versus when the phone is idle during normal business hours. In addition, reground and recyclable plastics deliver a more earth-responsible solution.
With adoption of Cisco Unified Video Advantage 2.2 and later and the VTIII camera, you can elevate your communication experience with support for video communications. Your PC monitor provides support for the video communications while voice communications are supported by your IP Phone 6921 endpoint.
Easy-to-Use Video and Voice Communications
Cost-effective and easy to use, the Cisco Unified IP Phone 6921 is a two-line IP endpoint supporting both video and light-to-moderate voice communications, delivered in an intuitive, clutter-free, ergonomic design.
The Unified IP Phone 6921 includes:
Easy-to-read 396 x 81-pixel, white back-lit, monochrome, antiglare LCD for optimal viewing
Integrated 10/100 Ethernet switch for co-location of a PC reduces costs and wiring infrastructure
Full-duplex speakerphone and dedicated headset port provide flexibility in communication options
Support for Cisco Unified Video Advantage 2.2 and VT Camera III for elevated communications with video
Two color options (charcoal/arctic white) and handset styles increase flexibility and comfort
Features of the Unified IP Phone 6921 keys include:
Fixed keys for Directory, Settings, Transfer, Conference, Hold, and Messages improve productivity
Four programmable soft-label keys for fast access to Cisco Unified Communications features
Two tricolor illuminated line keys support at-a-glance call status indication
Rounded ergonomic keys enhance tactile feel
The Unified IP Phone 6921 is also an eco-friendly solution, with features including:
Use of reground, recyclable plastics
Deep-sleep power option reduces power consumption up to 50 percent in off-hours for energy cost savings
---
Pricing Notes:
Pricing and product availability subject to change without notice.