Cisco Unified IP Phone 6911

Single-line endpoint for light voice communications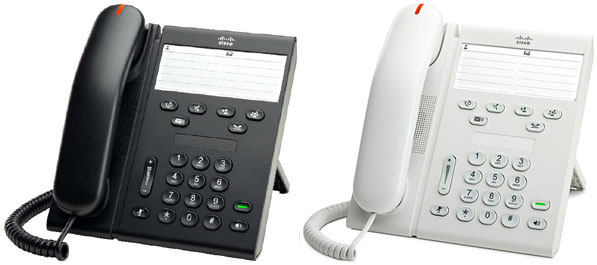 Cisco Unified Communications
Cisco Unified IP Phones 6900 Series

Cisco Unified IP Phone 6911, Charcoal, Standard Handset
#CP-6911-C-K9=
List Price:
$195.00
Our Price: $153.43
Click here for more options and pricing!
Overview:
Cisco Unified Communications Solutions enable collaboration so that organizations can quickly adapt to market changes while increasing productivity; improving competitive advantage through speed and innovation; and delivering a rich-media experience across any workspace, securely and with optimal quality.
The Cisco Unified IP Phone 6911 is a cost-effective, easy-to-use, single-line IP endpoint. It is an ideal solution for classrooms, manufacturing floors or anywhere there is need for light voice communications services with a co-located PC.
A business-grade voice communications endpoint that provides high-quality voice services in a clutter-free and eco-friendly ergonomic design, its primary features include:
Fixed keys for Hold, Redial, Call Waiting, Conference, Transfer, and Voice Messaging
IEEE 10/100 integrated switch ports support co-located PC for reduced cost and wiring infrastructure
Full-duplex speakerphone for hands-free communications
Support of up to two concurrent voice calls with Call Waiting
Tricolor illuminated line key to indicate an incoming call, an active call, and a call on hold
Two color options, charcoal and arctic white, and two handset styles for flexibility and comfort
The Cisco Unified IP Phone 6911 is a single-line endpoint delivering affordable access to Cisco voice communication services. It is an ideal solution for light communication requirements. Examples include classrooms, manufacturing floors, or employees in cubicles or teleworking from home.
The Cisco Unified IP Phone 6911 supports two incoming calls with a single-line endpoint. A full-duplex speakerphone is included in the design, which provides a more productive, flexible, and easier-to-use endpoint experience. Integrated IEEE 10/100 Ethernet switch ports support connection to a co-located PC while reducing cabling infrastructure and administration costs.
The Cisco Unified IP Phone 6911 includes fixed keys for hold, transfer, conference, redial, and voicemail, making the phone simple and easy-to-use. In addition, a programmable feature key is supported for quick access to advanced communication services. Tri-color LED illuminates on the line key to provide quick call-state indication at a glance.
The Cisco Unified IP Phone 6911 offers personalization, with the choice of two colors (charcoal and arctic white) and two handset style options (slimline and standard).
The Cisco Unified IP Phone 6911 is also eco-friendly, taking advantage of reground and recyclable plastics to deliver a more earth-responsible solution.
Features and Benefits:
Table lists the features and benefits of the Cisco Unified IP Phone 6911.
Feature
Benefit
Hardware
Industrial design

The phone offers an easy-to-use and intuitive arrangement of lines, keys, and calls.
Hold, Transfer, Conference, Voice Mail Access, and Redial on fixed hard keys provide a traditional telephony-like user experience.

Color options
Choice of two colors: Arctic White or Charcoal. Handsets are available internationally as slimline or standard. You can mix and match them in the work environment to better meet employee preferences.
Desk and wall mountable

A two-position footstand makes it easy to view and use the buttons and keys.
The phone can be wall-mounted with wall-mounting holes located on its rear housing.

Co-branding
You can include your logo on Cisco Unified IP Phone 6900 Series endpoints. Cisco has approved third-party vendors to produce the labels.
Ethernet
An internal 2-port Cisco Ethernet switch allows for a direct connection to an IEEE 10/100BASE-T Ethernet network through an RJ-45 interface with single LAN connectivity for both the phone and a co-located PC. The system administrator can designate separate VLANs (802.1Q) for the PC and phone, providing improved security and reliability of voice and data traffic.
Acoustic Features
Codec support
The following audio-compression codecs are supported: encode G.711a, G.711u, G.729a, G.729ab and iLBC, decode G.711a, G.711u, G.729, G.729a, G.729ab and iLBC.
Voice quality
Comfort-noise generation and voice-activity-detection (VAD) programming is supported on a system basis.
Full-duplex speakerphone
 You can place and receive calls through the back-lit speaker button.
Mute
The phone offers mute and un-mute functions through the back-lit Mute key.
Volume control
A volume-control toggle makes it easy to adjust the volume of the handset, monitor speaker, and ringer.
Firmware
Signaling protocol
Skinny Client Control Protocol (SCCP) and Session Initiation Protocol (SIP)
Phone firmware requirement
Supported in Version 9.0(2) and higher
Call-control compatibility
The phones are supported on Cisco Unified Communications Manager and Cisco Unified Communications Manager Business Edition Versions 7.1.3 and later, as well as Cisco Unified Communications Manager Express 8.0 and later.
Calling features

Adjustable ringing and volume levels
Auto-barge
Call forward
Call pickup
Call waiting
Conference
Group call pickup
Hold
Message-waiting indicator
Meet-me conference
Music on hold
Mute
Redial
Shared line
Transfer
Voicemail (single button access)

Security features

Certificates
Image authentication
Device authentication
File authentication
Signaling authentication
Media encryption using Secure Real-Time Transfer Protocol (SRTP)
Signaling encryption using Transport Layer Security (TLS) Protocol
Encrypted configuration files
Cryptography is not enabled by default and may only be enabled through a cryptographically enabled CUCM.

Network features

Cisco Discovery Protocol and Link Layer Discovery Protocol for Media Endpoint Devices (LLDP-MED)
Dynamic network parameters provisioned through Dynamic Host Configuration Protocol (DHCP)
Static network parameters provisioned through Embedded interactive-voice-response (IVR) system

Serviceability

Embedded web server that provides configuration and statistics
Quality-of-service (QoS) reporting: Jitter, delay, dropped packets, and latency on a per-call basis
Real-Time Control Protocol (RTCP) support and monitoring
Syslog
Technical Specifications:
Product Specifications
Hardware Specifications
Dimensions (H x W x D)
8.1 x 7.4 x 1.5 in. (205 x 188 x 38.2 mm)
Weight
Charcoal: Standard: 32.3 oz (917g ); slimline: 31.1 oz (883g)
Arctic white: Standard: 34.6 oz (981.3g); slimline: 33.5 oz (948.3g)
Phone-casing composition
Polycarbonate acrylonitrile butadiene styerene (ABS) plastic
IEEE Power over Ethernet (PoE)
IEEE Power over Ethernet 802.3af supported, Class 1
Maximum power consumption: 2.77 watts
Considering Ethernet cable loss and 10% buffer, Cisco Discovery Protocol value setting: 3.71 watts
Language support
Only English supported in IVR system
Support for following languages for documentation: Arabic, Bulgarian, Catalan, Chinese (People's Republic of China, Hong Kong, and Taiwan), Croatian, Czech, Danish, Dutch, English-plus localized prompts for the United Kingdom, Estonian, French, Finnish, German, Greek, Hebrew, Hungarian, Italian, Japanese, Korean, Latvian, Lithuanian, Norwegian, Polish, Portuguese (Portugal and Brazil), Romanian, Russian, Spanish (Spain), Slovak, Swedish, Serbian (Republic of Serbia and Republic of Montenegro), Slovenian, Thai, and Turkish
Connectivity
10/100 wired Ethernet network port plus switched PC port
Memory
16-MB flash memory; 32-MB synchronous dynamic RAM (SDRAM)
Power Requirements
Local power
48 VDC required; it can be supplied locally at the desktop using an optional AC-to-DC power supply (part number CP-PWR-CUBE-3=) or power injector (CP-PWR-INJ=); local power options require a corresponding AC country cord (refer to Table 6 later in this document).
Temperature Ratings
Operating temperature
32 to 104ºF (0 to 40ºC)
Relative humidity
10 to 95% (noncondensing)
Storage temperature
14 to 140ºF (-10 to 60ºC)
Certifications
Safety

Underwriters Laboratories (UL) 60950
Canadian Standards Association (CSA) C22.2 No. 60950
EN 60950
IEC 60950
AS/NZS60950
TS 001

Electromagnetic compatibility

Federal Communications Commission (FCC) Part 15 (CFR 47) Class B
ICES-003 Class B
EN55022 Class B
CISPR22 Class B
AS/NZS CISPR 22 Class B
CISPR 24
VCCI Class B
EN55024
EN 50082-1
EN 61000-3-2
EN 61000-3-3
EN 61000-6-1

Telecom

FCC Part 68 (CFR47) HAC
TIA 810A

Regulatory compliance
CE Marking
Pricing Notes:
Pricing and product availability subject to change without notice.
Cisco Unified Communications
Cisco Unified IP Phones 6900 Series

Cisco Unified IP Phone 6911, Charcoal, Standard Handset
#CP-6911-C-K9=
List Price:
$195.00
Our Price: $153.43