Cisco IE2000 Series switches

Converge industrial and enterprise networks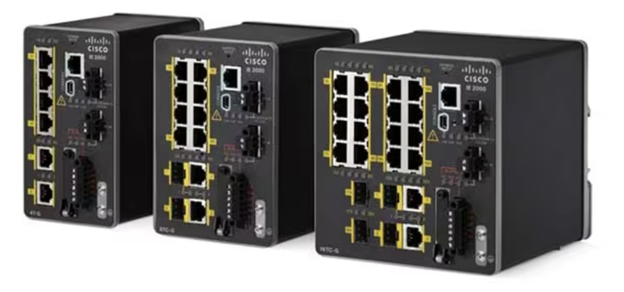 Industrial Ethernet (IE) 2000 Series switches extend the proven Cisco Catalyst technologies prevalent in enterprise networks to industrial networks. Superior security, video, and voice services are thus extended to industrial applications. These switches are also ruggedized, easy to manage, resilient, and enhanced through support of industry protocols.
Features and capabilities
Cisco Industrial Ethernet 2000 Series switches are fixed platforms that deliver Layer 2 switching with proven Cisco IOS Software. With their extensive certifications and wide range of power supply voltage input and operation temperatures, these switches are suitable for almost all industrial applications.
They support IEEE 1588, Common Industrial Protocol (CIP), and PROFINET v.2, among other industry protocols.
Comprehensive features--such as support for IEEE 802.1x, Secure Shell (SSH) Protocol, Dynamic Host Configuration Protocol (DHCP) snooping, and storm control--offer superior security. Industrial Power over Ethernet (PoE) and enhanced PoE make it possible for the switches to directly connect to communication devices like IP cameras and IP phones.
These switches also offer:
Extended Enterprise capability with Cisco DNA Center management
Easy deployment, with zero-touch discovery using DHCP and an express setup with a swappable SD flash card
A user-friendly device manager, the Cisco Network Assistant, a Cisco Prime interface, and third-party management solutions
Resilience and fast network recovery with Flex Links, fast convergence with Cisco Resilient Ethernet Protocol and PROFINET MRP, and simplified IP address management and deployment
The IE 2000 can be easily managed by Cisco Industrial Network Director, a network management system purpose built for industrial applications that uses the complete capabilities of the Cisco Industrial Ethernet product family to make the network easily accessible to non-IT operations personnel.
Choose from two versions of the switches, depending on the industrial application and location:

A DIN-rail-mountable version, generally installed in a cabinet

An IP67-compliant wall-mountable version that does not require a cabinet
Specifications at a Glance
| | Feature |
| --- | --- |
| Port configuration | Up to 24 fixed ports with compact form factor |
| Uplinks | Up to two 100BASE-T or 1000BASE-T uplinks with SFP or RJ-45 connectors |
| Integrated power supply, alarm relays | Yes |
| Manageability | Swappable SD flash card (for configuration storage), mini USB connector, RS-232 console port |
| Industrial Ethernet protocols supported | CIP, EtherNet/IP and PROFINETv2 |
Documentation:
Download the Cisco IE2000 Series switches Datasheet (PDF).
---
---
Pricing Notes:
Pricing and product availability subject to change without notice.