Cisco Catalyst IW9167E Heavy Duty Access Point

State-of-the-art platform, heavy-duty design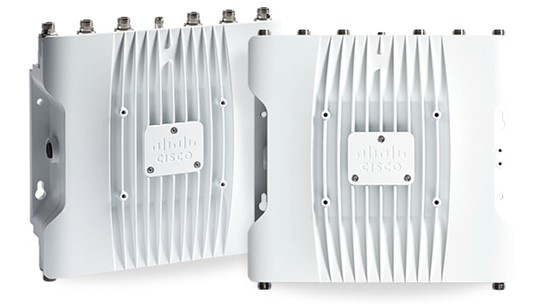 Overview:
The Catalyst IW9167E addresses the growing need to provide reliable wireless connectivity for mission-critical applications as organizations automate processes and operations. It comes with three 4x4 radios, in a heavy-duty design that is IP67 rated and packed with advanced features:
Multi-radio, 4 x 4: 4 spatial streams for higher capacity
GNSS, multiprotocol IoT radio, scanning radio
Built-in security with Cisco trustworthy technologies
Water and dust resistance (IP67)
Hardened for shock, vibration, extreme temperatures
Optional M12 adapter for network and power interfaces
Industrial certifications and testing
Secure infrastructure
Trustworthy systems built with Cisco Trust Anchor Technologies provide a highly secure foundation for Cisco products. With the Cisco Catalyst IW9167E Heavy Duty Access Point, these technologies enable assurance of hardware and software authenticity for supply chain trust and strong defense against man-in-the-middle attacks that compromise software and firmware. Trust Anchor capabilities include:
Image signing
Secure Boot
Cisco Trust Anchor module
Redefine your Wi-Fi experience:
Today's hybrid workplace or tomorrow's ubiquitous connectivity starts with Wi-Fi 6 and Wi-Fi 6E.

Reliability
Connect more devices with improved performance.

Powerful
Support new immersive applications and use cases.

Simple
Operate your network on-premises or in the cloud with Cisco Catalyst Wi-Fi 6E access points.
The Catalyst IW9167E brings unmatched flexibility, as it can operate in one of two reliable wireless technologies: Wi-Fi 6 or Cisco URWB:
All the benefits of Wi-Fi 6 in industrial or outdoor spaces: Higher density, higher throughput, more channels, power efficiency, and improved security.
Cisco URWB provides ultra-reliable wireless connectivity for moving assets or to extend the network where running fiber isn't feasible or is too costly. It provides up to 99.995% availability, less than 10 ms latency, and zero packet loss with seamless handoffs. Cisco URWB is a proven technology that has been used by many customers, operates on unlicensed spectrum, deploys like Wi-Fi, and gives you full control of your network.
The Catalyst IW9167E is designed to take advantage of the 6 GHz band expansion to deliver a network that is more reliable and secure, with higher throughput, more capacity, and less device interference. The 6 GHz band support will be available with a future software upgrade and is subject to approvals and regulations by each countries' regulatory agencies for the use of the 6 GHz spectrum for outdoor standard power devices.
One platform, two wireless technologies:
Cisco Ultra-Reliable Wireless Backhaul
Ultra-Reliable Wireless Backhaul technology. Deploy and manage through IoT Operations Dashboard:
Wireless connectivity to extend your network to mobile or remote locations
Ultra-reliability with multipath operations
High-availability, ultra-low latency
Zero loss with seamless handoffs
Full control of your network, unlicensed spectrum
Deployable through Cisco IoT Operations Dashboard
Wi-Fi 6/6E-ready
Wi-Fi 6/6E-ready technology. Manage with Cisco DNA Center:
Wi-Fi 6 access point for your industrial wireless needs
High-bandwidth, high density, low-latency, longer battery life, improved security
Support for workgroup bridge (WGB)
Wi-Fi 6E-ready (pending regulatory agencies' usage approvals)
Management with Cisco DNA Center
---
Pricing Notes:
Pricing and product availability subject to change without notice.