Cisco Catalyst IE3200 Rugged Series

Accelerate your digital transformation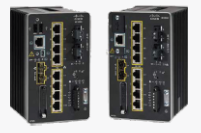 Cisco's Catalyst IE3200 Rugged Series is a secure, fixed, full-Gigabit industrial switching platform managed with Cisco DNA Center. With 8 PoE+ in a compact form factor, these rugged switches are designed for power and space-constrained areas. The Cisco Catalyst IE3200 Rugged Series brings intent-based networking to industrial use cases.
Features and capabilities

Scalability for industrial networks - Accelerate digital transformation and upgrade your IoT infrastructure to Gigabit speeds. The IE3200 packs 10 ports of Gigabit Ethernet for a wide variety of industrial and extended enterprise connectivity needs.

Compact form factor for rugged switch use cases - The Catalyst IE3200 ruggedized ethernet switch is optimized for size, weight, and power, and it is easy to integrate into space- and power-constrained cabinet installations. With its rugged, die-cast chassis, the IE3200 is well suited for the harshest environments.

High-density PoE+ - Reduce complexity with one cable for connectivity and power. The Cisco Catalyst IE3200 Rugged Series provides high-density industrial switching PoE/PoE+ to power up to eight devices, making them an ideal choice to power Wi-Fi access points, IP cameras, and sensors.

Open extensible platform with IOS XE - Cisco IOS XE is the next-generation network operating system, with built-in open and standards-based APIs and multilayer security that inspires trust. This unified software stack is superb for process and workflow automation, enabling you to qualify and deploy new network connectivity services quick
Use Cases
Parking lots
Improve safety, automate entry/exit control, and create new customer experiences by connecting a wide variety of IoT devices, including sensors, cameras, and wireless access points.
Utilities
Quickly identify and fix problems, limit downtime, and reduce outages and costs.
Manufacturing
Automate network connectivity, reduce down-time, and increase productivity by connecting sensors, machines, and other IoT devices. .
Cisco Catalyst IE3200 Rugged Series models
| Product ID | Total ports | 10/100/1000 RJ45 Copper ports) | 100/1000 SFP ports | Software license (Default) | PoE/ PoE(+) budget |
| --- | --- | --- | --- | --- | --- |
| IE-3200-8T2S-E | 10 | 8 | 2 | Network Essentials | N/A |
| IE-3200-8P2S-E | 10 | 8 | 2 | Network Essentials | 240W |
Documentation:
Download the Cisco Catalyst IE3200 Rugged Series Datasheet (PDF).
---
---
Pricing Notes:
Pricing and product availability subject to change without notice.