Cisco Compact Switch Model C9200CX - 8 ports PoE+

It is secure, always on, and IT simplified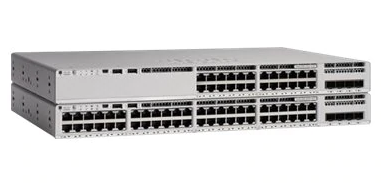 Sorry, this product is no longer available, please contact us for a replacement.
More pricing below, click here!
Cisco Catalyst 9200 Series Switches :

Secure
Protect your network and your data with advanced security features like link encryption and segmentation.

Resilient
Boost uptime with field-replaceable unit (FRU) power supplies and fans, modular uplinks, cold patching, and Perpetual Power over Ethernet (PoE).

Uncomplicated
Simplify IT operations with Cisco DNA Center management, automated provisioning, and seamless software upgrades and patching.

Wireless-ready
Be ready for increased wireless bandwidth demands with greater stacking bandwidth, higher-capacity uplinks, and multigigabit ports.
---
Extend intent-based networking everywhere
Our best-in-class security portfolio is anchored by Talos, Trustworthy Solutions, MACsec encryption, and segmentation. Get advanced security features that protect the integrity of your hardware, software, and all data that flows through the switch. Cisco® Catalyst® 9200 Series switches extend the power of intent-based networking and Catalyst 9000 hardware and software innovation to a broader set of deployments. With its family pedigree, Catalyst 9200 Series switches offer simplicity without compromise – it is secure, always on, and IT simplified.
As foundational building blocks for the Cisco Digital Network Architecture, Catalyst 9200 Series switches help customers simplify complexity, optimize IT, and reduce operational costs by leveraging intelligence, automation and human expertise that no other vendor can deliver regardless of where you are in the intent-based networking journey.
Catalyst 9200 Series switches provide security features that protect the integrity of the hardware as well as the software and all data that flows through the switch. It provides resiliency that keeps your business up and running seamlessly. Combine that with open APIs of Cisco IOS XE and programmability of the UADP ASIC technology, Catalyst 9200 Series switches give you what you need now with investment protection on future innovations.
With full PoE+ capability, power and fan redundancy, stacking bandwidth up to 160 Gbps, modular uplinks, Layer 3 feature support, and cold patching, Catalyst 9200 Series switches are the industry's unparalleled solution with differentiated resiliency and progressive architecture for cost-effective branch-office access. Catalyst 9200 Series switches also provide operational choice of Cisco DNA Center, or Meraki cloud monitoring
---
Product highlights
Up to 48 ports of full Power over Ethernet Plus (PoE+) capability
Resiliency with Field-Replaceable Units (FRU) and redundant power supply, fans, and modular uplinks
Flexible downlink options with data, PoE+ or mGig
Operational efficiency with optional backplane stacking, supporting stacking bandwidth up to 160 Gbps
UADP 2.0 Mini with integrated CPU offers customers optimized scale with better cost structure
Enhanced security with AES-128 MACsec encryption, policy-based segmentation, and trustworthy systems
Layer 3 capabilities, including OSPF, EIGRP, ISIS, RIP, and routed access
Advanced network monitoring using Full Flexible NetFlow
Cisco Software-Defined Access (SD-Access): ◦ Simplified operations and deployment with policy-based automation from edge to cloud managed with Cisco Identity Services Engine (ISE) ◦ Network assurance and improved resolution time through Cisco DNA Center
Plug and Play (PnP) enabled: A simple, secure, unified, and integrated offering to ease new branch or campus device rollouts or updates to an existing network
Cisco IOS XE: A Common Licensing based operating system for the enterprise Cisco Catalyst 9000 product family with support for model-driven programmability and streaming telemetry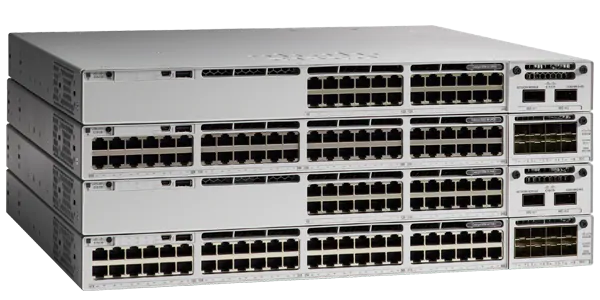 ---
Pricing Notes:
Pricing and product availability subject to change without notice.