Cisco Catalyst Micro Switch for Walljack

Cisco's purpose-built product family for FTTx deployments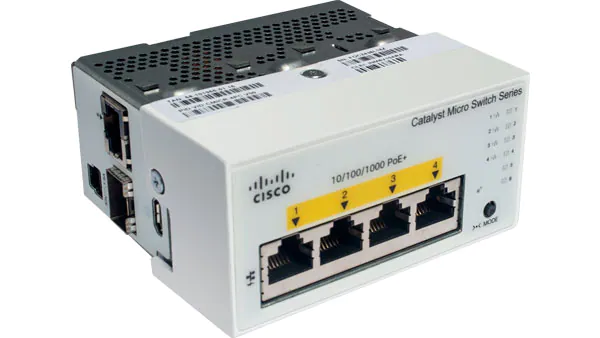 Cisco Products
Cisco Catalyst Micro Switches
Cisco Catalyst Micro Switch for Wall-Jack Deployments, 2x SFP uplinks
#CMICR-4PS
List Price:
$1,353.49
Our Price: $905.88
Cisco Catalyst Micro Switch for Wall-Jack Deployments, 1x copper + 1x SFP uplink
#CMICR-4PC
List Price:
$1,424.46
Our Price: $951.28
More pricing below, click here!
Cisco Catalyst Micro Series Switches:
The Cisco Catalyst Micro Switches are Cisco's purpose-built product family for FTTx deployments, allowing customers to eliminate IDF, save precious real estate, conserve energy, and cut cabling costs.
Fiber to the desk, office, etc. (FTTx) is not a new concept. In this deployment scenario, the improved range of fiber optics over copper cables allows access switches to be deployed right next to the end devices, with uplinks connected directly to the main distribution frame, eliminating the need for an intermediate distribution frame on each floor. However, as access switches get closer to the end users, the requirements for operating noise and product footprint get stricter. Enter the Cisco Catalyst Micro Switches, a product family of small, fanless switches purpose-built for FTTx deployments. These switches offer flexible mounting options and open up a variety of network design and connectivity opportunities.
Four Gigabit Ethernet ports and two Gigabit Ethernet copper or fiber uplinks, with line-rate forwarding performance
Power over Ethernet Plus (PoE+) support, with up to 60W PoE power budget in wall-jack switches, and up to 120W for desktop versions
Fanless design for silent operation and enhanced reliability
Enhanced Limited Lifetime Warranty (E-LLW)

Enhanced security
Protect information and infrastructure with advanced security features and Cisco Software-Defined Access integration.

Simple deployment
Easily install and provision the switches with snap-in mounting hardware and Cisco Plug and Play.

Reliable Power over Ethernet
PoE+ with Perpetual PoE features provides reliable power over data cabling for Internet of Things (IoT) devices.

Advanced management
Support for Cisco DNA Center means you can manage the entire network through a single pane of glass.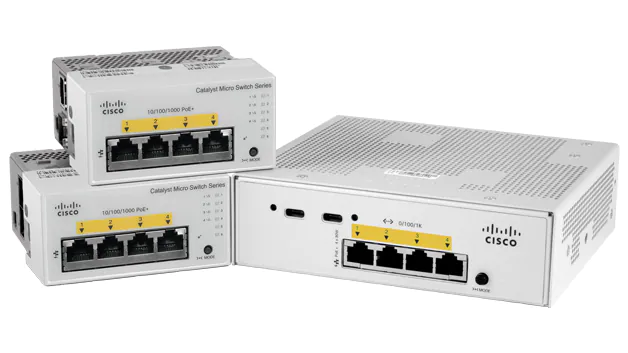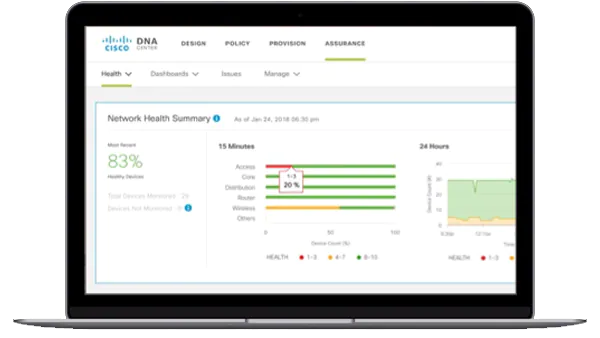 Deploy secure intelligent switching with Cisco DNA software
Simple, flexible software subscription suites help you achieve the latest Cisco DNA innovations in policy-based automation, secure connectivity, and critical analytics and assurance across your network.
---
Pricing Notes:
Pricing and product availability subject to change without notice.
Cisco Products
Cisco Catalyst Micro Switches
Cisco Catalyst Micro Switch for Wall-Jack Deployments, 2x SFP uplinks
#CMICR-4PS
List Price:
$1,353.49
Our Price: $905.88
Cisco Catalyst Micro Switch for Wall-Jack Deployments, 1x copper + 1x SFP uplink
#CMICR-4PC
List Price:
$1,424.46
Our Price: $951.28