Cisco Catalyst 9800-80 Wireless Controller for Cloud

next generation of enterprise-class wireless controllers for cloud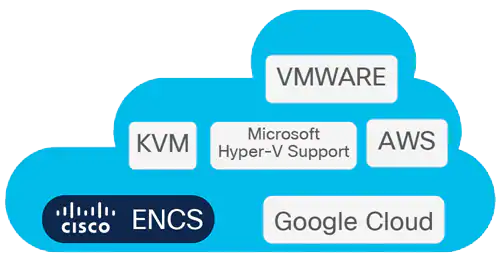 Cisco Catalyst 9800-80 Wireless Controller:
Built from the ground-up for the intent-based network and Cisco DNA, Cisco Catalyst 9800 Series Wireless Controllers are Cisco IOS XE based and integrate the RF excellence of Cisco Aironet access points, creating a best-in-class wireless experience for your evolving and growing organization. The 9800 Series is built on an open and programmable architecture with built-in security, streaming telemetry, and rich analytics.
The Cisco Catalyst 9800 Series Wireless Controllers are built on the three pillars of network excellence -always on, secure, and deployed anywhere - which strengthen the network by providing the best wireless experience without compromise, while saving time and money.
The Cisco Catalyst 9800-CL is the next generation of enterprise-class wireless controllers for cloud, with seamless software updates for distributed branches and midsize campuses to large enterprises and service providers.
The Cisco Catalyst 9800-CL controller is feature rich and enterprise ready to power your business-critical operations and transform end-customer experiences:
High availability and seamless software updates, enabled by hot and cold patching, keep your clients and services always on in planned and unplanned events.
Secure air, devices, and users with the Cisco Catalyst 9800-CL. Wireless infrastructure becomes the strongest first line of defense with Cisco Encrypted Traffic Analytics (ETA) and Software-Defined Access (SD-Access). The controller comes with built-in security: runtime defenses, image signing and integrity verification.
Deploy anywhere to enable wireless connectivity everywhere. Whether in a public or private cloud, the Cisco Catalyst 9800-CL best meets your organization's needs.
Built on a modular operating system, the 9800-CL features open and programmable APIs that enable automation of day-0 to day-N network operations. Model-driven streaming telemetry provides deep insights into the health of your network and clients.
Cisco User Defined Network, a feature available in Cisco DNA Center, allows IT to give end users control of their very own wireless network partition on a shared network. End users can then remotely and securely deploy their devices on this network. Perfect for university dormitories or extended hospital stays, Cisco User Defined Network grants both device security and control, allowing each user to choose who can connect to their network.
The Wi-Fi 6 readiness dashboard is a new dashboard in the Assurance menu of Cisco DNA Center. It will look through the inventory of all devices on the network and verify device, software, and client compatibility with the new Wi-Fi 6 standard. After upgrading, advanced wireless analytics will indicate performance and capacity gains as a result of the Wi-Fi 6 deployment. This is an incredible tool that will help your team define where and how the wireless network should be upgraded. It will also give you insights into the access point distribution by protocol (802.11 ac/n/abg), wireless airtime efficiency by protocol, and granular performance metrics.
With Cisco In Service Software Upgrade (ISSU), network downtime during a software update or upgrade is a thing of the past. ISSU is a complete image upgrade and update while the network is still running. The software image—or patch—is pushed onto the wireless controller while traffic forwarding continues uninterrupted. All access point and client sessions are retained during the upgrade process. With just a click, your network automatically upgrades to the newest software.
Cisco Catalyst 9800-CL for Private Cloud


Cisco Catalyst 9800-CL for private cloud
Key highlights
VMware ESXi, KVM, Hyper-V, and Cisco NFVIS (on ENCS) supported
Supports centralized, Cisco FlexConnect, mesh, and fabric (SD-Access) deployment modes
Multiple scale and throughput* profiles with a single deployment package to best meet your organization's needs

Small (low / high throughput): Designed for distributed branches and small campuses supporting up to 1000 Access Points (APs) and 10,000 clients
Medium (low / high throughput): Designed for medium-sized campuses supporting up to 3000 APs and 32,000 clients
Large (low / high throughput): Designed for large enterprises and service providers supporting up to 6000 APs and 64,000 clients

One deployment package for all the scale templates. Pick the deployment size and the throughput profile when you instantiate the Virtual Machine (VM)
Supports up to 2.1 Gbps of throughput in a centralized wireless deployment (low-throughput profile without SR-IOV)
With a high (enhanced) throughput profile, up to 5 Gbps can be reached on ESXi and KVM with the right set of network cards and resources (SR-IOV-enabled NIC card)
An intuitive bootstrap wizard is available during the VM instantiation to boot the wireless controller with recommended parameters
Optimize your branch by deploying the 9800-CL as a virtual machine on the Cisco 5000 Series Enterprise Network Compute System (ENCS) running Cisco NFVIS
Cisco Catalyst 9800-CL for Public Cloud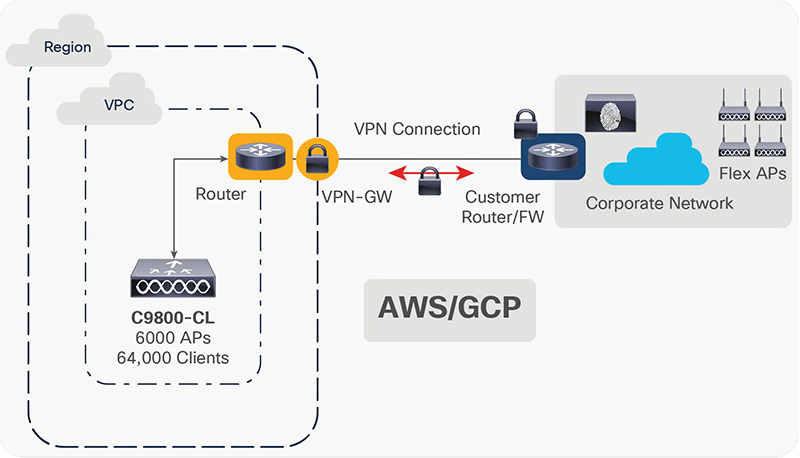 Cisco Catalyst 9800-CL for public cloud
Key highlights
Cisco Catalyst 9800-CL is available as an Infrastructure-as-a-Service (IaaS) solution on the Amazon Web Services (AWS) and Google Cloud Platform (GCP) Marketplaces
Supported only with managed VPN deployment mode:

The 9800-CL should be instantiated within a Virtual Private Cloud (VPC)
A VPN tunnel has to be established from the customer site to AWS or GCP to enable communication between the Cisco access point and 9800-CL wireless controller

Cisco FlexConnect central authentication and local switching
Available on AWS GovCloud
Supports up to 6000 access points and 64,000 clients
Deploy a wireless controller instance in AWS using cloud-formation templates provided by Cisco (recommended) or by manually using the EC2 console
Deploy a wireless controller in GCP using the guided workflow in the marketplace
---
Pricing Notes:
Pricing and product availability subject to change without notice.