Cisco Catalyst 9130AX Wi-Fi 6 Series Access Points

The next generation of enterprise access points-resilient, secure, and intelligent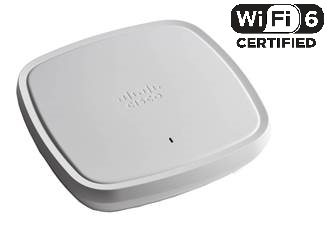 Cisco Products
Cisco Catalyst 9130 Series
Cisco Catalyst 9130AX 802.11ax 5.38 Gbit/s Wireless Access Point with Internal Antennas
#C9130AXI-B
List Price:
$2,673.32
Our Price: $1,823.22
Cisco Catalyst 9130AXE 802.11ax 10 Gbit/s Wireless Access Point with External Antennas
#C9130AXE-B
List Price:
$2,791.61
Our Price: $1,910.27
The Cisco Catalyst 9130AX Series Access Points are the most versatile next generation access point in enterprise grade. They are resilient, secure, and intelligent.
With the emergence of high-density networks and the Internet of Things (IoT), we are more dependent on wireless networks than ever before. Increasing numbers of devices connect to the network every year, ranging from high-performance client devices to low-bandwidth IoT devices. Cisco Catalyst 9130AX Series Access Points provide a seamless experience anywhere for everyone, with high scaling and unmatched performance in diverse network deployments. Going beyond the Wi-Fi 6 (802.11ax) standard, the 9130AX Series provides integrated security, resiliency, and operational flexibility as well as increased network intelligence.
Extending Cisco's intent-based network and perfect for networks of all sizes, the Cisco Catalyst 9130AX Series scales to meet the growing demands of IoT while fully supporting the latest innovations and new technologies. The 9130AX Series is also a leader in performance, security, and analytics.
The Cisco Catalyst 9130AX Series Access Points, paired with the Cisco Digital Network Architecture (Cisco DNA), are enterprise-class products that will address both your current and future needs. They are the first step in updating your network to take better advantage of all of the features and benefits that Wi-Fi 6 provides.
Key features:
Four radios: 2.4 GHz (4x4), 5 GHz (8x8 and 4x4), Cisco RF ASIC, and BLE/IoT
Cisco Flexible Radio Assignment and Cisco CleanAir Technology
Embedded Wireless Controller
---
Pricing Notes:
Pricing and product availability subject to change without notice.
Cisco Products
Cisco Catalyst 9130 Series
Cisco Catalyst 9130AX 802.11ax 5.38 Gbit/s Wireless Access Point with Internal Antennas
#C9130AXI-B
List Price:
$2,673.32
Our Price: $1,823.22
Cisco Catalyst 9130AXE 802.11ax 10 Gbit/s Wireless Access Point with External Antennas
#C9130AXE-B
List Price:
$2,791.61
Our Price: $1,910.27