Cisco Catalyst 3850 Stackable 48-Port Switch
Cisco Catalyst 3850 Switches with IP Services Software

Sorry, this product is no longer available.
Switch to something new: Catalyst 9300 Series switches
Boost speed and performance with our newest, most secure switches! The Catalyst 9300 Series includes our highest density fixed-access, stackable enterprise network switches.
Cisco 3850 48-Port Switch:
48 10/100/1000 PoE+ and non-PoE models with energy-efficient Ethernet (EEE)
1 RU fixed-configuration
Cisco StackPower™ technology
Cisco StackWise-480 technology
IP Services Feature Set
Cisco Catalyst 3850 Series Switches
The Cisco® Catalyst® 3850 Series is the next generation of enterprise-class stackable access-layer switches that provide full convergence between wired and wireless on a single platform. Cisco's new Unified Access Data Plane (UADP) application-specific integrated circuit (ASIC) powers the switch and enables uniform wired-wireless policy enforcement, application visibility, flexibility and application optimization. This convergence is built on the resilience of the new and improved Cisco StackWise-480. The Cisco Catalyst 3850 Series Switches support full IEEE 802.3at Power over Ethernet Plus (PoE+), modular and field-replaceable network modules, redundant fans and power supplies.
Cisco Catalyst 3850 Series primary features:
Integrated wireless controller capability with:

Up to 40G of wireless capacity per switch (48-port models)
Support for up to 50 access points and 2000 wireless clients on each switching entity (switch or stack)

24 and 48 10/100/1000 data and PoE+ models with energy-efficient Ethernet (EEE)

Cisco StackWise-480 technology provides scalability and resiliency with 480 Gbps of stack throughput
Cisco StackPower™ technology provides power stacking among stack members for power redundancy
Three optional uplink modules with 4 x Gigabit Ethernet, 2 x 10 Gigabit Ethernet, or 4 x 10 Gigabit Ethernet ports
Dual redundant, modular power supplies and three modular fans providing redundancy
Full IEEE 802.3at (PoE+) with 30W power on all ports in 1 rack unit (RU) form factor

Software support for IPv4 and IPv6 routing, multicast routing, modular quality of service (QoS), Flexible NetFlow (FNF) Version 9, and enhanced security features
Single universal Cisco IOS® Software image across all license levels, providing an easy upgrade path for software features
Enhanced limited lifetime warranty (E-LLW) with next business day (NBD) advance hardware replacement and 90-day access to Cisco Technical Assistance Center (TAC) support
Catalyst 3850 series Software Features
The three feature sets available with all Cisco Catalyst 3850 Series Switches are:
LAN Base: enterprise access Layer 2 switching features
IP Base: baseline enterprise access Layer 3 switching features
IP Services: advanced Layer 3 switching (IPv4 and IPv6) features
The LAN Base feature set offers enhanced intelligent services that include comprehensive Layer 2 features, with up to 255 VLANs. The IP Base feature set provides entry-level enterprise services in addition to all LAN Base features, with 1K VLANs. IP Base also includes the support for wireless controller functionality (mobility agent and mobility controller role; additional access point license required for mobility controller role), routed access, smart operations, FNF, and so on. The IP Services feature set provides full enterprise services that include advanced Layer 3 features such as EIGRP, OSPF, BGP, PIM, and IPv6 routing such as OSPFv3 and EIGRPv6. All software feature sets support advanced security and MQC-based QoS.
The Cisco Catalyst 3850 Series Switches with LAN Base feature set can only stack with other Cisco Catalyst 3850 Series LAN Base switches. The same applies to IP Base and IP Services as well. A mixed stack of LAN Base switch with IP Base or IP Services feature set is not supported.
Customers can transparently upgrade the software feature set in the Cisco Catalyst 3850 Series Switches through Cisco IOS Software CLI using the right to use (RTU)-based software upgrade process. Software activation enables the Cisco IOS Software feature sets. Based on the license's type, Cisco IOS Software activates the appropriate feature set. License types can be changed, or upgraded, to activate a different feature set.
Cisco StackWise-480 Technology
Cisco StackWise-480 technology is built on the highly successful industry-leading StackWise® technology, which is a premium stacking architecture. StackWise-480 has a stack bandwidth of 480 Gbps. StackWise-480 uses Cisco IOS Software SSO for providing resiliency within the stack. The stack behaves as a single switching unit that is managed by an "active" switch elected by the member switches. The active switch automatically elects a standby switch within the stack. The active switch creates and updates all the switching/routing/wireless information and constantly synchronizes that information with the standby switch. If the active switch fails, the standby switch assumes the role of the active switch and continues to the keep the stack operational. Access points continue to remain connected during an active-to-standby switchover. A working stack can accept new members or delete old ones without service interruption. StackWise-480 creates a highly resilient single unified system of up to four switches, providing simplified management using a single IP address, single Telnet session, single CLI, auto-version checking, auto-upgrading, auto-configuration, and more. StackWise-480 also enables local switching in Cisco Catalyst 3850 Series Switches.
Cisco StackPower Technology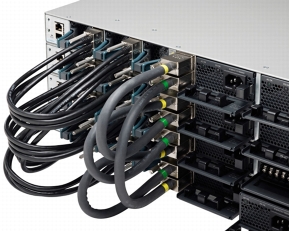 The Cisco Catalyst 3850 Series uses the Cisco StackPower technology present on the Cisco Catalyst 3850 Series. StackPower is an innovative power interconnect system that allows the power supplies in a stack to be shared as a common resource among all the switches. Cisco StackPower unifies the individual power supplies installed in the switches and creates a pool of power, directing that power where it is needed. Up to four switches can be configured in a StackPower stack with the special connector at the back of the switch using the StackPower cable, which is different than the StackWise-480 cables.
StackPower can be deployed in either power-sharing mode or redundancy mode. In power-sharing mode, the power of all the power supplies in the stack is aggregated and distributed among the switches in the stack. In redundant mode, when the total power budget of the stack is calculated, the wattage of the largest power supply is not included. That power is held in reserve and used to maintain power to switches and attached devices when one power supply fails, enabling the network to operate without interruption. Following the failure of one power supply, the StackPower mode becomes power sharing.
StackPower allows customers to simply add one extra power supply in any switch of the stack and either provide power redundancy for any of the stack members or simply add more power to the shared pool. StackPower eliminates the need for an external redundant power system or installation of dual power supplies in all the stack members. StackPower is available in LAN Base license level (or higher). For LAN Base, cables need to be purchased separately.
Switch Configurations
All switches ship with one of the four power supplies (350WAC, 715WAC, 1100WAC, or 440WDC). Figure 1 shows the Cisco Catalyst 3850 Series Switches.