Cisco Unified IP Phone 7975G

Clearer Communications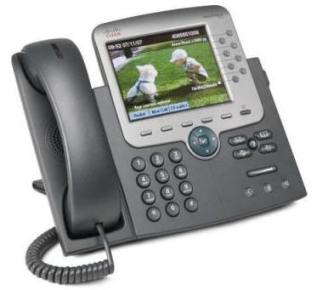 Sorry, this product is no longer available, please contact us for a replacement.
More pricing below, click here!
Cisco Unified IP Phone 7975G:
Enhance telephone user experience with high-fidelity wideband audio and improved navigation options. The Cisco Unified IP Phone 7975G extends the functionality of the existing Cisco Unified IP Phone 7970G and 7971G-GE models with the following new features:
High-fidelity wideband audio for vibrant, lifelike conversations; Internet Low Bitrate Codec (iLBC) support for use in lossy networks
Large backlit touch-screen color display for easy use of Cisco Unified Communications and third-party telephone applications
Improved navigation cluster for easier navigation and feature and function selection
Gigabit Ethernet connectivity
Product Overview
Cisco® Unified Communications Solutions unify voice, video, data, and mobile applications on fixed and mobile networks, delivering a media-rich collaboration experience across business, government agency, and institutional workspaces. These applications use the network as the platform to enhance comparative advantage by accelerating decision time and reducing transaction time. The security, resilience, and scalability of the network enable users in any workspace to easily connect anywhere, anytime, and anyplace, using any media, device or operating system. Cisco Unified Communications is part of a comprehensive solution that includes network infrastructure, security, wireless, management applications, lifecycle services, flexible deployment and outsourced management options, and third-party applications.
The Cisco Unified IP Phone 7975G demonstrates the latest advances in VoIP telephony, including wideband audio support, backlit color touchscreen display, and an integrated Gigabit Ethernet port. It addresses the needs of the executive or major decision maker, administrative assistants, and those working with bandwidth-intensive applications on colocated PCs. This IP phone includes a large, backlit, easy-to-read color display for easy access to communication information, timesaving applications, and features such as date and time, calling party name, calling party number, digits dialed, and presence information. It also accommodates Extensible Markup Language (XML) applications that take advantage of the display. The phone provides direct access to eight telephone lines (or combination of lines, speed dials, and direct access to telephony features), five interactive soft keys that guide you through call features and functions, and an intuitive four-way (plus Select key) navigation cluster. A hands-free speakerphone and handset designed for high-fidelity wideband audio are standard, as is a built-in headset connection.
Close-Up of Display and Lighted Line Keys
---
Pricing Notes:
Pricing and product availability subject to change without notice.