Cisco Unified IP Phone 7970G

Dynamic, Scalable, Integrated Communications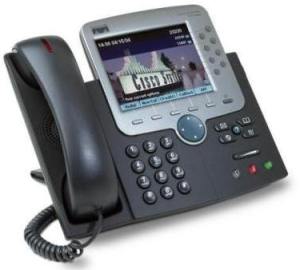 Cisco Products
Cisco Unified IP Phone 7900 Series
Cisco Unified IP Phone 7970G
2 x RJ-45 10/100Base-TX, 8 Phonelines, Wall Mountable, 1 x Mini-phone
#CP-7970G
Get a Quote!
Click here for more options and pricing!
Cisco Unified IP Phone 7970G:
The Cisco Unified IP Phone 7970G delivers the latest technology and advancements in IP telephony. It not only addresses the needs of executives and major decision makers but also brings network data and applications to users without PCs. This state-of-the-art IP phone also enables customers and developers to deliver more innovative and productivity-enhancing Extensible Markup Language (XML) applications to the display.
The Cisco Unified IP Phone 7970G features:
A backlit, high-resolution color touch-screen display
Streamlined access to communications information, timesaving applications, and feature usage details
Access to eight telephone lines (or combination of lines and direct access to telephony features)
A high-quality hands-free speakerphone and built-in headset connection
Support for inline power over Ethernet
Product Overview
The Cisco Unified Communications system of voice and IP Communications products and applications helps organizations communicate more effectively-by helping them streamline business processes, reach the right resource the first time, and enhance productivity. The Cisco Unified Communications portfolio is an integral part of the Cisco Business Communications Solution-an integrated solution for organizations of all sizes that also includes network infrastructure, security, and network management products; wireless connectivity; and a lifecycle services approach, along with flexible deployment and outsourced management options, end-user and partner financing packages, and third-party communications applications.
Features and Benefits:


| Features: | Benefits: |
| --- | --- |
| Messages button | The message key provides direct access to voicemail. |
| Directories button | The phone identifies incoming messages and categorizes them on the screen, allowing users to quickly and effectively return calls using direct dial-back capability. The corporate directory integrates with the Lightweight Directory Access Protocol Version 3 (LDAPv3) standard directory. |
| Settings button | The settings feature key allows the user to adjust display contrast and select from many ringer sounds and volume settings for all audio such as ringer, handset, headset, and speaker. Network configuration preferences also can be set up (usually by the system administrator). Configuration can either be automatic or manually set up for Dynamic Host Control Protocol (DHCP), Trivial File Transfer Protocol (TFTP), Cisco Unified CallManager software, and backup Cisco Unified CallManager software. |
| Services button | The Cisco Unified IP Phone 7971G-GE allows users to quickly access diverse information such as weather, stocks, quote of the day, or any Web-based information. The phone uses XML to provide a portal to an ever-growing world of features and information. |
| Help | The online help feature gives users information about the phone keys, buttons, and features. The pixel display allows for greater flexibility of features and significantly expands the information viewed when using features such as Services, Information, Messages, and Directory. For example, the directory button can show local and server-based directory information. |
| Speakerphone, Mute, and Headset buttons | The phone features high-quality speakerphone technology. It also includes an easy-to-use speaker on/off button and microphone mute buttons. These buttons are lit when active. The convenient volume-control button provides for easy decibel-level adjustments for the speakerphone, handset, headset, and ringer. |
| Display | The display key provides easy access to previous pages or applications still open on the LCD |
Technical Specifications: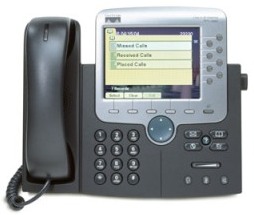 Cisco Unified IP Phones 7970G Specifications:
Product Specifications
Dimensions (H x W x D)
8.2 x 10.5 x 6 in. (20.32 x 26.67 x 15.24 cm)
Weight
3.5 lb (1.6 kg)
Phone-Casing Composition
Acrylonitrile butadiene styrene (ABS) plastic in textured dark gray color with silver bezel
Power
Supports IEEE 802.3af PoE (Class 3). 48VDC is required; it can be supplied locally at the desktop using an optional AC-to-DC power supply (part number CP-PWR-CUBE-3=) or power injector (CP-PWR-INJ=). Local power options require a corresponding AC country cord
Phone Software Requirements
Supported in 8.3(2) and greater
Call Control compatibility
Supported in Cisco Unified Communications Manager Versions 4.1(3)sr5b, 4.2(3)sr2b, 4.3(1), 5.1.1(b), 5.1(2), 6.0(1) and greater

Supported in Cisco Unified Communications Express and SRST Version 4.1

Signaling Protocols
Skinny Client Control Protocol (SCCP) and Session Initiation Protocol (SIP) with Cisco call control
Temperature Ratings
Operating temperature
32 to 104°F (0 to 40°C)
Relative humidity
10 to 95% (noncondensing)
Storage temperature
14 to 140°F (-10 to 60°C)
Pricing Notes:
Pricing and product availability subject to change without notice.
Cisco Products
Cisco Unified IP Phone 7900 Series
Cisco Unified IP Phone 7970G
2 x RJ-45 10/100Base-TX, 8 Phonelines, Wall Mountable, 1 x Mini-phone
#CP-7970G
Get a Quote!