Cisco Unified IP Phone 7931G
Advanced Commercial and Retail Communications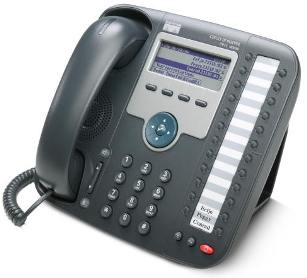 Cisco Unified IP Phone
Cisco Unified IP Phone 7900 Series

Cisco Unified IP Phone 7931G
#CP-7931G
List Price: $350.00
Our Price: $255.00
Click here for more options and pricing!
Cisco Unified IP Phone 7931G:
The new Cisco Unified IP Phone 7931G provides functions that are commonly needed in commercial and retail environments. For example, it has:
Hard hold, redial, and transfer keys to facilitate simple and rapid call handling

Twenty-four lighted line keys and four interactive soft keys that guide users through call features and functions
It shares many of the industrial design features of the highly successful Cisco Unified IP Phone 7900 Series with a distinct user interface to suit the needs of our commercial and retail customers.
Product Overview
The Cisco® Unified Communications system of voice and IP communications products and applications enables organizations to communicate more effectively-enabling them to streamline business processes, reach the right resource the first time and impact the top and bottom line. The Cisco Unified Communications portfolio is an integral part of the Cisco Business Communications Solution-an integrated solution for organizations of all sizes which also includes network infrastructure, security, and network management products, wireless connectivity, and a lifecycle services approach, along with flexible deployment and outsourced management options, end-user and partner financing packages, and third-party communications applications.
The Cisco Unified IP Phone 7931G meets the communication needs of retail, commercial, manufacturing workers, and anyone with moderate telephone traffic but also specific call requirements. Dedicated hold, redial, and transfer keys facilitate call handling in a retail environment. Illuminated mute and speakerphone keys give a clear indication of speaker status. A pixel-based display with a white backlight makes calling information easy to see, and Extensible Markup Language (XML) services deliver a rich user experience. The Cisco Unified IP Phone 7931G offers numerous important security features plus the choice of IEEE 802.3af Power over Ethernet (PoE) or local power through an optional power adaptor.
Features and Benefits:
The Cisco Unified IP Phone 7931G is designed to grow with your organization. A dynamic, soft-key activated feature set allows the phone to keep pace with your requirements through regular software upgrades. You can easily move phones, add new phones, and change existing phone arrangements; users can simply pick up their phones and move to a new location anywhere on the network. The Cisco Unified IP Phone 7931G also provides accessibility features for those with special needs.
Feature
Benefit
Lighted line keys
Twenty-four lighted line keys to which individual lines can be assigned-Each line key provides a busy-line indication if the line is shared with another IP phone. Lighted line keys are also used to access services and call history directories and to activate the headset port.
Dedicated hold, redial, and transfer keys
Dedicated keys for hold, redial, and transfer-The hold key is colored red to make it clearly visible in a fast-moving call environment; the redial and transfer keys facilitate rapid call handling.
Lighted message waiting indicator
Lights turn on when there is new voicemail and when the phone rings; the message waiting indicator is visible on both the phone chassis and handset, and it stays lit until the user processes new voicemail.
Graphical display
A graphical monochrome display with resolution of 192 x 64 pixels and a white backlight provides scrollable three-line intuitive access to calling features and text-based XML applications. The Cisco Unified IP Phone 7931G also supports audio-based XML applications.
Four soft keys and a four-way rocker key
These keys dynamically present calling options to the user. The four-way rocker key allows easy movement through the displayed information.
Network features
Cisco Discovery Protocol and LLDP-MED (Link Layer protocol) 1; IEEE 802.1 p/q tagging and switching.
Ethernet switch
The phone offers 10/100BASE-T Ethernet connection through two RJ-45 ports: one for the LAN connection and the other for connecting a downstream Ethernet device such as a PC.
Speakerphone
full-duplex speakerphone enables the user to handle calls hands-free.
Volume control
A volume-control toggle provides easy decibel-level adjustments of the handset, headset, speakerphone, and ringing volume.
Headset port
A dedicated headset port eliminates the need for a separate amplifier when using a headset; it allows the handset to remain in its cradle, making headset use simpler.
Single-position foot stand
The phone offers optimum display viewing and comfortable use of buttons and keys. The foot stand can be removed for wall mounting with mounting holes located on the base of the phone.
Multiple ring tones
The phone offers more than 24 user-selectable ring tones.
American Disabilities Act (ADA) features
A handset that meets Hearing Aid Compatibility (HAC) Act requirements is available; the handset also meets HAC requirements for magnetic coupling to approved HAC hearing aids. The dial pad also is ADA compliant.
Signaling protocol support
Compatible with Cisco Unified CallManager Express Version 4.0(2) and later, using the Skinny Client Control Protocol (SCCP), or Cisco Unified Call Manager 6.0 and later.

Also compatible with the Session Initiation Protocol (SIP), starting from Cisco Unified Call Manager 7.0 or later.

Codec support
The phone supports G.711a, G.711u, G.729a, G.729b, and G.729ab audio-compression codecs.
Configuration options
Network parameters can be provisioned through the Dynamic Host Configuration Protocol (DHCP).
Voice quality
Comfort-noise generation and voice-activity-detection (VAD) programming is offered on a system basis.
1LLDP is compatible only with firmware 8.3(3) or later
Technical Specifications: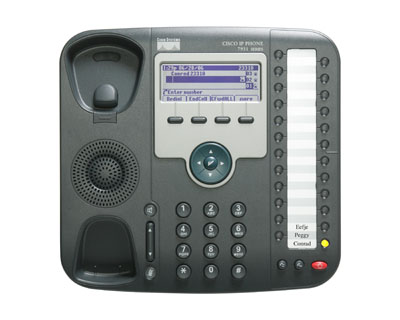 Cisco Unified IP Phones 7931G Specification
Security Features
Certificates
Phones shipped with factory-installed X.509v3 certificates; there is also an option to install and remove certificates at the customer's site
Device authentication and signaling encryption
Transport Layer Security (TLS) with Advanced Encryption Standard (AES)-128 encryption available with Cisco Unified CallManager Express Version 4.0(2) or later
Media encryption
Secure Real-Time Transport Protocol (SRTP) with AES-128 encryption available with Cisco Unified Communications Manager Express and Cisco Unified Communications Manager in a later release
Software and Physical Specifications
Firmware upgrades
Firmware upgrade supported using a Trivial File Transfer Protocol (TFTP) server
Dimensions (H x W x D)
8 x 9 x 7 in. (20.3 x 22.9 x 17.8 cm)
Weight
3.0 lb (1.36 kg)
Phone-Casing Composition
Polycarbonate acrylonitrile butadiene styerene (ABS) plastic in textured dark gray color with silver bezel
Power Options
IEEE 802.3af PoE
Can receive power from IEEE 802.3af-compliant data switches (Class III)
Local power
Powered locally with a power adapter (Cisco part number CP-PWR-CUBE-3=) along with one of the power cords
Temperature Ratings
Operating temperature
32 to 104°F (0 to 40°C)
Relative humidity
10 to 95% (noncondensing)
Storage temperature
14 to 140°F (-10 to 60°C)
Certification
Regulatory Compliance
Safety

UL 60950
CAN/CSA-C22.2 No. 60950
EN 60950
IEC 60950
AS/NZS 60950
TS 001

Electromagnetic compatibility (EMC)

FCC Part 15 (CFR 47) Class B
ICES-003 Class B
EN 55022 Class B
CISPR22 Class B
AS/NZS CISPR 22 Class B
CISPR 24
VCCI Class B
EN55024
EN 50082-1
EN 61000-3-2
EN 61000-3-3
EN 61000-6-1

Telecom

FCC Part 68 (47CFR) (HAC)
TIA 810A
Pricing Notes:
Pricing and product availability subject to change without notice.
Cisco Unified IP Phone
Cisco Unified IP Phone 7900 Series

Cisco Unified IP Phone 7931G
#CP-7931G
List Price: $350.00
Our Price: $255.00