Cisco Aironet 2800 Series Access Point

Highly versatile and deliver the most functionality in the industry.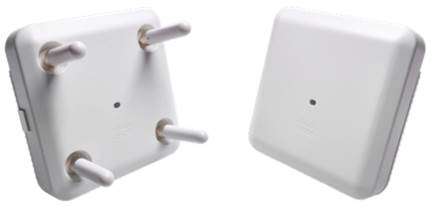 Cisco Products
Cisco Aironet 2800e Access Point
Cisco Aironet 2800e Access Point: Indoor, challenging environments, with external antennas, dual-band controller-based 802.11a/g/n/ac
#AIR-AP2802E-A-K9C
List Price:
$2,316.70
Our Price: $1,548.15
Click here for more options and pricing!
Overview:
For organizations paving the way for the new 802.11ac Wave 2 standard, the Cisco Aironet 2800 Series is the perfect solution. The access points go beyond getting ready for the new standard, providing the ultimate in flexibility and versatility.
For large enterprise organizations that rely on Wi-Fi to engage with customers, the 2800 Series is a hands-off product that's intelligent enough to make decisions based on end-device activities and usage. This automation allows you to devote time to other pressing matters, secure in the knowledge that your Wi-Fi network is performing to its utmost potential.
The Aironet 2800 Series is packed with the features and capabilities that have made Cisco the industry leader, at a price point that is ideal for managing wireless growth, capacity, and coverage gaps in dense indoor environments.
Features and Benefits
Feature
Benefit
802.11ac Wave 2 support
Provides a theoretical connection rate of up to 2.6 Gbps per radio—roughly double the rates offered by today's high-end 802.11ac access points.
High Density Experience (HDX)
Best-in-class RF architecture, which provides high-performance coverage for a high density of client devices, giving the end user a seamless wireless experience. HDX includes features such as custom hardware in 802.11ac Wave 2 radios, Cisco CleanAir®, ClientLink 4.0, cross-access point noise reduction, and an optimized client roaming experience.
Multiuser Multiple-Input Multiple-Output (MU‑MIMO) technology
Supporting three spatial streams, MU-MIMO enables access points to split spatial streams between client devices, to maximize throughput.
Flexible Radio Assignment

Allows the access points to intelligently determine the operating mode of serving radios based on the RF environment. The access points can operate in the following modes:

 2.4-GHz and 5-GHz mode: One radio will serve clients in 2.4-GHz mode, while the other serves clients in 5-GHz mode.
 Dual 5-GHz mode: Both radios inside the access point operate on the 5-GHz band, maximizing the benefits of 802.11ac Wave 2 and increasing client device capacity.
Security Monitoring and 5-GHz mode, One radio will serve 5-GHz clients, while the other is scanning the full spectrum for wIPS attackers, CleanAir interferers, and rogue devices.

Dual 5-GHz radio support
Enables both radios to operate in 5-GHz client serving mode, allowing an industry-leading 5.2 Gbps (2 x 2.6 Gbps) over-the-air speeds while increasing client capacity.
Smart antenna connector
An intelligent second physical antenna connector is included on 2800 Series models with an external antenna. This connector provides advanced network design flexibility for high-density and large open-area environments such as auditoriums, convention centers, libraries, cafeterias, and arenas/stadiums, allowing two sets of antennas to be connected and active on a single access point.
160-MHz channel support
Supporting channels up to 160 MHz wide, Dynamic Bandwidth Selection allows the access point to dynamically switch between 20-, 40-, 80-, and 160-MHz channels, depending on the RF channel conditions, providing the industry's best-performing wireless network.
Optimized access point roaming
Helps ensure that client devices associate with the access point in their coverage range that offers the fastest data rate available.
Zero Impact Application Visibility and Control*
Uses dedicated hardware acceleration to improve the performance of line-speed applications such as Application Visibility and Control.
Auto Link Aggregation (LAG) support
802.3ad (LACP) compliant, allowing both Gigabit Ethernet interfaces to automatically LAG, increasing overall throughput to the access point.
ClientLink 4.0
Cisco ClientLink 4.0 technology to improve downlink performance to all mobile devices, including one-, two-, and three-spatial-stream devices on 802.11a/b/g/n/ac while improving battery life on mobile devices such as smartphones and tablets.
CleanAir 160 MHz*
Cisco CleanAir technology, enhanced with 160-MHz channel support, provides proactive, high-speed spectrum intelligence across 20-, 40-, 80-, or 160-MHz-wide channels to combat performance problems due to wireless interference.
Cisco Mobility Express
Flexible deployment mode through the Cisco Mobility Express Solution is ideal for medium-sized deployments and can support up to 100 access points. Easy setup allows the 2800 Series Access Points to be deployed on networks without a physical controller.
* Available in a future release.
---
Pricing Notes:
Pricing and product availability subject to change without notice.
Cisco Products
Cisco Aironet 2800e Access Point
Cisco Aironet 2800e Access Point: Indoor, challenging environments, with external antennas, dual-band controller-based 802.11a/g/n/ac
#AIR-AP2802E-A-K9C
List Price:
$2,316.70
Our Price: $1,548.15