Cisco Aironet 600 Series OfficeExtend Access Point

An All-in-One Security Solution to Secure Your Small Business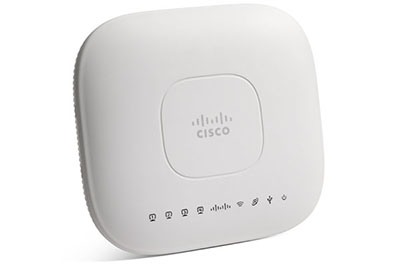 Cisco Arionet 600 Series Access Points
Cisco Aironet 600 Series OfficeExtend Access Points

Cisco Aironet 600 Series OfficeExtend Access Points, Dual-Radio Performance, 802.11 a/b/g/n
#AIR-OEAP602I-A-K9
List Price:
$419.00
Our Price: $289.00

Cisco Aironet 600 Series OfficeExtend Access Points, Dual-Radio Performance, 802.11 a/b/g/n, 10 pack
#AIR-OEAP602I-AK910
List Price:
$4,190.00
Our Price: $2,889.00
Click here for more options and pricing!
Overview:
Powerful 802.11n Dual-Radio Performance
The Cisco Aironet 600 Series OfficeExtend Access Point provides secure enterprise wireless coverage to the home. This dual-band, 802.11n access point extends the corporate network to the home teleworker and mobile contractors. The access point connects to the home's broadband Internet access and establishes a secure tunnel to the corporate network so that remote employees can access data, voice, video, and cloud services for a mobility experience consistent with that at the corporate office. The dual-band, simultaneous support for 2.4-GHz and 5-GHz radio frequencies assures that corporate devices are not impacted by congestion caused by common household devices that use the 2.4 GHz band. The Cisco Aironet 600 Series OfficeExtend Access Point is purposely designed for the teleworker by supporting both secure corporate data access and maintaining connectivity for personal home devices with segmented home-traffic support.
How It Works
The same services that are available on the wireless network at the corporate office are securely accessed through the Cisco Aironet 600 Series from a remote location. Data, voice, and video as well as applications such as Cisco Unified MeetingPlace® conferencing, Cisco WebEx® technology, and dual-mode phones are all supported by the Cisco Aironet 600 Series.
For the initial setup at a home office, the remote worker plugs the access point into their home router connected to or integrated with their broadband modem. The Cisco Aironet 600 Series access point is provisioned in advance and will automatically set up a secure tunnel to the corporate headquarters with a Cisco Wireless Controller. A preregistered corporate IP phone can also automatically connect with the Cisco Unified Communications Manager to access the corporate phone number, voicemail, and user settings.
How the Remote Workforce Benefits
The Cisco Aironet 600 Series improves workforce productivity, business resiliency, and work schedule flexibility while reducing travel costs and carbon emissions. It is targeted toward commercial, enterprise, and service provider networks across all industries. The Cisco Aironet 600 Series is appropriate for employees who need reliable and consistent access to networked business services at home or at work, as well as telecommuters who require the same wireless connectivity as at the corporate site. Voice costs are reduced since users can use Wi-Fi instead of cellular coverage for voice calls.
Scalability
The Cisco Aironet 1600 Series is a component of the Cisco Unified Wireless Network, which can scale to up to 18,000 access points with full Layer 3 mobility across central or remote locations on the enterprise campus, in branch offices, and at remote sites. The Cisco Unified Wireless Network is the industry's most flexible, resilient, and scalable architecture delivering secure access to mobility services and applications, and offering the lowest total cost of ownership and investment protection by integrating seamlessly with the existing wired network.
Features:


Performance with Investment Protection
Dual-band, 802.11n access point avoids congestion from cordless phones, baby monitors, wireless game consoles, and microwave ovens
Six times faster than 802.11a/g networks
Backward-compatible with 802.11a/b/g clients
Remote Connectivity to Corporate Resources
Supports up to three corporate service set identifiers (SSIDs) and 15 wireless clients
Four Ethernet ports: Up to 2 for corporate access and remaining for personal use
Supports voice-over-Wi-Fi with dual-mode phones, soft phones, or Cisco Unified Wireless IP Phones
Easy Installation
Sleek design ideal for desktop placement
Secure Interoperability
Intel Connect with Centrino Certified
Allows spouses, partners, and children to access Internet without introducing additional security risks to corporate policy
Simplified Network Management
Minimal set up and maintenance requirements (zero-touch deployment)
Controller-based deployment options
Similar management to that of the corporate WLAN using the same infrastructure and devices
Secure Connections
Supports secure corporate wireless connectivity to employee homes
Features
Extends Borderless Network services and policies to the home-office teleworker.
Protects the corporate environment with industry-standard control and wireless access point (CAPWAP) support.
Simultaneously supports corporate and personal network activity with traffic segmentation.
Increases productivity and reduces cellular cost by extending voice to the home wirelessly or via a wired Ethernet port.
Reduces setup time with simplified IT provisioning.
Comes with a limited lifetime warranty that includes 10-day advance hardware replacement.
Technical Specifications:


Item
Specification
Performance

Dual-band, 802.11n access point for the home that provides at least six times the throughput of existing 802.11a/g networks, with industry-leading performance and reliability.
Supports both the 2.4-GHz and 5-GHz radio frequency band, simultaneously allowing users to avoid congestion from home devices.

Simplified Operations and
Management

Extends real-time services such as voice, wireless, video, and data to remote locations that have no IT staff.
Similar management to that of the corporate wireless LAN using the same infrastructure and devices (Cisco Wireless Controllers, Cisco Wireless Control System (WCS), and access points).
Cisco Unified Wireless IP Phones may be preconfigured or added in the future.

Robust Security

The Cisco Aironet 600 Series establishes a secure Datagram Transport Layer Security (DTLS) connection between the access point and the controller to offer remote WLAN connectivity using the same profile as at the corporate office.
Secure tunneling mitigates risks of viruses and attacks on the corporate network found in split-tunneling scenarios.
Segmentation of home and corporate traffic maintains home device connectivity without introducing security risks to corporate policy.

End-to-end Voice Services

Supports Unified Communications for improved collaboration through messaging, presence, and conferencing.
Supports all Cisco Unified Wireless IP Phones for cost-effective, real-time voice services.

Environmentally Responsible

Enables best practices for green initiatives by reducing commuting hours and emissions.

Software
Cisco Unified Wireless Network Software Release 7.0 MR1 or later
Controllers
Supported
Cisco 2500, 5500, 7500 Series Wireless Controllers and Cisco Wireless Services Module 2 (WiSM2)
802.11n

Multiple-input multiple-output (MIMO) with two spatial streams
Maximal ratio combining (MRC)
20- and 40-MHz channels
PHY data rates up to 300 Mbps
Packet aggregation: A-MPDU (Tx/Rx)
Cyclic shift diversity (CSD) support

Integrated Antenna

2.4 GHz, gain 3.5 dBi, horizontal beamwidth 360°
5 GHz, gain 4.0 dBi, horizontal beamwidth 360°

Interfaces

4x 10/100/1000BASE-T autosensing (RJ-45)
1x 10/100/1000BASE-T WAN port (RJ-45)
USB: Not available (future release)

Indicators

Status LED indicates boot loader status, association status, operating status, boot loader errors, port status. [USB (Future use)]

Dimensions
(W x L x H)

Access point (without cradle): 7.75 x 7 x 1.6in (195.3 x 176.3 x 39.65mm)
Access point (with cradle): 8.1 x 7.0 x 2.7in (206.15 x 176.3 x 67mm)

Weight

0.99 lbs (0.452 kg) - without cradle
1.44 lbs (0.653 kg) - with cradle

Environmental

Non-operating (storage) temperature: -13°F to +140°F (-25°C to 60°C)
Operating temperature: 32°F to 104°F (0°C to 40°C)
Operating humidity: 10% to 80% RH (non-condensing)

System Memory
Power Options
Cisco AP600 Local Power Supply: 100 to 240 VAC; 50 to 60 Hz (AIR-PWR-ADTR-cc, where cc is country code as follows: AP=Asia Pacific; AR=Argentina/Uruguay; AU=Australia; BR=Brazil; CE=Central Europe; CH=China; DM=Denmark; IS=Israel; IT=Italy; JP=Japan; NA=North America; SA=South Africa; SW=Switzerland; UK=United Kingdom)
Power Draw
Consumption: 12W normal, 15W maximum
Warranty
Limited Lifetime Hardware Warranty
Compliance and
Safety Standards

Safety:

UL 60950-1, 2nd Edition
CAN/CSA-C22.2 No. 60950-1, 2nd Edition
IEC 60950-1, 2nd Edition
EN 60950-1, 2nd Edition

Radio Approvals:

FCC Part 15.247, 15.407
RSS-210 (Canada)
EN 300 328, EN 301 893 (Europe)
ARIB-STD 33 (Japan)
ARIB-STD 66 (Japan)
ARIB-STD T71 (Japan)
AS/NZS 4268.2003 (Australia and New Zealand)
EMI and susceptibility (Class B)
FCC Part 15.107 and 15.109
ICES-003 (Canada)
VCCI (Japan)
EN 301 489-1 and -17 (Europe)
Pricing Notes:
Pricing and product availability subject to change without notice.
Cisco Arionet 600 Series Access Points
Cisco Aironet 600 Series OfficeExtend Access Points

Cisco Aironet 600 Series OfficeExtend Access Points, Dual-Radio Performance, 802.11 a/b/g/n
#AIR-OEAP602I-A-K9
List Price:
$419.00
Our Price: $289.00

Cisco Aironet 600 Series OfficeExtend Access Points, Dual-Radio Performance, 802.11 a/b/g/n, 10 pack
#AIR-OEAP602I-AK910
List Price:
$4,190.00
Our Price: $2,889.00