Small and Mighty: Introducing Cisco's Latest Wi-Fi 6 Access Point, the Catalyst 9105

December 07, 2020 By BlueAlly
---

As consumers of all things wireless, Wi-Fi 6 has probably been at the top of your mind for the past two years. Maybe you're curious about its increased throughput efficiency or the improved IoT protocols or its lightning fast speed. With that in mind, you may also want more information about Cisco's new Wi-Fi 6 access point, the Catalyst 9105. If you don't know which Wi-Fi 6 AP makes the most sense for your deployment then you've come to the right place to get all of your questions answered.
Let's dive in and learn more about this exciting new offering.

Figure 1 Wi-Fi 6 Benefits
Is Wi-Fi 6 worth the hype? Yes!
Wi-Fi 6. We've heard about it for years. Why all of the hype? A few key benefits of Wi-Fi 6 is that it has features like Orthogonal Frequency Division Multiple Access (OFDMA), 1024 QAM, and BSS Coloring. These features lead to increased performance and create a better wireless experience.
I'd like to focus on OFDMA because this feature significantly improves traffic efficiency. OFDMA allows Wi-Fi 6 clients to simultaneously receive and transmit data during the same transmit opportunity. This allows more data for multiple devices to be transmitted at the same time. This is a game changer and in my opinion, should be on the top of your list for why your organization should want to upgrade to Wi-Fi 6 access points.
Why else may you want to upgrade your wireless portfolio? Wi-Fi 6 enables up to four times faster speed than previous Wi-Fi standards, increased security with WPA3, and increased network capacity. Also, features like Target Wake Time (TWT) mean that client devices will have increased battery life. This helps with low-power IoT devices that connect via Wi-Fi, providing the benefit of not having to swap out or recharge batteries. For customers who deploy a high number of IoT devices, this is a huge deal.
What does Cisco have to offer?
Introducing the Catalyst 9100 Series Portfolio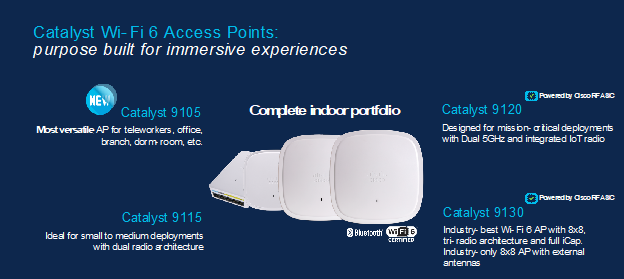 Figure 2 Catalyst Wi-Fi 6 Portfolio
With Cisco's new Catalyst 9100 Series Access Points, versatility and choice is key for this family of products. From an 'industry best' Wi-Fi 6 AP with 8×8 tri-radio architecture that support the largest deployments (the Catalyst 9130) to one of the smallest Wi-Fi 6 access points available on the market available with a wall mount (the Catalyst 9105), we have your network needs covered.
Our Wi-Fi 6 indoor access points are:
9105: A versatile access point perfect for teleworkers, office branches, dorm-rooms and more
9115: Ideal for small to medium deployments with dual radio architecture
9120: Designed for mission critical deployments with Dual 5GHz radios
9130: Industry best Wi-Fi 6 access point with 8×8 tri-radio architecture and full Intelligent Capture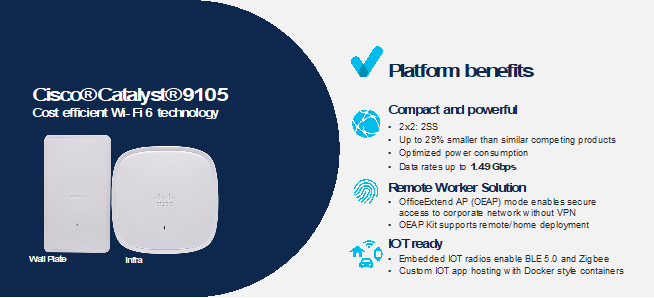 Figure 3 Cisco Catalyst 9105
The Catalyst 9105 Access Point extends Cisco's intent-based network and is perfect for networks of all sizes. The Wi-Fi 6 Catalyst 9105 features 2×2 radios, optimized power consumption, and most noticeably a small form factor design: up to 29% smaller than competitors. Further, the Catalyst 9105 is perfect for a variety of deployments and even is available in two different mounting options:
Catalyst 9105AXi (Infra model) which can be mounted to the ceiling using a specifically designed mounting bracket or can be placed on the desk
9105AXw (Wall Mount Model), which is specifically designed to be mounted to the wall and is ideal for hospitality, residence halls and other multi-dwelling units
The Catalyst 9105 access point is perfect for teleworker deployment because of its small form factor and low power consumption. This easy-to-install teleworker access point provides secure wired and wireless access for organizations with employees who work from home. The Catalyst 9105 teleworker access points are bundled with necessary accessories for easy home deployment.
The 9105 is also an incredible asset for customers that are looking to take advantage of the massive scale of IoT deployments. The 9105 allows customers to host custom IoT apps, a feature that is also available in the rest of the Catalyst access point portfolio.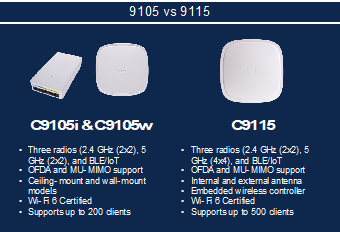 Figure 4 Catalyst 9105 vs 9115
With all of these features bundled into the Catalyst 9105, some readers may rightfully be curious about how the newest model differs from its larger sibling, the 9115. It all comes down to size. The Catalyst 9105 access points are the smallest APs within the Catalyst portfolio. Coupled with the fact that the Catalyst 9105 features the 2×2 radio versus the 4×4 radio of the Catalyst 9115, you can expect the 9105 to be better suited for smaller deployments.
When it comes to access points for small to medium sized deployments, the Catalyst 9105 is a direct follow-up to the Cisco Aironet 1815 series portfolio. The previous generation included four models – the 1815i, 1815w, 1815t, and 1815m. With the 9105, you now have the option for two models – the 9105i and 9105w. With both, you will receive all of the benefits of Wi-Fi 6, which includes increased performance and capacity, up to four times faster bandwidth than 802.11ac supported access points, and an improved 2.4GHz band that makes wireless work better with IoT devices. Further, with the Catalyst 9105, you get a sleeker design, application hosting for IoT devices, and the benefits of Wi-Fi 6. It's really a win-win-win.