Cisco Ranked #1 in Market Share for Industrial Networking

September 03, 2019 By BlueAlly
---

When people think of networking, they think of Cisco. But in the industrial networking space, sometimes that isn't the case. In the past, organizations connecting areas such as manufacturing floors, oil rigs, traffic intersections relied on specialized vendors for their industrial IoT networking needs. Not anymore. I am proud to announce that for the second year in row, Cisco is #1 in industrial networking market share. This includes layer 2 and layer 3 switching, wireless and routing. In fact, according to IHS, Cisco is the only major vendor growing across all categories.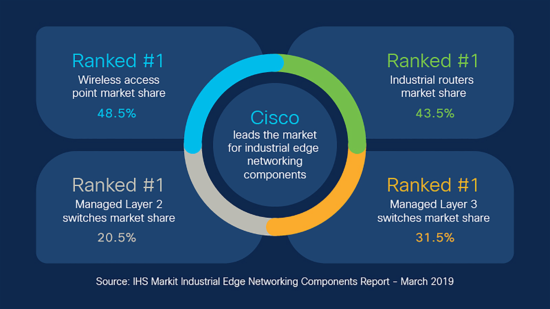 No Longer Will Any Networking Solution Do
Data from IoT projects is critical to helping organizations stay competitive. But problems with scale, IoT security and complexity block progress. More and more, operations are bringing in IT specialists to overcome these issues and lay a solid network foundation to help ensure project success. And this is where Cisco is uniquely equipped to help.

Cisco Enterprise Networking and Security
Other networking solutions are more complex. To connect an IoT deployment, IT often must add another domain. This creates added burden, forcing IT to manage one more network. And with the large number of devices connected, manual setup and operations isn't an option. Only Cisco offers an integrated multi-domain networking architecture. It extends the powerful capabilities of the enterprise network, including intent-based networking, to the IoT edge. With Cisco intent-based networking (IBN), you can automate key IT functions and provide centralized visibility and control across your entire network – from your campus to your branch, data center and to your IoT deployments.
And because most IoT projects bring more risk, security must be part of the equation. We are uniquely positioned to deliver a fully integrated Cisco security architecture without gaps in coverage. Our multi-layered, built-in approach is across every layer of our IoT stack. Coupled with our multi-domain architecture and intent-based networking, you can enforce unified security policies throughout your enterprise.
These networking and security capabilities provide scale and security unlike anyone else in the market so that you can deploy with confidence.
Industrial Protocol Interoperability
The second part of the equation adds interoperability and compliance. To get data, a large number of IoT sensors and machines must connect to the Internet. But the protocols they use are not common in traditional IT networks. Our industrial networking products support a wide variety of industrial protocols such as Modbus, Profinet, CIP, and IEC 61850 GOOSE. You get interoperability and compliance with the network scale and security you need.
The Right Form Factor and Design
The third part of the equation ensures that you can scale and deploy IoT wherever you need it. Key business operations are not always in the headquarters or the branch office. The data you need can be on the front lines of your operations like in remote oil pipelines, dirty/dusty manufacturing floors, or service vehicles. None of these are conducive to rack-mounted, ambient temperature network products. To help you connect, Cisco IoT offers ruggedized and heavy-duty routers, switches and wireless access points in small and modularized form factors. We have built them to withstand extreme temperatures, dust and moisture, and vibration. They come in sizes that are small enough to deploy in cars or on light poles or wherever you need it – not just in a 19-inch rack. And unlike many other vendors, no extra enclosures required!
Cisco Industrial Networking: The Foundation for IoT Success
When added together, these are the core networking capabilities that you need as a foundation for a successful IoT project. IT gets the network that they know and trust without added burden. Operations gets a solid network foundation that is reliable, scalable and secure and that works in their environment allowing them to capture the data the need to move the business forward.