Cisco 550X Series Stackable Managed Switches

Advanced Features for Demanding Environments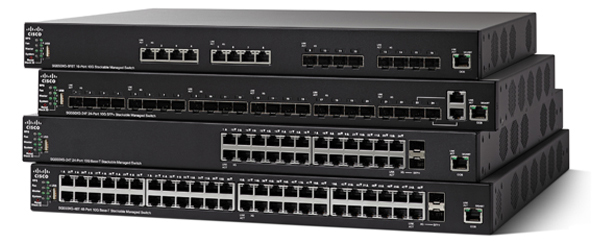 Get 10 Gigabit Ethernet and advanced capabilities to accelerate your business growth. Our next-generation stackable managed switches can bring immediate productivity gains to your organization. They also get your network ready for more bandwidth-hungry applications in the future.
Affordable 10 Gigabit Ethernet
10 Gigabit Ethernet delivers 10 times the performance to your network to promote higher productivity and business efficiency. The 550X Series breaks the barrier of 10 Gigabit Ethernet adoptions with exceptional affordability.
Superior reliability and resiliency
Keep your network running so your business never slows down. The 550X Series features stacking capabilities, built-in fan redundancy, a redundant power supply connector, dual images, and advanced availability protocols.
Energy efficient
A variety of energy-saving features, including energy detect, cable length detection, and Energy Efficient Ethernet, provide an eco-friendly and cost-effective network solution without compromising performance.
Advanced features
The 550X Series includes capabilities and management options you need to support applications today and in the future, such as strong security, advanced QoS, comprehensive IPv6 support, and Layer 3 dynamic routing.
Peace of mind
All 550X Series switches are protected for the life of the product by the Cisco Limited Lifetime Hardware Warranty, including next-business-day advance replacement, where available.
Cisco 550X Series 10 Gigabit

8-port 10 Gigabit Ethernet 10GBase-T copper
8-port 10 Gigabit Ethernet SFP+ (dedicated)
1 Gigabit Ethernet management port

24-port 10 Gigabit Ethernet SFP+
2-port 10 Gigabit Ethernet 10Gbase-T copper (combo with 2 SFP+)
1 Gigabit Ethernet management port

24-port 10 Gigabit Ethernet 10GBase-T copper
2-port 10 Gigabit Ethernet SFP+ (combo with 2 copper ports)
1 Gigabit Ethernet management port

48-port 10 Gigabit Ethernet 10GBase-T copper
2-port 10 Gigabit Ethernet SFP+ (combo with 2 copper ports)
1 Gigabit Ethernet management port